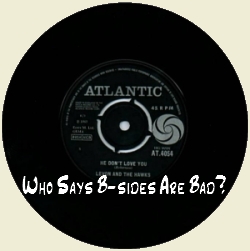 So what in particular labels a song as a 'B-side'? We all know the technical terms… it's basically a song that the band felt was not of the proper quality to embrace the final album. The history dates back to the 1950s, where vinyls typically had two sides of play. Bands originally randomly chose the side for each song, but record companies then wanted the song on the A-side to get the most radio play. Traditionally, the right songs were chosen, but several gems that appeared as B-sides went on occasionally to surpass the A-side in popularity. Songs include Elvis Presley's 'Hound Dog, Queen's 'We Will Rock You', The Beatles' 'Revolution', and The Righteous Brothers' classic version of 'Unchained Melody'. Below I've posted several B-sides by mostly great bands that are excellent and are good enough to be A-sides. No, none of these songs are stereotypically recorded badly or mockingly played, they are all played with full effort.
—————————–
The Smiths – This Night Has Opened My Eyes
[audio:https://obscuresound.com/mp3/bsides/smi-thi.mp3]
These two gems off of The Smiths' b-sides compilation, Hatful of Hollow. The Smiths had plenty of songs, and they were just all so great as Morrissey and Marr were at such capable heights of songwriting in their careers, which led to bursts of great songs. I recommend all of The Smiths' b-sides compilations, as tracks such as 'This Night Has Opened My Eyes' and a personal favorite in 'Girl Afraid' are just as good as anything off of their albums.
—————————–
Black Box Recorder – Factory Radio
[audio:https://obscuresound.com/mp3/bsides/bla-fac.mp3]
Whatever project Auteurs frontman Luke Haines steps into, it seems that it reeks of greatness. The Auteurs, Baader Meinhof, Black Box Recorder, and his solo career are all excellent. These two B-sides from Black Box Recorder are trademark of their easy going sound with Haines' superb writing and Sarah Nixey's soothing vocals. These two come off of their ironically titled Worst Of, which is certainly far from that.
—————————–
Suede – Killing Of A Flash Boy
[audio:https://obscuresound.com/mp3/bsides/sue-kil.mp3]
Suede may have been the greatest B-sides band of the 90s. This may have been due to Sci-Fi Lullabies. The critically acclaimed double-disc collection of B-sides is nearly flawless and is considered one of the greatest B-sides compilations of all time. 'Whipsnade' contains raw emotional charge over its graceful melody, making it one of my favorite Suede songs. 'Killing Of A Flash Boy' is aggressive and fun and is notably a fan favorite.
—————————–
Hot Hot Heat – Eyes Ears Mouth
[audio:https://obscuresound.com/mp3/bsides/hot-eye.mp3]
Oh, put away your hipster ignorance for a few minutes. Despite actually being played on MTV and being loved by the teens of America, Hot Hot Heat can create some actual catchy melodies. It may be shocking that their B-sides are of a pretty good quality as well. Both of these are the b-sides to the successful single of Goodnight Goodnight. Relax, it's summer.
—————————–
Yay for Pulp. They aren't one of my favorite bands for no reason at all. Jarvis Cocker is just admirably witty and the music he writes is just as good. Yeah, I know that 'Countdown' isn't actually a B-side, as it comes off of the Separations album, but that album is so hard to find, that it may as well be considered one. It's a great song nonetheless, and it is one of the first displayed of Jarvis' brilliance musically and lyrically. 'Ansaphone' is a Pulp classic, detailing one of Jarvis' many problems with woman. I am jumping up and down in anticipation for Jarvis' solo album.
—————————–
Antony & The Johnsons – I Fell in Love with a Dead Boy
[audio:https://obscuresound.com/mp3/bsides/ant-ife.mp3]
Antony & The Johnsons – The Horror Has Gone
[audio:https://obscuresound.com/mp3/bsides/ant-hor.mp3]
Even if Antony sang over the worst music imaginable, it would sound good. Luckily, the music for these two B-sides off of the expanded version of I Am A Bird Now is beautiful as usual. Antony is probably one of the few vocalists who can necrophilia seem sensitive in 'I Fell in Love with a Dead Boy', though we can all just interpret his love's emotions as being dead if we want to, right? 'The Horror Has Gone' is just as nicely done. It must be easy for Antony Hegarty and his vocals, though the musicians may get a bit annoyed sometimes that his talented vocals overshadow the instrumental aspect.