Posted
October 11, 2006 by Mike Mineo
in Features
Ian MacKaye and The Evens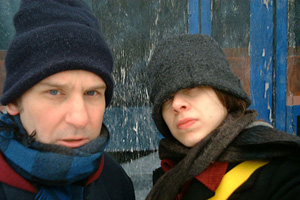 Ian MacKaye's major influence on hardcore punk is often overlooked, with his label (Dischord Records) being one of the longest running punk labels during their ongoing twenty-six years. To tell you the truth, I was never a huge fun of hardcore punk, but several of Fugazi's albums were hard for me to resist, particulary the classic Red Medicine. MacKaye's ability to create strong lyrically expressive songs is evidenced throughout his entire career, especially his song 'Straight Edge' from one of his earlier bands (Minor Threat), which literally defined the movement with the same name. Written as an obituary to a friend who died of a heroin overdose, many fans took it as an oath to never drink or do drugs again. I guess it's funny how MacKaye made it "cool" to not do drugs for a period of time. When I see "sXe!" in people's AIM profiles, I can't help but laugh. Actually, MacKaye never acknowledged the song as the start to a supposed movement, he just considered it a normal ode. Though 'Straight Edge' certainly isn't my cup of tea, it's evident to see how definable it was for fans of the genre..
After Fugazi went on a vague hiatus in 2001, MacKaye and his girlfriend Amy Farina (of The Warmers) began practicing together and played a few gigs. It struck fans of MacKaye odd when the two contributed some sing-along songs to a children's show in 2003, possibly demonstrating MacKaye's new musical direction. After the duo decided to name themselves The Evens, they released a self-titled debut last year. The general sound was significantly more mellow than Fugazi, with light guitars and bass slaps comprising many songs. Their follow-up, Get Evens, is not much different with a bunch of enjoyable songs. 'Cut From the Cloth' is MacKaye's introduction to the album, with a slick bass line and a catchy melody. Farina takes the main vocals in 'Get Even' over an acoustic-like rush, demonstrating the chemistry between the two as competent, while MacKaye's ironic sense of humor is displayed and reminded on the clever 'No Money'. The album drops on November 6th.
——————————————————————————————
The Evens – Cut From the Cloth
[audio:https://obscuresound.com/mp3/eve-cut.mp3]
——————————————————————————————
[audio:https://obscuresound.com/mp3/eve-get.mp3]
——————————————————————————————-
[audio:https://obscuresound.com/mp3/eve-nom.mp3]
——————————————————————————————-
Mike Mineo
I'm the founder/editor of Obscure Sound, which was formed in 2006. Previously, I wrote for PopMatters and Stylus Magazine. Send your music to
[email protected]
.