Posted
October 3, 2006 by Mike Mineo
in Features
The OaKs… to the other side of the world and back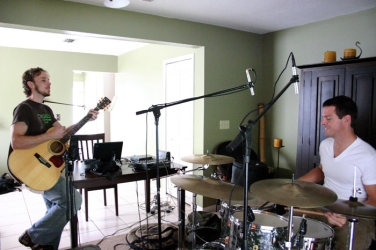 Every album has a story. The story behind The OaKs' debut album, Our Fathers And The Things They Left Behind, is one of the most interesting I've come across. Singer and guitarist Ryan Costello was a college student during the attacks of September 11th. After the impacting event, Costello joined the Global Hope Network (whose goal is to help deprived nations around the world). In 2003, Costello travelled to Afghanistan with the GHN, where he gained some of the most memorable experiences of his life. He also was educated in various Afghan traditions, from general culture to agriculture. In 2005, Costello returned to his native Florida with musical visions of his experiences in Afghanistan. During his stay, he would strum interpretative songs on his acoustic guitar of his daily experiences. After his return, he formed The OaKs with his best friend Matt Antolick. Their sound is primarily lo-fi, with a variety of instruments bustling underneath. Costello plays the guitars, mandolins, organs, and synths, while Antolick takes care of the marimba, vibraphones, bells, and drums. Over the next eight months, they would construct Our Fathers And The Things They Left Behind in their living rooms.
As expected from Costello's travels, the album has a heavy historical influence. A couple of the tracks are about Hugh Thompson, a helicopter pilot during the Vietnam war who risked his life to save dozens of innocent Vietnamese citizens in 1968 (more…). A few tracks on the album also feature ambience of general life in Afghanistan recorded by Costello. Though the album is not particulary lively, there is plenty of emotion put into each and every song. While many of the songs are acoustic recollections, there is such a diverse amount of instrumentation with a few surprises here and there. The primary focus here is war — highlighting both the heroes and villians equally. The lyrics are particulary impressive, from the dramatically heroic 'My Father's God' to symbolically effective 'Message From The Moon'. All are weaved in light but memorable melodies. The album also features a few of the duo's friends, with delightful vocals by Naomi Schalm and additional bass and guitar work by Jeremy Siegel and Greg Willson.
I strongly recommend the purchase for a mere $10. Not just because it's quality music, but also because 50% of the proceeds from the album go to the GBN, in aid to Afghan refugees. Great job, Ryan and Matt.
——————————————————————————————-
[audio:https://obscuresound.com/mp3/oak-myf.mp3]
——————————————————————————————-
The OaKs – The Sins Of My Fathers
[audio:https://obscuresound.com/mp3/oak-sin.mp3]
——————————————————————————————-
The OaKs – Message From The Moon
[audio:https://obscuresound.com/mp3/oak-mes.mp3]
——————————————————————————————-
Mike Mineo
I'm the founder/editor of Obscure Sound, which was formed in 2006. Previously, I wrote for PopMatters and Stylus Magazine. Send your music to
[email protected]
.