Posted
November 4, 2006 by Mike Mineo
in
Goldenboy produces some golden pop

It must be such an advantage to have the opportunity to work with musical figures who have had such an impact on music past and present. Goldenboy's Shon Sullivan has worked and toured with the likes of Elliott Smith, Johnny Marr, the Eels, Matt Sharp, and Neil Finn. The diversity of artists that Sullivan has worked with has certainly impacted his own music of Goldenboy, a melodic indie-pop duo with Sullivan and his longtime friend and drummer Bryan Bos. The name "Goldenboy" was actually given to Sullivan by Smith before his death, almost serving as a tribute. Like his friends Smith and Marr, most of Goldenboy's music consists of grief-stricken cooed vocal melodies with a delicate mixture of acoustic and electric guitars, though Sullivan occasionally uses some trademark elements of shoegaze. Goldenboy's sophomore album, Underneath the Radio, includes guests such as the Matt Sharp (Weezer's former bassist) and Lisa Germano, who contributes several fitting violin arranangements.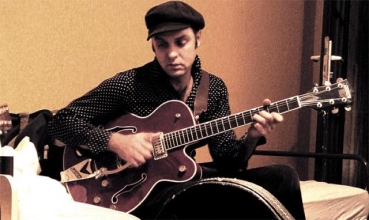 Though Sullivan's vocals and generally dark musical sound relate typically to The Wedding Present, the lyrical content of the album is also similar to that of his late friend, Elliott Smith, mostly dealing with loss and pain such as in the heartfelt 'Perfect One'. "And you'll never know, and you'll always be," Sullivan solemnly sings during a vaguely emotional chorus, "the perfect one for me". The song also shows a minor use of brass, which bodes well throughout the album. The keyboard arrangements are also particulary impressive on such tracks as the devastating 'Ice Breaker Blues', which opens up Underneath the Radio. 'Summer of the Evening' is a fun and unusually upbeat song, initially starting out with only an acoustic guitar and drums as several percussion variations and electric tones build the climax to the song. Underneath the Radio is a very impressive follow-up to Blue Swan Orchestra, with enjoyably dark but occasionally upbeat indie pop that borrows from a variety of influences/friends.
——————————————————————————————-
[audio:https://obscuresound.com/mp3/gol-per.mp3]
——————————————————————————————-
[audio:https://obscuresound.com/mp3/gol-ice.mp3]
——————————————————————————————-
Goldenboy – Summer of the Evening

[audio:https://obscuresound.com/mp3/gol-sum.mp3]
——————————————————————————————-
Mike Mineo
I'm the founder/editor of Obscure Sound, which was formed in 2006. Previously, I wrote for PopMatters and Stylus Magazine. Send your music to
[email protected]
.