Posted
November 28, 2006 by Mike Mineo
in Features
Sire… from Montreal?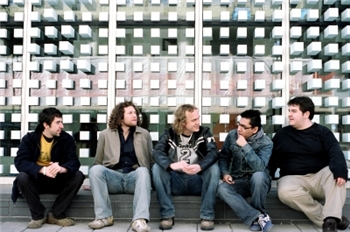 Sire would have blended in perfectly with the Brit-pop invasion of the mid 90s. Even though the band is from Montreal, their British influences are overwhelmingly prominent. While Sire does not preach the same upbeat and melodically cheerful philosophy as early Blur or Oasis, they thrive in a style similar to that of The Auteurs and Gene, relying on a dark and mysterious mood to craft genuine pop songs with a taste for an eventual and satisfying hook. Ilan Shahin has a thin but powerful voice, similar to that of Muse's Matthew Bellamy, with an occasional resemblance to Thom Yorke. After their formation in 2004, Sire released a few demos before releasing their debut full-length, Calling For Echoes, earlier this year. The band's beginnings trace back to when Ilan Shahin and Nick Bellerose both met and discovered they had similar aspirations: to lift the Montreal music scene to new heights by forming a new band. Eventually the band slid into place with Shahin on vocals and rhythm guitar, Bellerose on lead guitar, Olivier Leblond on drums, Dan Levy on keyboards, and Paul Starnino on bass. Calling For Echoes is an impressive debut reflecting the not-so-distant past of the 90s British scene, further enhancing the current revival of Brit-pop.
'Again' is a perfect example of the type of chorus that contemporary bands influenced by Brit-pop are taking advantage of. Along with the likes of the Delays and Keane, the chorus is lifted by bright slashes of a guitar while lead vocalist Shahin lifts his vocals to new heights and emotional boundaries, almost turning the song into an anthem of sorts. After the chorus, a distant acoustic guitar slides the song into a new realm before travelling back into familiar lands, greeted by the undeniably gracious chorus. The song is a great demonstration of vocal strength by Shahin, almost drawing comparisons to the great Jeff Buckley (though, like everyone else, not there just yet). 'Say Something' dwells on hope and disappointment, portrayed by a simple acoustic guitar progression over melancholic vocals and "ooh's" and "aah's" over delicate female backing vocals. Sire's citation for classic influences such as Led Zeppelin, The Band, and the Beatles are evident as well, though their likeness for the more contemporary Radiohead, Muse, and Oasis will draw more friendly comparisons.
——————————————————————————————-
[audio:https://obscuresound.com/mp3/sire_again.mp3]
——————————————————————————————-
[audio:https://obscuresound.com/mp3/sire_saysomething.mp3]
——————————————————————————————
Mike Mineo
I'm the founder/editor of Obscure Sound, which was formed in 2006. Previously, I wrote for PopMatters and Stylus Magazine. Send your music to
[email protected]
.