Posted
November 8, 2006 by Mike Mineo
in Features
The rising Youth Group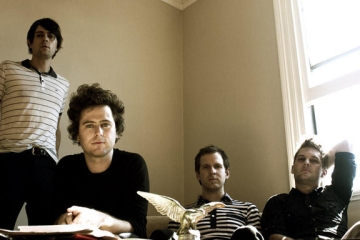 In the typical hipster community, when a band breaks through because of a cover song, it's death by criticism. What about when the cover song was used several times on The OC? Well, in that case, the death penalty is usually made even more severe. But before you disregard Youth Group and ignore them because of the cause of their rising popularity, try listening to a few songs off of their third album, Casino Twilight Dogs. Despite the generic (though admittedly enjoyable) cover of Alphaville's 'Forever Young', the Australian foursome offer ten other entirely original tracks that offer plenty of hooks and simple enjoyment for both brainless superficial OC fanatics and music elitists alike. Unlike many other bands with their heads up in the clouds, Youth Group aren't afraid to admit that their broadening international success so far is mainly based on 'Forever Young', though their second album, Skeleton Jar, did contain a handful of great songs that were greeted with warm reviews. Vocalist/guitarist Toby Allen and drummer Danny Allen have been with the band since their humble beginnings in 1998, eventually increasing their songwriting skills to produce what you hear today. After adding guitarist Cameron Emerson-Elliott and bassist Patrick Matthews (formerly of The Vines), Skeleton Jar was released in 2004 and Casino Twilight Dogs will be released on January 30th on Epitaph. If you don't wish to wait, you can pick up an import of the album, which was released this past July.
Their new single, 'Catch and Kill' is a catchy choice, with Allen's vocals managing to pull off an impressive shift, from the mumbling Fall-like verse to a sugar-coated chorus that sounds similar to the lighter days of Dave Grohl and the Foo Fighters. My favorite track off of Casino Twilight Dogs is 'Dead Zoo', a title that came from Allen's three-year-old cousin who named stuffed animals in a museum a "dead zoo". The enjoyable wordplay must run in the family. The song boasts a shimmering effect, supposively enhanced with twelve-string over-dubs. The lyrics on the album aren't particulary deep or entirely original, but the great melodies take care of that on its own. 'Sorry' contains an enjoyable chorus that one would think only Morrissey could pull off, but Allen does it with ease. All in all, Casino Twilight Dogs an enjoyable third album from the rising Australian band. Forget the cover, check out the originals. They're worth it.
——————————————————————————————-
[audio:https://obscuresound.com/mp3/you-cat.mp3]
——————————————————————————————-
[audio:https://obscuresound.com/mp3/you-dea.mp3]
——————————————————————————————-
[audio:https://obscuresound.com/mp3/you-sor.mp3]
——————————————————————————————-
[audio:https://obscuresound.com/mp3/you-for.mp3]
——————————————————————————————-
Mike Mineo
I'm the founder/editor of Obscure Sound, which was formed in 2006. Previously, I wrote for PopMatters and Stylus Magazine. Send your music to
[email protected]
.