Posted
November 14, 2006 by Mike Mineo
in Features
Yunyu: Sweet & Scary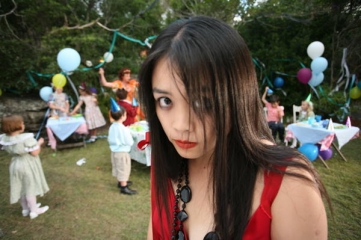 In Chinese, "yunyu" means "beautiful rhythms". When the mother of Australian popstress Yunyu gave her that symbolic name, she must have had musical intentions towards her child's future. This was further clarified when she sent Yunyu to a "classical music nazi concentration camp" (as Yunyu puts it) at the age of two, something that Yunyu considers both a curse and a blessing. Is it just me, or does Yunyu look a bit out of place at a children's birthday party? Her music is not exacty birthday music, but a diverse array of several influences ranging from industrial gothic punk to cute Asian pop music. While those two genres seem to be the exact opposite of one another, Yunyu's songs vary in style but still maintain to construct a manageable flow on her debut album, Spiked Soul. Yunyu is as interesting and unique as her music. She can communicate in over five languages and in her free time enjoys visiting psychosis support forums and studying murder cases. And you thought indie music was an odd obsession.
Indeed, Yunyu makes some beautiful music, ranging from the chilling gothic ballad of 'Lenore's Song' to the energetic 'You Are Expendable', which actually borrows several components of Japanese pop, a genre that Yunyu openly admires. Yunyu also possesses a vocal Björk influence, moreso emotionally than physically empowering, giving another example of a small young woman who has voice that often seems larger than life. Yunyu does not have the same vocal strength as Björk (who does?), but she certainly has a similar undying passion. While her dark musical songwriting is complementary and diverse, the thing that strikes me most about Yunyu is her deep and thoughtful lyrical content. In the fan favorite 'Lenore's Song', Yunyu addresses it as a reply letter to Edgar Allen Poe's "The Raven". Another one of Yunyu's odd interests is writing love letters to dead people, something she considers romantic. "When I see you laughing with them, have my secrets become jokes?" Yunyu pleads, "when I see you lunching with them, is my flesh the meat they poke?" Unsurprisingly odd but deep from someone with such an innocent and sweet voice. I found Spiked Soul about two weeks too late, as it would have made the perfect Halloween soundtrack. From her use of eerie synths in 'Lenore's Song' to the aggressive guitar riffs in 'A Prayer', all with engaging vocal melodies, Yunyu's debut is something of originality and pure talent.
——————————————————————————————-
[audio:https://obscuresound.com/mp3/yun-len.mp3]
——————————————————————————————-
[audio:https://obscuresound.com/mp3/yun-you.mp3]
——————————————————————————————-
[audio:https://obscuresound.com/mp3/yun-apr.mp3]
——————————————————————————————-
Mike Mineo
I'm the founder/editor of Obscure Sound, which was formed in 2006. Previously, I wrote for PopMatters and Stylus Magazine. Send your music to
[email protected]
.