Posted
December 27, 2006 by Mike Mineo
in Features
International Sad Hits, Vol. 1: Altaic Language Group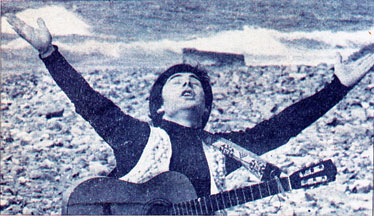 I picked up an extremely interesting compilation the other day. Titled International Sad Hits, Vol. 1: Altaic Language Group, it collects several notable songs from four prominent Asian songwriters. The lineup features Fikret Kizilok (Turkey), Kim Doo Soo (Korea), and Tomokawa Kazuki and Mikami Kan (Japan). Kizilok is perhaps the most famous out of the bunch, remembered largely as one of the most memorable influences in Anatolian rock (Turkish rock and folk driven by psychedelia). Soo is a prominent Korean acid-folk musician, notable for his emotional quivering vocals and strong expressive elements. He has released several albums with influential comparisons to Leonard Cohen and Paul Simon. Kazuki is best known for his innovative acid-folk in the Japanese music industry, often fusing together themes of loneliness and desparity to create a melancholic sound that Takashi Miike has used in several of his films (Izo). Despite Soo's similar display of influences, Kan appears to be the most Western influenced. Originally a child prodigy, he has evolved into a mature songwriter who combines a mixture of electric guitars and half-spoken words of emotional pain and anguish to create something that, again, is very expressive. All four artists are prominently known in their native countries, however their foreign popularity is minimal at best. This compilation brings to light some lost musicians across the seas who truly are gifted in exposing their relatively torn hearts and souls in musical form. While most may not understand the lyrical content, the emotion put into the musical and vocal aspects are features that I suggest not to miss out on.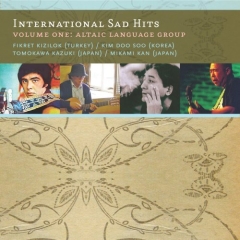 Soo's 'Bohemian' is really quite beautiful. With a trickle of windchimes, the song begins with a simple acoustic guitar complemented by a harmonica. Soo's vocals are immediately haunting, as they reach great emotion right when the fantastic strings enter the picture. The strings arrangement isn't particulary complex, but the breathtaking aspect is how it so beautifully complements the simple structure of Soo's acoustics. 'Mountain' works around a more complex classical guitar, providing a similar effect as far as melancholy goes, effectively living up to the compilation's name. Kizilok's tracks appear to be a bit more lively, with several more layers than the other artists on the compilation. It provides good introduction to the Anatolian style of music, an often psychedelic approach that tends to only be popular with the "certain crowds" in the West. Kizilok is quite entrancing, with lulling vocals that matches the continuous arrangement. Kazuki is the most energetic out of the bunch, almost seeming to reach anger instead of sadness in 'Storms In The Dead Of Night'. It is indeed true that sadness is one cause of anger and Kazuki's expressive vocal elements in an acoustic-driven song is evident of this. His true fires show in the last minute or so of the song, as his angered vocals are simultaneous with the increased strumming tempo. Kan's unique vocal delivery appears to be on the verge of tears, especially in 'Never Before', where the musical aspect is overshadowed extremely by his vocals alone. International Sad Hits, Vol. 1: Altaic Language Group is a great cultural and musical experience and is a purchase I highly recommend, especially to fans of foreign music in general.
——————————————————————————————-
[audio:https://obscuresound.com/mp3/kim-boh.mp3]
——————————————————————————————-
[audio:https://obscuresound.com/mp3/fik-jus.mp3]
——————————————————————————————-
Tomokawa Kazuki – Storms In The Dead Of Night
[audio:https://obscuresound.com/mp3/tomo-sto.mp3]
——————————————————————————————-
[audio:https://obscuresound.com/mp3/mik-nev.mp3]
——————————————————————————————-
Mike Mineo
I'm the founder/editor of Obscure Sound, which was formed in 2006. Previously, I wrote for PopMatters and Stylus Magazine. Send your music to
[email protected]
.