Posted
December 4, 2006 by Mike Mineo
in Features
Tap Tap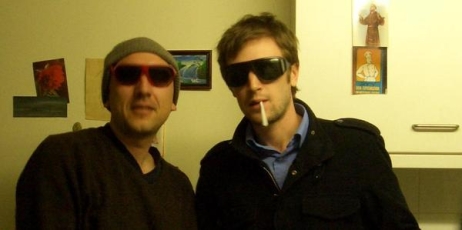 Lately, if there's one major stereotype for "indie music", it's usually either substituting claps for percussion or replacing incoherent mumblings where the vocals should be. Perhaps that is why Clap Your Hands Say Yeah! has become "the indie band" in high schools across America. The kids looking for an identity could easily just tell you that it's good music, and while it may be, it is one of the easiest ways to be classified into one group of music fans or another. I suppose that Tap Tap could be classified in this genre: a bunch of young men from England who really know how to take a song and involve unique elements (whether it be the clapping or mumblings) and turn it into some of the catchiest things you'll hear all year. There's no question that each and every song on their debut Lanzafame sounds unique and in a whole different world from one another, which may be why it's one of my favorite debuts this year. I find them to be more than a "British version of Clap Your Hands Say Yeah!", which one critic foolishly pinpointed on them. Actually, I find them to be more innovative and hell, more enjoyable. Frontman Thomas Sanders works around a revolving door of musicians (the album featured Paul Jones, Jonny Ronette, Peter Hefferan, and Pete Dog), but their coherent style is present.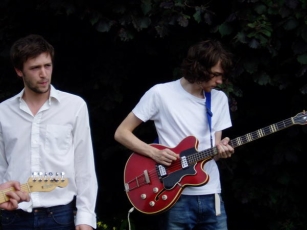 'Way To Go, Boy' is one of my favorite songs from this year, with a beat that is just downright unstoppable. The simultaneous movement of the fast-paced guitar strums and the oddly suitable accordion, with some influences from ska showing themselves. I can't understand Sanders most of the time, but who cares? This is one of the catchiest songs of the year, whether some see it as repetitive or not. The acoustic drill of '100,000 Thoughts' picks up momentum and pace as the song lifts off, utilizing that "clap technique" that I keep on mentioning. While I'm not enjoying it this time around as Magenta Skycode, it is effective and yes, catchy. Sanders' harmonization with the keys and simply stained guitar is refreshing as he eventually lifts a slight whisper to a few shouts of angst towards the end. 'The Reason I'm Here' seems like a bit of a tribute to XTC, showing the same lovable British energy that Andy Partridge and co. conveyed several years ago. The fast-paced guitar licks show no slowing down as Sanders' talent for vocal hooks shows it's clear form yet again. Lanzafame was a great way for Tap Tap to showcase their unique grasp and talents, which is making me look forward to any future releases from Sanders and his crew.
——————————————————————————————-
[audio:https://obscuresound.com/mp3/tap-way.mp3]
——————————————————————————————-
[audio:https://obscuresound.com/mp3/tap-100tho.mp3]
——————————————————————————————-
[audio:https://obscuresound.com/mp3/tap-reason.mp3]
——————————————————————————————-
Mike Mineo
I'm the founder/editor of Obscure Sound, which was formed in 2006. Previously, I wrote for PopMatters and Stylus Magazine. Send your music to
[email protected]
.