Posted
January 17, 2007 by Mike Mineo
in Features
Cicada

Another album that passed by largely unnoticed in 2006 was Cicada's self-titled debut. Though the genre of electronic dance-pop remains to be sensitive ordeal with its fanbase being rather exclusive, Cicada's debut was full of songs that ranged from universally catchy dance hits to instrumental synth epics. In other words, there was something for everyone. Comprising of three producers, experience is an aspect that Cicada is inheritably fortunate to have. Aaron Gilbert (Mr. Natural) and Alex Payne have both been accomplished electronically-oriented producers for a few years now, up to this point making a name for themselves by remixing tracks by typical influences such as Depeche Mode and New Order. Perhaps the group's only form of slight star power comes from Icelandic vocalist, Heidrun Björnsdottir, who was previously one of the main vocalists for respectable electronic acts Gloss and Gus Gus. All members of the trio seem to be naturally bound to electronic music, with Cicada being one of the most accessible projects that each collaborator has worked on. The album Cicada is immediately listenable, with the instrumental opener 'Edge' setting the tone with a continuous stream of growing synth lines building under a progressive bass and signature high-pitched synth variation that leaves a seemingly permanent indentation in one's mind after the five minutes conclude. Though the album is nearly entirely electronic (besides the bass lines and occasional guitar), there is certainly an 80s vibe surrounding tracks where Björnsdottir's vocals are most present. Sounding like a mixture between Madonna and Bananarama, her acquiescently angelic vocals collide with the music of Gilbert and Payne extraordinarily well. Though I'm sure it seems rather stereotypical of me to label the combination of synth and soft-spoken female vocals as a component of the 80s revival, one listen to any of the tracks below should clarify this in detail.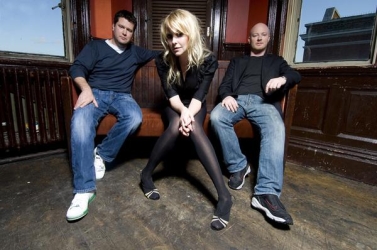 Actually, when it's all said and done, the album's most impressive tracks are indeed the ones with Björnsdottir's vocals on full display. This includes much of the earlier tracks, especially the three that follow the opener 'Edge'. The insanely catchy 'The Things You Say' is subtle but immediately effective as Björnsdottir kicks off an easily memorable chorus with, "sometimes I think you got no feelin', sometimes I think you got no education" over a funky guitar buzz and steady synth strings. The track also serves as another example of the devastating bass lines delivered in Cicada's debut, often flying under the radar of the more immediately recognizable synths and drum loops. Check out an amusing remix version of the song, supplied by this Final Fantasy-based music video. 'All About You' and 'You Got Me Feeling' are also impressive, moreso showing shades of Cocteau Twins and Slowdive in creating a more relaxed atmosphere, specifically in the laid back 'All About You'. Keeping in mind that these type of songs are reliant on musical composition over lyrical quality, the only major fault I find in them is the length. The fact that both of these songs reach almost six minutes is a quality of overambition, though it can be sympathized that lengthy songs are the norm to the usual remixers of Gilbert and Payne. Another highlight is the remix of Max Berlin's 'Elle Et Moi', sounding quite seductive with a form of exotic hushed dialogue wrapping itself over a repeated melody that is enhanced by various percussion as the song progresses. 'Cut Right Through' is one of the most danceable tracks on the album, with a chorus that is stressed for good reason, showing off a distinct New Order influence, as the track quickly transforms from a building instrumental to an unstoppable pop sensation. As the rhythm section bounces and the guitar chimes during the verses, one can't help but get excited with anticipation for the chorus. "Don't know what you did, don't know what you said, could it be the last time?" proves to be the triggering verse, as Björnsdottir shortly erupts with the innocently spoken, "Don't you know that you can't drive through my feelings, don't you know it's the end of the show that I'm stealing?" Björnsdottir is certainly accurate in this one, as her stealing the show in 'Cutting Right Through' is certainly accurate. Without a doubt, it is the most impressive track on the album. Cicada's debut album released last August, which makes me wonder, why wasn't the album given the attention it deserved? Cicada has also remixed tracks by over twenty artists, including Editors, Electric Six, Client, and Danni Minogue. Still, I would prefer their rich original songs over their remixes any day.
——————————————————————————————-
[audio:https://obscuresound.com/mp3/cicada-cut.mp3]
——————————————————————————————-
[audio:https://obscuresound.com/mp3/cicada-the.mp3]
——————————————————————————————-
[audio:https://obscuresound.com/mp3/cicada-all.mp3]
——————————————————————————————-
Mike Mineo
I'm the founder/editor of Obscure Sound, which was formed in 2006. Previously, I wrote for PopMatters and Stylus Magazine. Send your music to
[email protected]
.