Posted
January 30, 2007 by Mike Mineo
in Features
Get lost in lalaland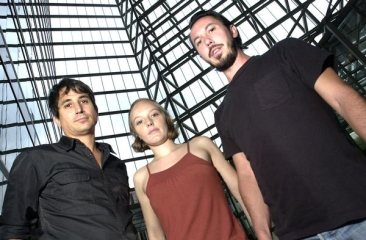 Lalaland make it simple. The trio from Austin, Texas aren't groundbreaking. They aren't entirely innovative either. But hell, they write some of the catchiest songs I've come across in awhile. As simplistic as their instrumental delivery of guitar, bass, occasional keys, and drums is, it works with no delay. It's the perfect music for those impatient individuals who want great music upon first listen, with lalaland constructing concise melodies over the vocals of guitarist Thomas Mazzi. In addition to Mazzi, bassist Ruby Painter and drummer Steve Sanders provide for enjoyable musical chemistry and authentic emotion, calling on likable influences that were known to work with a focus on hooks and concise structures, with names such as Matthew Sweet, R.E.M., and Teenage Fanclub sounding familiar. Like their influences, lalaland clearly embraces power-pop of the late 80s and early 90s, being a genre that many hold some sort of grudge for. Being that power-pop is one of the easier genres to create, many unknowingy assume that talent is not a necessity for an equation of success. I just laugh when I hear the assumption, as it's incredibly off base. Artists who find a natural groove in power-pop are likely just as envisioned as other artists in varying genres, as both are accomplishing the simple statement of achieving their own goal. Some genres have a goal to open new boundaries in music, while power-pop simply has aspirations to get the listener tapping his foot with a smile. Lalaland perceptibly accomplishes that. Forming in September 2004, the trio found local success with their full-length debut Ready? Ready!. The album included previous drummer and multi-instrumentalist Luis Guerrero, who was later replaced by Steve Sanders, forming what is the current lineup. The debut saw warm reviews and eventually built up a small fanbase. The following two years saw the band participate in several compilations, such as The Kanye West Tribute: Indie Translations of the College Dropout, in which they did an interesting cover of Kanye's "Breathe In Breathe Out". The "Indie Translations" compilation series is usually horrendous, though lalaland actually provided the rather dull collection with a bright spot. After providing a song for an Austin compilation from KOOP Radio in early 2006, they released a five-song collection in Mumbo Jumbo.
I find Mumbo Jumbo to be a result of experienced collaborative efforts and vision. Whereas their debut had some rough edges around their strong points, Mumbo Jumbo finds the band's vision to be aware and alive, with all five songs providing for a strong effort. The most notable track is most certainly the opener, 'Monkey See Monkey Do'. Following a stampede of guitar, percussion, and bass, Mazzi jumps into the song, "Wake up, gonna donate my body to science". After a series of repeated verses, the trio eventually folds into an extremely enjoyable chorus, as the song's title is predictably repeated for sheer catchiness. Perhaps humans are not that much more civilized than monkeys after all. Mazzi certainly sees it that way. Well, I doubt monkeys could make music as capable, though I've seen a few who do quite well on percussion instruments. "Over Again" is a nice mixture of guitar, bass, and keys. All instruments are played in uniform fashion, mocking those who consider power-pop artists to be nothing more than a bunch of drunken bar inhabitants. "It's amazing how fast fifteen minutes of fame go by," Mazzi grins before another captivating chorus. Choruses are an aspect that lalaland seems naturally gifted at producing, displayed again in the anthemic "Phase Out", written by the band and former member Luis Guerrero. While the song borders on repetitiveness, it eventually picks up pace towards the conclusion when another layer of guitars is highlighted over Mazzi's steady vocals and several backing components. Though only five tracks long, Mumbo Jumbo is an impressive effort from the Austin trio. Give it a chance, you just might fall in la-la-love.
——————————————————————————————
lalaland – Monkey See Monkey Do
[audio:https://obscuresound.com/mp3/lalala-mon.mp3]
——————————————————————————————
[audio:https://obscuresound.com/mp3/lalala-ove.mp3]
——————————————————————————————
[audio:https://obscuresound.com/mp3/lalala-pha.mp3]
—————————————————————————————–
Mike Mineo
I'm the founder/editor of Obscure Sound, which was formed in 2006. Previously, I wrote for PopMatters and Stylus Magazine. Send your music to
[email protected]
.