Posted
January 8, 2007 by Mike Mineo
in Features
The One AM Radio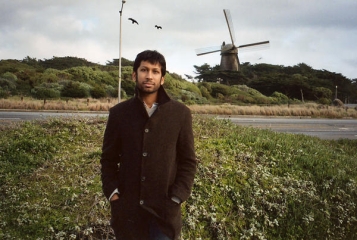 Despite the exotic landscape in the photo above, Hrishikesh Hirway is simply a native of Peabody, Massachusetts, a town known for its past and rich history of puritanism. Though he now lives in Los Angeles, Hirway once resided in Mumbai (formerly Bombay), India, in the country from which his family is from. From the East Coast to the West Coast to the Middle East, one could certainly call Hirway culturally experienced. Regardless of his broad travels, Hirway's musical output is generated moreso off of emotion and life experiences than cultural wisdom. Under the name The One AM Radio, Hirway already has two albums under his belt with a third on the way. His musical ambitions began to fully expand while he was a junior at Yale in 1998, studying art and film at one of the most prestigious colleges in the country. He is actually still active in the art industry quite a bit, continuing to host various photography shows of his own work. His musical talent was first discovered by none other than Ted Leo, one of the first prominent artists that Hirway opened for. Leo was particulary impressed with Hirway's abilities and the two eventually went on to collaborate with each other, releasing a split 7″ in 1999 on Garbage Czar Records. Hirway also began working with violinist Jane Yakowitz after meeting her on campus, as the two create a lively musical chemistry that still continues to this day. After releasing his first EP A Cloud's Fear of Kites: A Kite's Fear of Heights in 2000, Hirway released his debut album The Hum of the Electric Air! in 2002. The album showed extreme promise but it was not until 2004's A Name Writ In Water that Hirway started to gain the recognition that he deserved. Publications and listeners alike started to recognize Hirway's unique grasp of human emotion, as he relayed it almost flawlessly into epic ballads laced over dreamy melodies touched by guitars, violins, cellos, horns, and clarinets.
Hirway's third album This Too Will Pass is scheduled for a February 20th release on Dangerbird Records. I'll eventually follow this post up with a review after I recieve the album in a week or so, but in the mean time I was given a brief sample of it with 'In The Time We've Got', an excellent song that is arguably Hirway's most captivating yet. Hirway has always expressed the same melancholic musical style that artists such as Mark Eitzel and Mark Kozelek have built their reputation off of. Hirway crafts an image of a man who is unable to escape the identity of loneliness, portraying an individual sensing a relationship coming to a sad close. "I watched you through the windows in our room," Hirway sings sullenly over a very touching violin arrangement, "your hair grew long under the arbor shade". Such is an example of Hirway's vivid imagery, as he later explains that his "love was new, but the hour grew late too soon", finally reflecting on an imminent end of bliss as a jumping percussion shortly initiates a very effective and emotional chorus. If other songs on This Too Will Pass are of similar quality it will certainly be Hirway's most musically advanced of his career. 'Untied' is one of my favorite tracks off of A Name Writ In Water, while 'Flicker' is another nice one from The Hum of the Electric Air!. More tracks can be heard on his web site, including Ninety-Nine, One Hundred, which was off the Ted Leo split 7″. Don't be surprised if you hear about The One AM Radio more often in 2007.
——————————————————————————————-
The One AM Radio – In The Time We've Got
[audio:https://obscuresound.com/mp3/oneam-int.mp3]
——————————————————————————————-
[audio:https://obscuresound.com/mp3/oneam-unt.mp3]
——————————————————————————————-
[audio:https://obscuresound.com/mp3/oneam-fli.mp3]
——————————————————————————————-
Mike Mineo
I'm the founder/editor of Obscure Sound, which was formed in 2006. Previously, I wrote for PopMatters and Stylus Magazine. Send your music to
[email protected]
.