Émilie Simon: Bells and Beats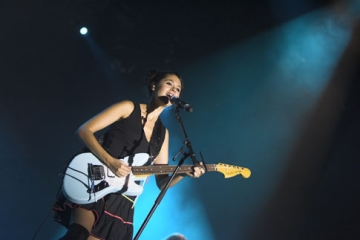 If there's one thing that I know about pop music in America, it's that the more well crafted something is, the less likely it is to become successful. After all, albums sell better when they are aimed at the short attention spans of 13 year old girls. This doesn't seem t stop other countries from producing some brilliant pop music. Émilie Simon of France is solid proof that pop is, for the most part, better elsewhere. Her self-titled debut from 2003 is STILL on the French charts even after she's put out two other albums. Her dark, electronic based music is overwhelmingly scenic behind her often whispering voice, which is simultaneously cute and beautiful. Despite the album's popularity, I believed she had not yet found her creative flow. The only 2 songs that stood out were the singles, "Désert", which exemplified her signature sound, and the cute song "Flowers", both of which have great videos on her myspace, linked below. While working on her second album, which she was already intending on giving a "wintery" feel, she was asked by director Luc Jacquet to write a score for his movie, La Marche de l'empereur, known to many of you as March of the Penguins. Despite it being a beautiful album with the lyrics sung in English, the American version of the movie dropped her soundtrack, leaving me all the more bitter about American tastes, perhaps they wanted something that sounded a little more "American Dream" (march on brave soldiers!). This, for me, is a dilemma. Do I watch the American version with Morgan Freeman, or the French version with this great soundtrack? I still haven't decided. Most of her soundtrack is full of chimes and harp-like snow sounds which I imagine fit the movie well. "Antarctic" holds the sounds of a frontier, somewhere man has never been before and her humming/moaning is beautiful. "Mother's Pain", with it's tragic strings, sounds like it almost could have fit on the American soundtrack. In contrast, I can't imagine how "All is White" in all of its pop glory or "Song of the Storm" could fit into any movie, but when, "Can't you hear my storm coming …Big dark clouds forming", comes out of her mouth, it brings out a dark beauty in nature that is as sexy as it is dark and beautiful. It also hinted that she could have a more raw energy to her, despite her cute, whispery voice.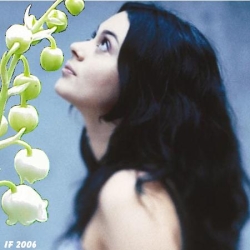 In 2006, Émilie Simon proved to be one of those artists who is constantly improving. Végétal is her first and hopefully not her last, truly solid album. It is flower themed, but you would have never known if you didn't pay attention to the lyrics, which are split between English and French. It is also her most versatile album yet. I imagine this was the first album where she was fully comfortable with herself. "Swimming" and the lighter "In the Lake" could have fit on her first album, though I find it to be, like this entire album, better than any of her previous songs. "Fleur de saison" and "Never fall in love" are her first shots at rock-oriented songs and they share that dark, scenic teasing that is found in most of her music. From this album, I leave you with songs which show both that dark sexy whispery pop I keep describing and the new edgier sound she has begun exploring as of late. In late 2006, she released The Flower Book, which could be described as either a greatest hits album, or an introductory compilation for Americans, for she has finally made her way onto the shores in which I reside and I sincerely regret missing her first US tour that coincided with the album's release. Later this year, she will release A l'Olympia, her first live album.
——————————————————————————————
[audio:https://obscuresound.com/mp3/emilie-ant.mp3]
——————————————————————————————
Émilie Simon – Le Vieil Amant
[audio:https://obscuresound.com/mp3/.mp3]
——————————————————————————————
[audio:https://obscuresound.com/mp3/emilie-opi.mp3]
——————————————————————————————
Émilie Simon – Rose Hybride De Thé
[audio:https://obscuresound.com/mp3/emilie-ros.mp3]
——————————————————————————————