Posted
March 18, 2007 by Mike Mineo
in Features
Review: Voxtrot – Voxtrot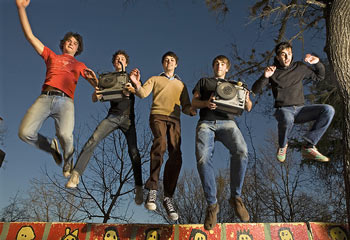 In terms of bands who know how to build up anticipation, Voxtrot has done a remarkable job. After three outstanding EPs, the five-piece from Austin, Texas are finally set to release their full length debut, the self-titled Voxtrot, on May 22nd. When Voxtrot appeared in early 2004 with the single "The Start of Something", fans and critics alike both made immediate comparisons to The Smiths, mainly due to the vocals of Ramesh Srivastava, a trait that often sounded remarkably similar to Morrissey himself. I certainly echoed their sentiment, though they sounded more like a Housemartins mold to me, as I wrote here about a year ago. The song eventually landed on the excellent Raised By Wolves EP, a debut which set the tone for their reputational growth and British jangle-pop comparisons. Despite the quick judgments, I also found several of Voxtrot's songs to be quite unique. Songs like "Raised by Wolves" and "Rise Up in the Dirt" were displays of fresh ingenuity, with passionate regard for healthy pop hooks. When Mothers, Sisters, Daughters & Wives was released last year in April with Your Biggest Fan in November, both EPs echoed the success of Raised By Wolves, aiding Voxtrot in becoming arguably the most buzzed about band without an actual full-length album, possibly of the decade. Last December, Srivastava announced on his blog that Voxtrot was in the studio working on their first full-length LP. The result of such dedication is Voxtrot, an album that opens up new horizons for the previously comparable band. Whether that results in a more focused sound is up to the listener. I, personally, have mixed thoughts.
Those looking for a clone of The Smiths or The Housemartins will be disappointed in Voxtrot, as Srivastava takes a completely new route with his vocals. Instead of mocking a deep and distinctive Irish voice, Srivastava uses his natural tone, being lighter and airier, more in the vein of Ted Leo. Surprisingly, the format fits well with Voxtrot's continuous emphasis on hooks and auditory satisfaction. I personally found a preference in the Morrissey imitation, though I'm admittedly biased in that aspect, being one of those obsessive fans of The Smiths. Even without the voice, the jangly aspect still looms large, making Voxtrot a very satisfiable album. "Steven" is an absolute gem, executing keys and strings to the fullest extent. Srivastava sounds the most innocent and puerile as he ever has, reaching distinct emotion as strings signal an increase in affection and sensibility. In fact, would it be too desperate to call "Steven" an ode to one of Srivastava's biggest influences? "Steven I missed you, the whole world's kissed you," perhaps is indication for outgrowing The Smiths and moving on to adulthood, with a nice metaphor in, "you shot up in bloom like a fern, there was spotted and black with the leaves rolled back, is that same trick too easy to turn?" Alright, alright, I'll stop with the annoying comparison. Pushing a distinctiveness for their originality, tracks like "Firecracker" and "Easy" sport fantastic choruses, even if we've heard it all before. "Firecracker" is an excellent example of the band's tendency to build up a song with precision, throwing in an array of halted guitar and moderate percussion to set the stage for an explosive chorus shrouded in the several guitars accompanied by Srivastava's vocals, which usually reaches the appropriate intensity necessary for such leveled songs. Strings also make a surprising entry into Voxtrot's arsenal, with the tracks "Ghost", "Brother In Conflict", and "Real Life Version" all sporting the emotionally drawn instrument, in addition to "Steven". "Brother In Conflict" utilizes it creatively in a more rushed atmosphere over the striking of boisterous guitars and a constant rhythm section. "I turned my back on beauty, it's a man-made crime" Srivastava muses during yet another explosive chorus, touched more significantly by the looming strings. "Ghost" is one of the more isolated songs on the album, working over ceaseless keys and strings, being a wholehearted display of the band's . It actually reminds me a bit of the Arcade Fire, even if the familial aspect told by dozens of instruments has been beat to death at this point. I believe Srivastava plays a role with his melodic capacity, triggering proper raises in pitch when instrumental additions signal mood and atmosphere. Such aspects help the band reach new heights, even if they sound all somewhat familiar.
Some fans may be disappointed by the band's more aggressive nature, as it causes Voxtrot to decrease the differentiation that they had from other bands. They are hardly as distinctive but that doesn't necessarily mean they are lacking in the songwriting aspect. Voxtrot still showcases some of their catchiest songs on their full-length debut, even if the focus is more in sync with their American contemporaries. "Kid Gloves" would have been an obvious choice for a single if it wasn't for one suggestable line. Though "Introduction" and "Blood Red Blood" are very inadequate compared to the rest of the album, Voxtrot get it right on several tracks. One of the album's best songs, "Future Pt. 1", is absolutely wonderful. Oddly enough, it is one of the most simplistically layered tracks on the album. Gone are the chorus effects on the multiple guitars, the frantic keys, and the melodramatic strings. Such an atmosphere is where Voxtrot appears to work best. Remember "The Start of Something"? The scantly executed production put listeners in a state of guiltless enjoyment, as was the case with most of the songs on their EPs. Although my disappointment in their sudden maturity appears evident, I find great satisfaction in "Real Live Version", a beautiful piano ballad that is the band's most emotionally honest song of their career. It is reminiscent of Suede's nature – always throwing in a piano ballad in the midst of an album that was filled with roaring hooks, really setting the tone for an emotionally diverse collection. While only "Steven" and "Future Pt. 1" may exceed the quality of their EPs, the majority of the songs on Voxtrot are very agreeable. Even though I still prefer their EPs, Voxtrot's full-length debut is better than the majority of straightforward alternative albums released today. The hooks on the album are plentiful and sufficient, even if many of the songs leave the listener craving a bit more. 7.7/10
——————————————————————————————
[audio:https://obscuresound.com/mp3/voxtrot-fut.mp3]
——————————————————————————————
[audio:https://obscuresound.com/mp3/voxtrot-ste.mp3]
——————————————————————————————
[audio:https://obscuresound.com/mp3/voxtrot-fir.mp3]
——————————————————————————————
Mike Mineo
I'm the founder/editor of Obscure Sound, which was formed in 2006. Previously, I wrote for PopMatters and Stylus Magazine. Send your music to
[email protected]
.