Posted
March 29, 2007 by Mike Mineo
in Features
The Fuzz Haunted: The Latest From Dawson & Lord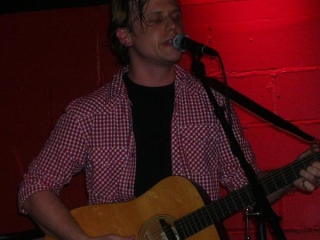 By now, I must have counted about ten reviews that compare The Fuzz Haunted to the godfather of all psychedelic rock bands, Pink Floyd. Though I think it may be a bit overblown, I'm sure the four band members from Manhattan don't mind either, as such a comparison is sure to make even the most experienced musicians giddy. The backbone of The Fuzz Haunted consists of Steve Dawson and Randy Lord, both of which sing all of the vocals and play all of the instruments on The Fuzz Haunted's self-titled debut. The two actually have a long history together, as Dawson and Lord have been collaborating on music for over fourteen years, since 1993. After fronting the theatrical band Ass Franklin and The Strangtecular Band, the duo decided to head in a new direction. Despite previously releasing three albums under the name, Dawson and Lord found a new sense of creativity during the recordings of their newly directed material. In 2003, they had fourteen songs finished, with eight of those eventually ending up on The Fuzz Haunted's debut. The band describes the album as a thirty-six minute journey into the ream of experimental rock, pop, and psychedelia, with a particular focus on sound effects and feedback. While playing live, Dawson and Lord realized that they didn't have enough hands to play all of their capable instruments, so they added rhythm guitarist Evan Schneidmesser and drummer James Lord to the lineup. Though the album released in 2005, it is just beginning to receive some proper attention. In addition, those familiar with Steve Dawson may also recognize him as one of the members in the critically acclaimed The Voyces, which I featured here earlier this month. If you're looking for tracks from The Strangtecular Band, you can find them on Randy Lord's MySpace, with Bad Ass Franklin having their own page.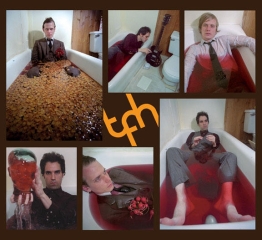 I suppose that most of the Pink Floyd comparisons for The Fuzz Haunted's debut can be primarily attributed to the use of vocals on the album. Aside from the occasional sprinkle of keys and dreamy acoustic strums, they employ too much distortion for the likeness to be as relative. However, one can easily see on "Resume" how the band has a keen sense of style for rhythm and distorted atmospheres, throwing in a repeating catchy riff to keep the listener locked in. When "Better Umbrella", the third track on the album, immediately followed "Resume", I was slightly shocked at the comparison between the two. Dawson and Lord immediately shift to a more serene atmosphere with the cohesively layered "Better Umbrella", an epic seven minute build-up that begins with a glimmering synth pad, follows into an experimental guitar fervor, and ends with a collection of strange and mysterious percussion and samples. Despite the instrumental change, the vocals remain similar throughout the entire album with a surprisingly tender touch, though I suppose this degree of quality should be expected from two individuals who have been working so well together for over fourteen years. The Fuzz Haunted's debut appears to be split evenly, with four tracks being general alternative pop and the other half being ambiently associated enthralling epics, including "Better Umbrella", "Bleed Ice Cream", and "A Very Fine House". When enjoyably abrupt straightforward songs like "Wet Song" comes into the picture, it's easy to see that The Fuzz Haunted can create catchy pop melodies as effectively as they can render atmospheric landscapes with experimental guitar implementation and keys. The vocals "Wet Song" seem to be a bit of an ode to Tom Waits, an influence that the band proudly shows. Their influences appear to have a diverse range. Some of the songs remind me of Pink Floyd, others remind me of The Replacements, with a few being reminiscent of early Air or Beck. The utilization of keys and organs in "Oh, What A Day" should bring a grin to your face, with quick little riffs that sound extremely intertwined with the already promising melody. Though it's relatively short with songs ranging from two to seven minutes, The Fuzz Haunted's debut is a prime example of musical experience, with a release that Steve Dawson and Randy Lord should both be more than happy to add to their ambitious discography.
——————————————————————————————
[audio:https://obscuresound.com/mp3/fuzz-res.mp3]
——————————————————————————————
The Fuzz Haunted – Better Umbrella

[audio:https://obscuresound.com/mp3/fuzz-bet.mp3]
——————————————————————————————
The Fuzz Haunted – Oh, What A Day
[audio:https://obscuresound.com/mp3/fuzz-ohw.mp3]
——————————————————————————————
Mike Mineo
I'm the founder/editor of Obscure Sound, which was formed in 2006. Previously, I wrote for PopMatters and Stylus Magazine. Send your music to
[email protected]
.