Posted
April 13, 2007 by Mike Mineo
in Features
Ancient Free Gardeners: Another From Down Under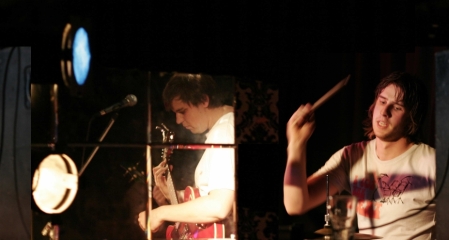 Universally analogous musical tastes appear to be growing stronger by the minute. Even though this site is based in the United States, I receive the majority of submitted albums from other countries all over the world; something that I enjoy considering my admiration for music that is not regularly played on declining American radio stations. One country that has been mentioned frequently throughout the past year on this site has been Australia. To a rather baseless person, thoughts of kangaroos and Crocodile Dundee will be the initial characteristics of "Down Under", though music fans are one of the more consistent subcultures who tend to have a different and less stereotypical outlook, mainly thanks to the country's blossoming music scene. Ever since fantastic bands like The Go-Betweens and The Church set a widespread tone for Australia's clear and vibrant musical intentions, the 80s and 90s have served as a prominent outlet for quality Australian music. Actually, this current decade may hold some of the greatest Australian music talents that you will ever hear. I have featured the likes of Gotye, Julian Nation, Youth Group, and Dappled Cities, among many others on this site, though they are merely the rim of great contemporary Australian artists. Whether it's the Western influence or the desolate geographical location, Australian bands appear to be riding on a string of recent success. The most recent one to catch my eye goes by the name of Ancient Free Gardeners, representing three musicians from Melbourne who indulge in their noted influences of country, alternative, and straightforward indie rock. The band's core consists of singer/songwriter/guitarist James Milsom and "kiss-loving, grass-growing" drummer James Sewell. I know what you're thinking and no, it's not that kind of grass. Sewell's day job is actually as an agronomist, which is someone who studies and inspects crops, soil, and grass. Though it may sound grueling, Sewell takes measurements of grass, measuring fields blade-by-blade. Watching grass grow may seem boring to most people, but Sewell's excitable style of drumming proves that some agronomists are far more interesting and lively than their jobs may represent, even if the occupation of agronomy is indeed considered prominent in terms of wealth and knowledge. Milsom and Sewell met at a university in their native Melbourne a few years ago, with their first bassist, Damian Anderson, becoming an acquaintance of the two shortly afterwards. At the time, Milsom and Anderson both saw themselves in the form of musical comedians, separately writing humorous songs in the vein of Weird Al or Steven Lynch. Even if the songs lacked emotional depth or musical complexity, college audiences got a kick out of their imaginative comedic songs. Eventually, Milsom and Anderson felt that it was time to take themselves seriously to see what they were capable of as authentic musicians. Teaming up with Sewell, the three formed what is now known as Ancient Free Gardeners. They began to write songs together, with their style and content improving with each attempt.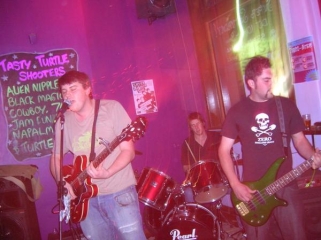 After about a year of this developing process, the three felt it was time to finally record their material in EP form. After rounding up a bunch of experienced studio producers and engineers, the group ventured to a beach house South Gippsland, Victoria to record their debut EP with producer Callum Barter. In addition to Barter, they were joined by backing vocalists Tobias Cummings, Ed Billings, and Jane Hendry, along with keyboardist Adrian Vincent. Ancient Free Gardeners' debut EP is a self-titled effort containing five songs, all written by James Milsom. The most noticeable comparison that can be made about the band's approach is to The Wedding Present. Milsom has the same heavy sigh and deep presence of David Gedge. All five tracks on Ancient Free Gardeners are enjoyable in their own unique sense. The opener, "When Your Years Are All Returned", begins with a steady rhythm section complemented by a gradual increase of guitar. The chorus is slowly built upon through a crash of Sewell's percussion, signaling the successful transition. Adrian Vincent's keyboards also play a vital role in the dramatic chorus, providing for a sense of twinkling optimism. The backing vocals of Tobias Cummings sounds much too similar to Milsom's to distinguish any sort of imaginative effect, causing me to believe that the song may have benefited better without the backing accompaniment. Fortunately, this aspect is used more effectively throughout the other four songs. "My Soft Bitten Thumb" is more instrumentally and vocally excitable, displaying more emotion than the rather continuous "When Your Years Are All Returned". Stylistically, it is more of the same with the fuzzy guitar and the longing vocals, though the chorus is more stressed through Milsom's stronger vocals and Billing's fainter use of backing vocals. One of the most welcoming appearances on the album is from Jane Hendry, who provides her angelic singing voice in the backing of the EP's last three songs. The most impressive is "I Am Not a Shipwright", a very elegant song that touches on the band's emotional durability to the highest extent. Vincent's keyboards make another impressive entry, wrapping around both sets of vocals to create a serene atmosphere as Milsom softly questions, "Need I a shipwright to be swallowed in your sea?" The tone of desperate loneliness is highly evident, as is the beautiful instrumentation that surrounds it. When the song shifts from an elegant piano-led structure to the volatile riffs of Milsom's guitar, the transition appears flawless. Such moments show fondness of Ancient Free Gardeners' tendency for successful execution. After the EP was released last month, Anderson announced his departure from the band in order to play bass for the punk band, Perfect Reason. He has been temporarily replaced by Andy Williams, though the band is still in search of a full-time member. Ancient Free Gardeners have the appropriate sound to build a dedicated fanbase, with a craft for genuine songwriting leading the way.
——————————————————————————————
Ancient Free Gardeners – When Your Years Are All Returned
[audio:https://obscuresound.com/mp3/ancfree-whe.mp3]
——————————————————————————————
Ancient Free Gardeners – My Soft Bitten Thumb
[audio:https://obscuresound.com/mp3/ancfree-mys.mp3]
——————————————————————————————
Ancient Free Gardeners – I Am Not a Shipwright
[audio:https://obscuresound.com/mp3/ancfree-iam.mp3]
——————————————————————————————
Mike Mineo
I'm the founder/editor of Obscure Sound, which was formed in 2006. Previously, I wrote for PopMatters and Stylus Magazine. Send your music to
[email protected]
.