Reflecting on the Acclaimed: Blonde Redhead's "23"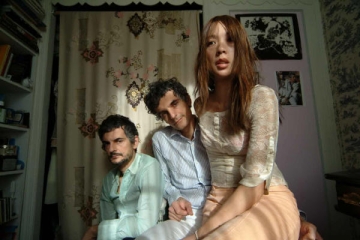 Since their debut in 1995, Blonde Redhead has been evolving, and without sacrificing any of their originality, their style has increased into an aspect that is progressively more melodic and suitably decorous. While the changes are somewhat subtle between each of their albums, the transitions are more than apparent between any two nonconsecutive releases. Though I was previously not much of a fan and I had only enjoyed a few songs, Blonde Redhead's newest album, 23, grabbed me instantly. Released last week on 4AD Records, it has received a large amount of acclaimed press and has already sold over 11,000 copies after its first week of release. Though I realize that nearly every music blog and publication have covered this gem by now, I simply could not resist. Aside from the initial irresistibility, 23 was a major contributing factor that instilled in me a realization of the band's strengthening focus on songwriting and originality. These aspects caused me to retrace my steps and listen to their older albums which now, while looking back, I question myself why I was not particularly fond of them all those years ago. 23 begins with a bittersweet tug into Kazu Makino's voice, fronting exceptionally well layered music that is as catchy as it is haunting. Amedeo Pace shares guitar duties with Kazu while his brother, Simone, plays drums and occasional bongos, an instrumental aspect that is starting to gradually increase into the band's ceaseless repetroire. While Kazu's voice has become slightly gentler in nature, Amedeo's vocals still have the pleasantly emotional whine of previous albums, causing both Kazu's and Amedeo's vocals to integrate into the music and stylistic composition perfectly. The album's first single, "Silently", is the most playfully illuminated song on the album, though as far as Kazu's vocal songs go, I prefer the curiously inviting "Dr. Strangeluv" and minimalist synth-driven "Top Ranking". The three songs that Amedeo sings on are all equally as solid, with "SW" and "Publisher" being slightly more reminiscent of their previous album, Misery Is a Butterfly. Another track that I found to be exceptionally enjoyable was the excitable indie-pop of "Spring and by Summer Fall", which can nearly pass for an grandiose sing-a-long after several repeated listens.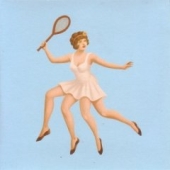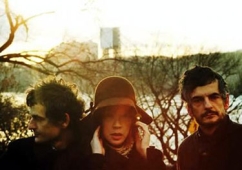 Though it may be exclusively personal, I have also learned that 23 can bring back even the most oddest and nostalgic childhood memories. Through stylistically polished production and clever songwriting, the genial "SW" has moments that, as odd it may sound, conjures up memories of the atmospheric Marble Gardens level from the retro "Sonic the Hedgehog", as well as certain brass incorporations that The Beatles redefined with the classic Sgt. Pepper's Lonely Hearts Club Band. Though the comparison may come off as a bit generic, those who have both the Sega game and The Beatles album forever trapped in their nostalgic minds may agree. Another highlight of the album, "Heroine", has Kazu's naturally etched voice cloaked in a vocoder, though it comes off as sounding surprisingly and distinctively natural. "Heroine", like the other songs on the album, is easy to imagine in a deep movie, which makes perfect sense considering the band's off-stage hobbies. The trio claims to hold an undying love for soundtracks, which is not entirely difficult to comprehend. Also, it must have been strenuously difficult to choose a single for 23, as nearly all the songs would have worked just as well. Though none of the tracks stand as a distinctive winner above the rest, this simply provides as an example for general consistency throughout the entire album. Personally, 23 was a gateway album for me and I imagine it will be for many others as well. Though the name of this evolving band has become fairly common and is not in traditional nature to the other more relatively unknown artists on this site, Blonde Redhead is still a band whose distinctiveness and ingenuity makes up for a group who should continue to rise in influence and acclaim.
——————————————————————————————
Blonde Redhead – Spring and by Summer Fall
[audio:https://obscuresound.com/mp3/blored-spr.mp3]
——————————————————————————————
[audio:https://obscuresound.com/mp3/blored-her.mp3]
——————————————————————————————
[audio:https://obscuresound.com/mp3/blored-top.mp3]
——————————————————————————————