Posted
April 6, 2007 by Mike Mineo
in Features
The Julia Dream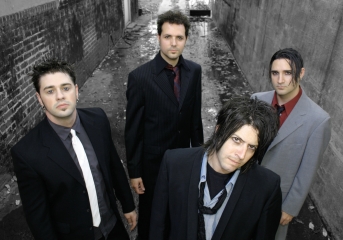 Even if naming your band after a Pink Floyd song is a bit cliché, The Julia Dream have enough originality and distinction to pull it off. It also helps that "Julia Dream" was an early b-side, being one of Roger Waters' less popular songs. At least that aspect can avoid them some hate from the baseless hipsters. The Julia Dream can most accurately be grouped in with bands like Interpol and Editors, showing a likeness for post-punk revival, often translating to radiant guitars, tight rhythms, and noteworthy melodies. However, unlike Interpol and similar modern artists, The Julia Dream have a tendency to be more focused on even darker assets, with a larger emphasis on vocal execution. Though the vocals of Vernon P. Love have a pitch that is slightly higher than most bands of the genre, his melodic incorporation and emotional involvement is similar to the unique approach of Placebo's Brian Molko. The guitar sounds given off from Sacha Alexander are also reminiscent of such an aphotic touch, often throwing in a shimmer of lighthearted instrumental verses over the progression of several expeditious chords. The rhythm section, consisting of bassist Matt Spatial and drummer Michael Jason, is also expectedly firm. Since their formation in mid-2004, The Julia Dream have established themselves as one of the more noticable bands originating from the Atlanta area. By the end of 2004, they were named one of "Atlanta's Top 100 Bands" by Civilian Magazine, in addition to several additional publicized compliments. After headlining at several festivals and the Atlantis Music Conference, The Julia Dream headed to the studio in late 2006 to record their first official studio release. The result was a seven-song EP, Above From Beneath, which was released in February.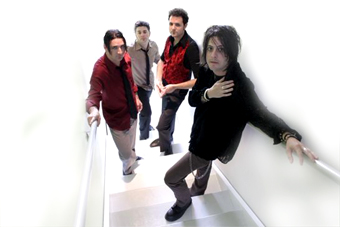 Though the EP has yet to expose the band to a national variety, a big break of sorts in the near future hardly sounds too radical. With a new album from Nine Inch Nails and Placebo on the way later this year, this specific mixture of industrial, alternative, and post-punk should be gaining steam later in the year regarding radio playability and media exposure. As can be clearly heard in "Transistor", Love's vocals play a large role in the factor of success a song from The Julia Dream can have. While the verses express a similar Molko delivery, the powerful chorus indicates a raise in emotion and pitch. Alexander's guitars are also very prominent, adding several guitar lines to an already lavish chorus. "Aliens All Laughing" is an even more accurate depiction of the Molko signature usage, using the same formula as "Transistor". Yet again, Love changes his pitch as the chorus rushes onto the scene, though "Transistor" flashes more variability with the added scratching and dripping samples, all which incorporate themselves into the saturated atmosphere quite well. Following "Transistor" on Above From Beneath with it's repercussive dripping of a faucet, "Barricade" is the most expressive on the album from it's initial starting point, showcasing the band's meaningful regard to all things bleak and blighted. "Build a bridge instead of burning it," Love hints with a pleading sense of optimism, "make love instead of taking it." Throughout this song of sensitive fury, Love begs for nothing but the returned emotions of a feeling that is ironic to his last name. Like the previous two songs, expect a memorable chorus, that even while similar, is catchy and responsive upon initial listen. For fans of the element, Above From Beneath is a worthwhile listen. Though the lack of differentiation in song structure and production stops this debut from reaching great heights, it's a promising effort from a band whose passion is highly evident throughout their seven songs.
——————————————————————————————
[audio:https://obscuresound.com/mp3/thejulia-tra.mp3]
——————————————————————————————
The Julia Dream – Aliens All Laughing
[audio:https://obscuresound.com/mp3/thejulia-ali.mp3]
——————————————————————————————
[audio:https://obscuresound.com/mp3/thejulia-bar.mp3]
——————————————————————————————
Mike Mineo
I'm the founder/editor of Obscure Sound, which was formed in 2006. Previously, I wrote for PopMatters and Stylus Magazine. Send your music to
[email protected]
.