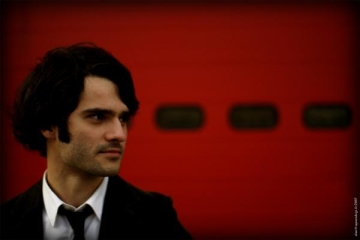 Landscape is such a suitable name for the delicate post-rock group from Paris, France. Crafting atmospheric landscapes is something that the collective group of musicians does incredibly well; interweaving acoustic guitars, dramatic strings, and lush keys over tranquil vocal melodies that echo their serene objective of transporting the listener into an unparalled destination of equanimity that can only be entered through beautiful instrumentation and thoroughly executed songwriting. Though the occasionally implemented vocals are equally sung in English and native French, listeners of global originations should be able to enjoy songs that gradually increase with intensity and emotion through each supplemented layers of instrumentation. In typical post-rock fashion, several of the songs begin as a barren piece, slowly evolving into a more elborate picture through instrumental build-up and intensified proportions. While countless numbers of bands have taken a similar route before, Landscape often provides a fresh introspective with their classical music influences, contemporary likenesses, and foreign expertise. Their songs do not erupt or burst into high volumes in the midst to establish a new tone of instensity. Instead, they fulfill their intended purpose by letting the beauty of vocal and instrumental musical progression speak volumes.
I never thought learning French for three years in high school would come in handy. Well, I still do not consider the schooling worthwhile but I was fortunately able to transcribe some information about Landscape using my limited knowledge of the language (their web site is in French, along with the majority of the fan base). Landscape is primarily the work of Guillaume de Chirac, as he plays the part of songwriter, pianist, guitarist, and vocalist. Beginning the project in 2004, Chirac formed Landscape with a slew of talented musicians who could fill the few spots that Chirac could not accompany. Originally, only Chirac and four other musicians completed Landscape's lineup for their debut album, the aptly titled One, though he later filled out the lineup for their second album, With A Little Help From My Friends, even more thoroughly with over fifteen additional collaborators. It made perfect sense considering the musical advancement that With A Little Help From My Friends has made over One. With such progressive skill, the group's second album contains a boastful arsenal of varying instruments including violin, cello, flute, cymbals, trombone, and over four backing vocalists. At this rate, we should be expecting an entire orchestra to suit up for their third album!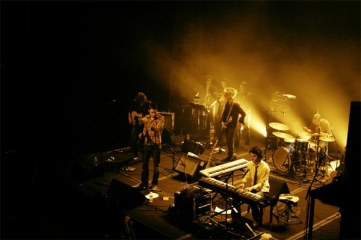 Their musical approach reminds me quite vividly of Sigur Rós without the made-up language, the high-pitched falsetto, and the instrumental outbursts. Both bands craft their sounds in a fragile nature, focusing on the power of expertly relayed instrumentation and the addition of vocals that are appropriately implemented in the most suitable of circumstances. I found myself impressed with With A Little Help From My Friends, as it truly establishes Guillaume de Chirac as a gifted songwriter who possesses a skill in which he can bring people to their knees with devastating beauty. Take a listen to the sprawling "Slow Down" or the optimistically touching "Someday" for effective examples. While both tracks exceed over seven minutes, several moments like the beautifully conclusive strings in "Someday" or the sullen trumpets utilized in "Slow Down" sound proficiently crafted. Though these moments arrive at the end of each songs, it is recommended to listen to each entire peace thoroughly. They build upon each other for a specific reason and Chirac is perfectly aware of it. Sure, this is not the typical post-rock blaring on your speakers with loud instrumentation or screeching distortion, but it is enjoyable nonetheless. Be patient with each song and give it at least one chance. I can guarantee that most will be satisfied.
If you are looking for contemporary comparisons, anything beyond the string likeness to Sigur Rós in "Parenthese" will prove to be a bit of a stretch. Along with the typical post-rock choice of Mogwai, Chirac has listed Radiohead as an influence and his vocals in tracks like the acoustically layered "I Wish" or the whispered "Run Away" could sound like a subtle Thom Yorke to those with some imagination, though the romanticized string-laden production of "Someone Else" calls on a stronger resemblance to darker crooners with resemblance to Scott Walker or Nick Drake. "L'heure d'à  Côté" is truly the only song bearing their native French resemblance on the entire album, though it is quite a refreshing transition in the midst of With A Little Help From My Friends. It contains the strong melodic composure on the entire album, for once focusing on vocal melody over instrumental execution. Either way Landscape chooses to go about their ways, With A Little Help From My Friends is a wildly successful attempt at crafting something that transcends typical musical standards. Guillaume de Chirac and his backing assortment of musicians should be quite pleased with this strong effort, as it will most likely go down as one of the most overlooked post-rock albums of the year.
——————————————————————————————
——————————————————————————————
——————————————————————————————
Landscape – L'heure d'à  Côté
[audio:https://obscuresound.com/mp3/landscape-lhe.mp3]
——————————————————————————————