REVIEW: The Cribs – Men's Needs, Women's Needs, Whatever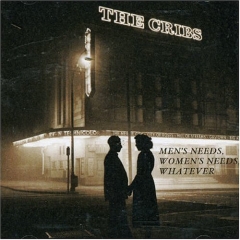 The Cribs – Men's Needs, Women's Needs, Whatever
by Tom Barrett
Strokes-lite opportunists or genuine contenders? Your opinion of The Cribs will generally fall into these two brackets. That being said, Men's Needs, Women's Needs, Whatever is unlikely to persuade anyone to switch from the former to the latter. But fans of chirpy three and a half minute indie-rock gems should fear not. There is a hell of a lot to be enjoyed from this record.
Men's Needs, Women's Needs, Whatever kicks off with "Our Bovine Public". Rousing sing-along chorus? Check. Spiky and infectious guitar riffs? Check. Poser-denouncing lyrics? Check again. While The Cribs continue to live and die by factual numbers and longstanding rock formulas, it is always worth keeping note that few bands do as well by this method as The Cribs. It is a feat that ought to be commended in keeping the same high standard of songwriting for a third straight effort. Franz Ferdinand's Alex Kapranos is on production duty for his first time and he has done an excellent job in iiving the band a step up from the scratchy lo-fi charm of the previous records to something a bit more professional and clean, without losing said charm that originally picked them apart from the platitude of the Strokes/Libertines aping apes.
Lurking beneath the indie dance floor slaying likes of "Men's Needs" and "Girls Like Mystery", theres a hint of something more epic and ambitious, at least in the Cribs world . The staggering six-minute long "Be Safe" features a spoken word piece from Sonic Youth's Lee Ranaldo. It is certainly not an understatement to call this one of my favorite songs of the year. It is a hint of what the Jarman brothers could achieve if they could increase the quality their tactful game. "I've Tried Everything" has a chorus so close to pop/rock perfection it would make Casablancas and company blush. It is not all generic indie-rock sailing though, as surprises arise in the album closer, "Shoot The Poets", which has plodding and sadly token acoustic number feeling to it. Despite some fantastic tracks, the band goes through weary motions on the lacking "Major Titling" and "Women's Needs". Both tracks are lean meat and quite forgettable with predictable structures and typical stylistic fares.
However, save for a few damp squibs, this album has "Summer 2007" all over it. Time will tell if Men's Needs, Women's Needs, Whatever can catapult The Cribs up a few divisions in the indie big leagues. Personally, I feel they've got a shot. This is yet another very impressive showing from the Jarman brothers, proving that they are a band you can rely on when you need an album fit for the enjoyable summer weather. With The Cribs' definitive trend being to release one album every two years, I am waiting anxiously for their next success in 2009.
8.0/10
——————————————————————————————
The Cribs – I've Tried Everything
[audio:https://obscuresound.com/mp3/cribs-ive.mp3]
——————————————————————————————
The Cribs – Girls Like Mystery

[audio:https://obscuresound.com/mp3/cribs-gir.mp3]
——————————————————————————————
[audio:https://obscuresound.com/mp3/cribs-men.mp3]
——————————————————————————————