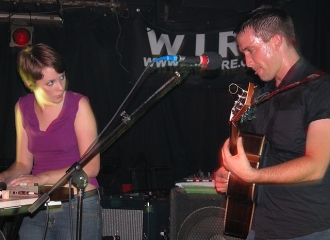 Oh, Jamie Stewart, how your fans adore the bluntness you possess. As the ever elusive frontman of Xiu Xiu, your music has enchanted us with a form of boldness and lyrical perspective in which we rarely see in these drab days of repetitiveness. As it goes, it would be incredibly easy to define Xiu Xiu as "experimental", though isn't it rather blatant that Stewart and his sidekick/cousin Caralee McElroy have a clear and distinct purpose in each and every song? Throughout their five studio albums, most of which were produced formatively by Cory McCulloch, Xiu Xiu has defined themselves as one of the only modern bands in which it proves difficult to suggest a preceding influence. As the band tweaks various genres including but not limited to punk, folk, and ambient noise, even the most vivid of descriptors have a difficult time relaying the sound of Xiu Xiu in a literary sense. This state of bewilderment and lack of definitive classification often causes a rift between die-hard fans of Xiu Xiu and those who feel a painful twinge at the very thought of them, creating a very thin line between these two groups. Recognizably, Xiu Xiu holds two radical sides between those who recognize the band as creative messiahs and those who find the musical style to be utterly repulsive and intolerable. I have heard people use terms like "clutter" and "messy" when describing Xiu Xiu just as much as I have heard the terms "stunning" and "jaw-dropping". I have rarely met an individual who was indifferent after hearing Xiu Xiu; it was wholeheartedly either a love-it or hate-it affair.
So, what can this separation be accredited to? Could it be Stewart's highly interpretable lyrics that often carve into topics of politics, drug abuse, homosexuality, domestic violence, and religion? Or perhaps it is the frantic styles of instrumentation that the band implements through a flurry of percussion and various exotic instruments. You know, it could also be the band's lack of structural commitment, as every song sounds quite different from one another while listening on a personal level. Well, in my opinion, that should be considered an aspect of quality in this flawed modern era where musicians are often defined by how well they can mimic great musicians of the past. However, Xiu Xiu is one of those rare bands who have no other artists to mock or duplicate. They are one in their own and they have continued to be one of the most creative bands imaginable throughout each of their releases; a quality that even the hard-nosed skeptics should begin to appreciate over time.
As you may have been able to tell by now, I am on the side of those aforementioned pro-Xiu Xiu fans. You know, the type that did not even judge Xiu Xiu's music in a different light after finding a photo of Stewart engaged in a certain sexual situation with a horse, whether it was later proven false or not. Sure, you can go ahead and call me biased, as I did name Xiu Xiu's The Air Force as my favorite album of 2006 after all. It was an evident example though, as most year-end lists from music publications either picked Xiu Xiu's album as number one or left it off their list entirely, barring a baseless insult. The separation between critics on Xiu Xiu is oddly similar to the individuals who listen to it, being a rare showing of a waivering point of indifference. When Stewart announced in 2005 that Xiu Xiu was going to collaborate with Italian experimental-rock five-piece Larsen, I was hardly surprised. While Larsen is known for their unconventional method of musical authoring, their style of rising to the top is even more fascinating. When Larsen formed in 2001, they set their sights on acclaimed producer Michael Gira (Swans) to produce their debut album. With Gira's prominence seemingly out of reach for the five unheard-of musicians, they devised a plan and began to send Gira a set of demos twice a month for several months, always on the 1st and 21st on the month. Eventually, they included a letter with airfare and pre-payment for production fees in a plea with Gira to produce their anticipated album. Based on the curiosity and commitment of the mysterious band, Gira complied. And if you thought that was odd, Gira actually never saw the band during the production of their well-received debut album, Rever. They worked behind a screen and Gira relayed his messages through a translator, making the success of Rever even the more impressive.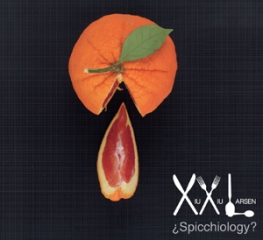 Xiu Xiu and Larsen overlapped in the peaks of the careers, with Xiu Xiu just having released La Forêt and Larsen with two respectable albums under their belt. Deciding on the apt name of Xiu Xiu Larsen, the large group set to work on Xiu Xiu Larsen's debut album, Ciautistico!, and released it later in 2005. Fans of both Xiu Xiu and Larsen ate it up for the most part, as it was primarily a more ambient experience of Xiu Xiu with Stewart's vocals playing a more drawn-out atmospheric role. Lyrics were often indescribable, with the only song in the mold of traditional pop being snippets of the excitable "Prince Charming". Still, their ambitious nature led to receptive reviews and followings from those already enchanted by the band's engaging spell. In the following months, Xiu Xiu went on to release the exceptional The Air Force and Larsen followed it up with their third album, SeieS. Though both bands still have tentative plans to release an album from their original projects later this year, Xiu Xiu Larsen's sophomore album, ¿Spicchiology?, has taken me by surprise and was released on May 15th. Like Ciautistico!, it was recorded in Torino, Italy. Stewart and McElroy returned for Xiu Xiu, while Fabrizio Modonese Palumbo, Marco Schiavo, Paolo Dellapiana, and Roberto Maria Clemente handled Larsen's contributions.
In one of his online ramblings, Stewart described the oddly titled ¿Spicchiology? in a vaguely absorbing way. "If the last Xiu Xiu Larsen record was romantic and fun," he said, "this one is broken and superior." I suppose he means to "broken" as in much darker, more ambient, and defiant. It is true, ¿Spicchiology? is arguably the darkest thing either members have put out. Though "Daydrinking" is supplemented by bright keys, the melody is dim and presents a feeling of paranoia and uneasiness. Such unwanted and fearful feelings appear to be the primary objective of this fascinating record. Other than the voluntary "Little Mouse of the Favelas", there are no tracks that will make you want to get up and move your feet like "Save Me Save Me" or even bob your head like "Pox". Yeah, "Little Mouse of the Favelas" is as conventional as Xiu Xiu Larsen gets on ¿Spicchiology?, with a Stewart-McElroy duet leading the way through a murky set of illuminated keys, rhythmic guitar patterns, and repeating percussion. Even in the midst of all these gloomy tracks, "Little Mouse of the Favelas" stands strong. Several songs, specifically "Last in the Society", maintain a strong emphasis on the value of human life, incorporating a slight beeping to be reminiscent of a pulse in dire need of revitalization.
The epic "The Tale of Brother Cakes and Sugar Dust" should find a place in the heart of those who admire tracks which steadily build up to a level of high energy. Beginning with a slight buzzing and set of vocals, it collapses into an weary setting of distortion and ambiance, an alternation to the clicking effect used throughout the cadaverous opener, "So Easy, So Cheap". Apart from "Little Mouse of the Favelas" and perhaps "Daydrinking", ¿Spicchiology? is by no means typical of the most recent releases from Xiu Xiu or Larsen. The majority of the eight tracks on ¿Spicchiology? depend on atmospherically ambient qualities, forming a perpetual realm in which may be understandably too difficult and complex for others to dwell in. However, if you are a fan of the more ambitious material from either Xiu Xiu or Larsen, ¿Spicchiology? should not be missed. Though some may scoff when Stewart calls Xiu Xiu Larsen a "supergroup", they are one in their own niche. It would be strenuous to find another group of collective musicians who can instill a similar degree of paranoia into individuals through the power of music.
——————————————————————————————
Xiu Xiu Larsen – Little Mouse of the Favelas
[audio:https://obscuresound.com/mp3/xxlarsen-lit.mp3]
——————————————————————————————
——————————————————————————————
Xiu Xiu Larsen – Last in the Society

[audio:https://obscuresound.com/mp3/xxlarsen-las.mp3]
——————————————————————————————