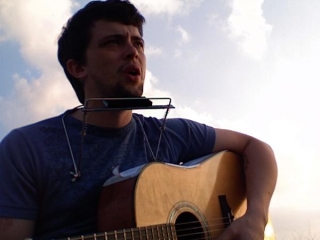 The power of a voice can go a long way. And no, for once I am not referring to the "voice" of diction or figurative language, but actually quite literally in the sound and emotion of a voice itself. Though the history of his musical upbringing remains somewhat of a mystery, Christopher Denny may have ended up taking vocal lessons at one point in his life. Regardless, any individual who even listens to a few seconds of his powerful, twangy, and robust vocals could determine that even the most proficient of lessons would not have been able to shape a set of vocals like his without naturally born skill. At this point, he is merely a blip on the radar in retrospective to the national music scene. Though he is heavily regarded around his originated Little Rock, Arkansas, as an extremely promising artist, the word has yet to get out on this multi-talented singer/songwriter.
Whether he is accompanied on stage by a full-on band (Chris Atwood, Marcus Lowe, and Jesse Bates) or by no additional help at all, Denny's stage presence is known to be admirable and gutsy. The twenty-two year old appears to be beyond his years in musical skill, both vocally and instrumentally, and plans to undergo the introductory process of an up-and-coming songwriter to release his debut album, Age Old Hunger, later this year. Originally found on the local Tomato House Records, Denny recently signed to a promising New York-based label in the oddly titled 00:02:59 for the national release of Age Old Hunger. Merely a local fixture at this point, it proved rather difficult to find additional information concerning the promising songwriter. Either way, we should all learn more soon as I doubt that Christopher Denny is going to be a secret for much longer.
"All Burned Up" offers an accurate perspective of Denny's amiable approach. His integration of country, blues, and folk is highly reminiscent of legendary influences in the form of Neil Young or John Fogerty, while it is songs like the tender "Wake Up" that maintains a sullen aroma of slow-tempo gratification that remains to be reminded of Johnny Cash or James Taylor. With regard to the fact that Denny's folk approach has been implemented for years and his vocals are vaguely reminiscent of several respectable folk artists of the past, one could sit and make artistic comparisons all day when asked how to describe Christopher Denny. "All Burned Up" offers the expected harmonica and "Wake Up" contains nothing but a sole acoustic guitar, but they both stabilize credibility with Denny's occasional hooks, the majority of which are led by his lingering vocals. I suppose many would assume he depends mainly on his vocals to carry a strong song. That is hardly so, as the songwriting is just as impressive. Judging from the diversity of these three samples, Denny's tendency to remain unpredictable both instrumentally and vocally makes it a difficult task for those who rely on comparisons for sound judgment (no pun intended).
Understandably, we have heard tracks like "All Burned Up" and "Wake Up" before from songwriters who were less capable vocally. "Lookin' For You" is of no exception either. Presenting a throwback form of 50s rockabilly with a mindful ear for Elvis Presley, Roy Orbison, and Scotty Moore, Christopher Denny pulls it off so flawlessly that one cannot help but be impressed. Whenever an artist attempts this form of rockabilly revival, contemporary production or methods usually stand in the way of an accurate representation. However, in "Lookin' For You", Denny has successfully provided both an ode and means of nostalgia to the classic genre. Listening to songs like "Wake Up" and "Lookin' For You" causes Denny's approach to appear even more remarkable, as he makes stylistic trend transitions look easy. While his poise and structure is hardly consistent, Denny's overall ethic and natural skill will most likely carry him to great heights on his debut album, Age Old Hunger. In addition, check out two more tracks on his MySpace. They are both just as exceptional.
——————————————————————————————
Christopher Denny – Lookin' For You
[audio:https://obscuresound.com/mp3/cdenny-loo.mp3]
——————————————————————————————
Christopher Denny – All Burned Up

[audio:https://obscuresound.com/mp3/cdenny-all.mp3]
——————————————————————————————
——————————————————————————————