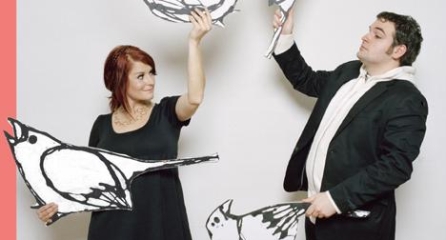 Cute. It is a four-letter word that has always irked me a bit. I am not sure why either; it is a perfectly legible word in the Merriam-Webster dictionary with three different definitions. Yes, three. Actually, on second thought, I have never had an issue with an actual person being labeled as cute because, well, some individuals do possess that particular charm that brings a smile to all others in the same room at near view. Also, you cannot design and construct the ability for a person to be cute. It is the way one acts naturally and instinctive traits cannot be altered. Sure, looks can play a part, but the determination of whether or not to use the term in application to a person is most often found through enjoyable social quirks that certain people demonstrate. The thing that has always bothered me a bit is the relation of the word "cute" to inanimate objects and forms of art. Perhaps I am just odd, but I remember finding myself somewhat perplexed in situations where someone calls a piece of furniture or table setting "cute". I suppose it is just another complementary term that, considering that it is a relatively modern term, sounds the most sincere and makes the most relevant sense out of the bunch that includes "attractive", "youthful", and "delicate". Thanks to Merriam-Webster for those clarifying terms.
So, the question that I often wonder involves the obvious subject regarding every post. Of course. How does the word "cute" incorporate itself into music? Prior to listening to LadybiRdS, I had no clue either. I had most often heard the term foolishly tossed around for bands like Architecture in Helsinki and Au Revoir Simone, groups who often feature soft-paced female vocalists who let out charming vocal melodies over uplifting instrumentation of various aspects. Cute music! I never saw it though and I did not see how they fit the definitions of "clever or shrewd often in an underhanded manner" or "obviously straining for effect". Well, perhaps the last one, but when that was being done they were overdoing it quite melodramatically. It was hardly underhanded and rarely clever, instead being repetitive and dull in nature. When I saw that the half of the duo of LadybiRdS consisted of Tyler Pursel (keyboardist for Gym Class Heroes), I was somewhat skeptical. I was not doubting his musical ability, rather, I was skeptical of how he would be able to work with Teeter Sperber, the duo's vocalist who possesses an enjoyably lighthearted voice that rings of innocence, youth, and high-pitched emotion. Innocence? Youth? Sounds like the Merriam-Webster definition of "cute". Could we have something here? Did someone actually pull off the correct usage of the word using the standard indie pop formula? You bet.
While Sperber's vocals play a devastatingly large role in the duo's overall sound, Pursel establishes himself as an extremely credible keyboardist through his exploration of keys, synths, and production. Featuring "Nintendo inspired beats" and "wholesome vibes", LadybiRdS' debut album, Regional Community Theater, will be released later this year under CREEP Records. The album is filled with eleven pop songs, all very enjoyable with their own sense of, dare I say, "cuteness". Tyler Pursel provides a variation of keys and percussion elements that coincide with one another very nicely, establishing songs that are focused on immediate durability and likability over general intensity and rapidity. While hardly anything mindblowing, every individual song on Regional Community Theater is filled to the brim with notable hooks and anxious choruses. The duo even implemented a "pre-teen chorus of awesomeness" into Andy Lex", a song that mentions fairy tales and "The Princess Bride" more than once. A little too upbeat for my own liking. While Sperber's talented voice could have easily allowed her the option of walking into any talent agency and finding a typical pop songwriter on the spot, her involvement with the lesser-known Pursel is certainly admirable. It appears she made the right choice as well, as Pursel truly brings out the best of both members in the band through his impressive songwriting and precise instrumentation. Sperber sounds like a genuine pop star with vocals that, with the right production and songwriting, could truly one day create a legacy for herself that will serve as an example for upcoming indie artists who ignorantly disregard vocal maneuverability and stylistic approach.
Regional Community Theater also features numerous guest appearances by several players in the indie music industry. The collaborations includes spots by Max Bemis (Say Anything), Matt Pryor (The Get Up Kids), Justin Johnson (The Danger O's), and Neil Sabatino (Fairmont). Bemis predictably makes his guest spots appear in two of the best songs on the album, both "Regional Community Theater" and "Maxim and the Headphone Life", with the latter being my favorite out of the bunch. Jumpy synths kick-start an excitable melody that is eventually thrown into a contagious chorus as Bemis and Sperber exchange vocals in a melodiously enthralling fashion. Bemis sounds both aggressive and anguished simultaneously, bringing his trademark punk-like vocals from Say Anything out of semi-retirement and into the spotlight. While I find a handful of their songs quite solid, LadybiRdS is certainly not a duo for everyone's tastes. Those who despise "cutesy" music or anything that sounds remotely similar to any form of sugary twee-pop will certainly find no enjoyment in the tender sounds of LadybiRdS. However, if you are a fan of Architecture in Helsinki and find no offense in songs whose pure purpose is to bring a linear smile to your face, LadybiRdS debut, Regional Community Theater, was made just for you in mind. Ah, damn. I promise never to use the words "cute" or "cutesy" again.
——————————————————————————————
LadybiRdS – Maxim and the Headphone Life
[audio:https://obscuresound.com/mp3/ladyb-max.mp3]
——————————————————————————————
LadybiRdS – The Brown and Red Divide

[audio:https://obscuresound.com/mp3/ladyb-bro.mp3]
——————————————————————————————
LadybiRdS – Regional Community Theater

[audio:https://obscuresound.com/mp3/ladyb-reg.mp3]
——————————————————————————————