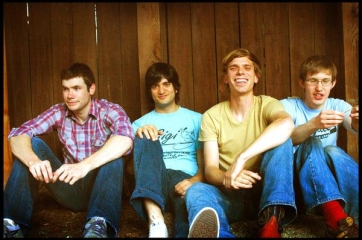 I would assume that the local music scene in Washington D.C. is filled with an abundant number of bands who view American patriotism as a promotional advantage After all, the nation's capital would most likely look admirably on bands who name themselves "The Proud Americans" or "We Love Democracy". So, how would a local band who names themselves Let's French fare? Surprisingly, they are doing just fine. In fact, they are considered to be one of the best local bands in the Washington D.C. area. Formed in 2006 by vocalist/guitarist Randy Chugh, guitarist Max Sorenson, bassist Tim Gibbon, and drummer Matt McCoy, Let's French later joined the D.C.-based Federal Reserve collective. The Federal Reserve, for those unaware, is a group whose main purpose is to bring the best out of the D.C. music scene onto a larger national scale. Rightfully so, Let's French is one of the staples of the collective along with the more predictably titled These United States and Kitty Hawk.
Let's French's debut album, Victory, was released on May 19th and has already received glowing reviews from the majority of respected D.C. publications, most notably the Washington Post. As far as their sound goes, Let's French sounds much like a mixture of successful contemporary American indie bands, Ã  la The Killers or Interpol. Lead vocalist Randy Chugh sounds typically like a mixture of The Killers' Brandon Flowers or Interpol's Paul Banks, without Flowers' annoying screech or Banks' occasionally melodramatic yearn for anything intimate. The four-piece incorporates infectious guitar riffs, attributable keys, and memorable vocal melodies in their songcraft, always appearing lively and set to produce in the most desirable of situations. Victory is a significantly accomplished debut; one that offers up enough diversity and distinction through melodic comprehension to truly establish Let's French as possibly the next successor to the throne of America's next hottest indie-rock band.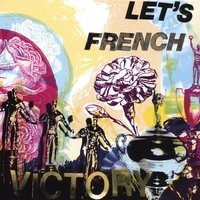 As easy as it is to group Let's French into the countless groups of Interpol or Killers imitations, they offer something more resourcefully invigorating, separating them from the masses. The songs present themselves through a variety of deviceful methods, with none of the structural shifts or melodic keys sounding too overused or rehashed. From the excitably anxious opener "Your Name Here" to the overzealous "Unpack Your Suitcase", Victory is a pure joy from start to finish. Retracing my steps to the Interpol and Killers comparisons, the most visible of that circumstance can be found in "She Says She Loves Me" and "Genevese"; both exceptional songs. "She Says She Loves Me" sees Chugh echoing a distinctively Paul Banks croon, with a more accessible form of upbeat synths and Interpol-esque guitar tremolos paving the way for a tremendously stylistic approach. "Genevese", on the other hand, recalls the devastating hooks of the two or three Killers songs that I actually find enjoyable, with a chorus that stands as one of the best moments on Victory.
Each of the ten songs on Victory appears to be played with the same intensity. There are no overdone ballads or stylistically experimental attempts to be seen. Despite the generally consistent tone, Victory is purely a success. After listening to it a couple of times, it is very clear why Let's French is considered to be one of the prize bands of the D.C. area. Victory est une victoire, mon ami.
——————————————————————————————
Let's French – She Says She Loves Me
[audio:https://obscuresound.com/mp3/letsfr-she.mp3]
——————————————————————————————
——————————————————————————————
——————————————————————————————