Posted
June 28, 2007 by Mike Mineo
in Features
Why Twist the Hair? For Healthy Skin!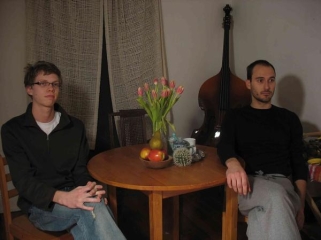 With a name that sounds like an erroneously translated Japanese t-shirt, Why Twist the Hair is the latest innovation out of Boston. Consisting of electric pianist Nick Pastel and drummer Peter Allen, the duo proudly calls themselves an "electric key duo". While this may lead some to believe that keys are simply one of the many instruments involved, that is far from the truth. Aptly stated, Why Twist the Hair breathes, eats, and sleeps the usage of electric keys. Alongside Allen's concise method of percussion, it is the core instrumental aspect of the duo. While they remain too bloated in production for everyone's favorite "minimalist" tag, the melodies contained in the songs of Why Twist the Hair are usually etched out of keyboard-based melodies that, while complex and often unpredictable, offer up the same form of infectiously melodic comprehension that rival the sounds in which even a full ten-piece band could create. While their songs are often symbolic of unconventional structures, witty lyrical tones, and personable performances, Why Twist the Hair delivers the type of powerful sound that makes many forget that they are merely a two-piece playing two very commonplace instruments (most of the time).
Keeping in a consistent superficially cleansing tone, they named their splendid debut album, Healthy Skin, after a quality that all people of different staturs strive for. Ironically, the lyrical content in Healthy Skin is far from everyone's favorite visual image. Pastel and Allen apparently wrote the songs after a variety of subjects ranging from "petty roommate disputes and skin rash to bed bug paranoia, deracination, eating disorders, and a Boston-local ballsack artist." I won't even begin to get started on that last topic. They cite their main influences as Deerhoof, Aphex Twin, Jon Brion, and Thelonius Monk, though I can honestly say that the visible influence from all four artists is quite bare. Personally, I would compare the sound of Healthy Skin to that of Scritti Politti's latest effort, White Bread, Black Beer. Like Green Gartside, both Pastel and Allen sing their share of capriciously intertwined melodies, all wrapped into the grace and enjoyable simplicity of a bare keyboard. The three different songwriters all share a common talent for creating catchy melodies using a common keyboard, with no overdone effects or botchy production values that distort the equatable result.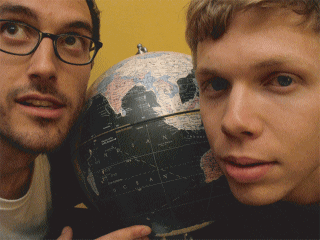 However, unlike Scritti Politti, Why Twist the Hair have the convenient helping hand of the Quintet Royale, a five-piece mini-orchestra that features the flute, clarinet, French horn, bassoon, and oboe. While they only appear on three of the thirteen tracks on Healthy Skin, the Quintet Royale's presence remains extremely noticeable. In being that, it is also substantially successful in establishing a diverse grasp for the entire album in prevention of thirteen straight songs with nothing more than a keyboard, percussion, and vocals. The amusingly satirical outlook on anorexia displayed "She Wanted It" is an excellent usage of the orchestral accompaniment with the clarinet heading the pack. Despite the helpful orchestral aid, the keyboard remains the most vocal instrument. "Don't give me whole milk, just skim milk please," they sing tongue-in-cheek. "I don't like to drink my calories." With such words being spoken over an exuberantly upbeat orchestral accompaniment, it simply adds more to the entertaining satirical outlook and generally agreeable quality of the song. Certainly not the suitable soundtrack for a documentary on eating disorders but fun nonetheless.
"Formula" is certainly one of the oddest songs on Healthy Skin. With a xylophone effect acting as both the melodic and percussive instrument throughout the entire song, the vocals cry out and strain the listener with full intent. "I'm as dead as they come… or worse," the duo sings in a torturous fashion, eluding to an impossible "formula" that somehow relieves mankind of faulty morality. Songs with the odd and interesting lyrical techniques displayed in "She Wanted It" and "Formula" are found all throughout the album, just as the band promised. There remains a few exceptions though, as the carefree "Just Happy" deals with actual conventionalism, found within the standard song structure and the lyrical tale that establishes the well-known tale of love's embrace. Lines like "I'm just happy 'cause she loves me," found in the uplifting chorus deliver a progression of emotion as the song advances, one that lasts and remains durable. Sure, Healthy Skin may indeed be healthy for your skin and lyrical intellect but, in my experience, the most pleasurably beneficial aspect comes in the album's tender treatment of the ears.
——————————————————————————————
Why Twist the Hair – She Wanted It
[audio:https://obscuresound.com/mp3/whytwist-she.mp3]
——————————————————————————————
Why Twist the Hair – Just Happy

[audio:https://obscuresound.com/mp3/whytwist-jus.mp3]
——————————————————————————————
[audio:https://obscuresound.com/mp3/whytwist-for.mp3]
——————————————————————————————
Mike Mineo
I'm the founder/editor of Obscure Sound, which was formed in 2006. Previously, I wrote for PopMatters and Stylus Magazine. Send your music to
[email protected]
.