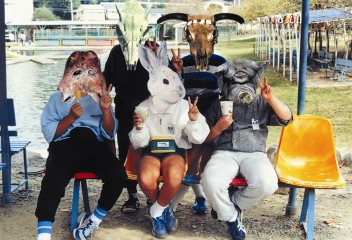 I recently took up a writing position at the fantastic online webzine, PopMatters. Being one of the most professional and in-depth media sites online, I encourage you to take a look at it. Apart from their faultless music coverage, they cover a variety of other topics including film, books, and television. Though my new placement may make me a bit biased, I would prefer PopMatters over Pitchfork in a heartbeat. My first review for the site went up online on Friday. It concerned the elusive World's End Girlfriend's newest album, Hurtbreak Wonderland. Readers of Obscure Sound will most likely recognize it, as I wrote a feature on the album here a few months ago. This is slightly different, as it is a review in which I am more critical. Honestly though, there are not many flaws to point out on this illustrious album.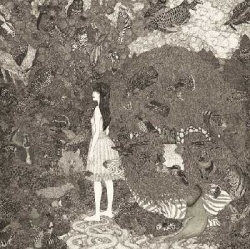 World's End Girlfriend
Hurtbreak Wonderland
(Human Highway)
US release date: 26 June 2007
Japan release date: 23 March 2007
My PopMatters Review
by Mike Mineo
Some artists are authentic masters of human emotion. They are able to tug at the heart, weaken the knees, and bring out the tears of even the most emotionally impassive individuals. Katsuhiko Maeda is one of the most accurate contemporary examples of a musician who excels in this craft. With a fanbase that stretches from his native Japan to the United States, his primary project, World's End Girlfriend, has pleased the masses for seven years with its incorporation of orchestral post-rock and experimental electronica. Nearly a household name in Japan with his multi-instrumental prowess, Maeda is hardly the embodiment of a conventional songwriter. His incorporation of classical music, avant-garde production, and tumultuously layered samples is hardly the norm for an internationally reputable musician. Whether or not his cultish fan following is most impressed by his instrumental grasp or immaculate songwriting ability, there is one aspect of World's End Girlfriend that remains quite certain. As his sixth studio release, Hurtbreak Wonderland continues to prove, there is no other conscientious artist in activity that crafts music in the same distinctive style as World's End Girlfriend.
Barring a few vigorous transitions in the demeanor of song production, Maeda's stylistic flow has remained nearly the same throughout his career. Including his recent collaboration with Japanese post-rock veterans Mono, Maeda's past five releases have been a vigorous display of his trademark tendency to present songs in a cloud of unpredictability and ceaseless turbulence. Always keeping the listener on edge, Maeda has proven that, at any moment, he can transform of an instrumentally tranquil setting into a scene of abrupt chaos—an aspect comparable to the ageless Scott Walker's past two albums. Maeda's typical instrumentation bursts with pianos, strings, upright bass, and most orchestral instruments imaginable, occasionally laced with sound effects in the feverish vein of a door quickly closing shut, the scream of a child, or the laughter of a deranged madman. However, when Maeda shines brightly in his occasional spots of instrumented placidity, he echoes the more classic works of Ryuichi Sakamoto, yet another famed Japanese musician.
Maeda has drawn notability for his ability to compose songs that, while vast in length, are comprised of enough diverse instrumentation and distinction to keep the listener in a state of interest. With this in mind, it comes as no surprise that half of the songs on Hurtbreak Wonderland exceed ten minutes in length. What comes as even less of a surprise is how Maeda manages to make each song appear significantly shorter in less through auditory appeal. The captivating "Grass Ark" is the finest example of pure length-based enthrallment on Hurtbreak Wonderland. Maeda introduces the song with a simplistic piano-led melody, shortly supplemented by an array of strings and faint percussion. Typical of Maeda's style, a variety of additional arrangements eventually weaves into the song as it progresses. "Grass Ark" sees much in the transition of instrumental aggression. Maeda conveniently switches back and forth between the bare presentation of a piano and the bustling external display of strings, upright bass, and percussive samples; a method that is used noticeably often throughout Hurtbreak Wonderland.
One quality that will be apparent to attentive fans of Maeda's previous works is the lack of vocal samples present on Hurtbreak Wonderland. His 2005 release, the exceptional The Lie Lay Land, was largely dependent on the utilization of audio samples, mainly extracted from the likes of obscure horror films and offbeat documentaries. Apart from the maniacal laughter and screams found within the brilliantly chilling "Dance for Borderline Miscanthus", Hurtbreak Wonderland is largely an instrumental record. Though Maeda still blends in the use of samples, like the creaking of a door in "Bless Yourself Bleed" or the sound of rainfall in "River Was Filled With Stories", the use is much more subtle and less involved than in previous releases in the form of The Lie Lay Land.
Another characteristic of Maeda's work that continues to impress is his ability to produce songs that render a variety of moods and emotions. The absolutely beautiful "Birthday Resistance" uses the romantic tone of a saxophone and the lush allure of strings to create a visionary atmosphere that appears intent on bringing out sentiments of joviality and optimism. The riveting "Dance for Borderline Miscanthus" generates the exact opposite in effect. Built upon a brooding composition of low-tuned strings, the first three minutes act merely as the product of bottled up chaos. The song eventually transforms into an all-out stampede of emotions as the sounds of a child's torturous scream and can be heard over the frenetically indeterminable layers of sound. If you are able to listen to "Dance for Borderline Miscanthus" in a room that is entirely dark for its entire duration without flinching, your nerves are certainly stronger than mine. This is one of the most evident reasons why "Dance for Borderline Miscanthus" represents Maeda's ingenuity in its most coherent form. There are few artists who can make a human being as overjoyed, ardent, or terrified as Katsuhiko Maeda through the sheer art of music.
What lacks in versatile production when compared to The Lie Lay Land is compensated for by in its expressive ability to inspire the display of natural emotion, whether it is despondent or upbeat. As Maeda continues to grow as a songwriter his works become more emotionally drawn and instrumentally complex. His abandonment of vast samples is merely an example of his newly bolstered confidence for his own musical ability, one that continues to grow in both stature and quality through successive release.
——————————————————————————————
World's End Girlfriend – 100 Years Of Choke
[audio:https://obscuresound.com/mp3/wegirl-100.mp3]
——————————————————————————————
World's End Girlfriend – Birthday Resistance
[audio:https://obscuresound.com/mp3/wegirl-bir.mp3]
——————————————————————————————
World's End Girlfriend – Dance For Borderline Miscanthus
[audio:https://obscuresound.com/mp3/wegirl-dan.mp3]
——————————————————————————————