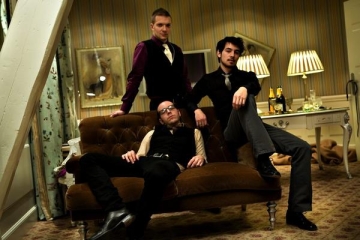 While their brooding name would sound most appropriate in September, the brightest moments that are derived from Switzerland's Summer Went Too Soon sounds suitably enjoyable for any time of the year. After all, I cannot think of a seasonal occasion where creatively engineered pop hooks come off as a nuisance. Formed in Geneva by Ian Richter, Kim Schifferli, and Pascal Viscardi, Summer Went Too Soon has been crafting catchy, atmospheric laptop-pop since the trio came together in 2005. Reputable throughout the Swiss local scene with their wide range of influences and eclectic live performances, Summer Went Too Soon have begun to gather a respectable fan base throughout the United States and Britain. With their lyrical content being in English and their melodic capabilities echoing the sentiments of western electronic artists, the receptive feedback is hardly surprising. Another contributing factor is that Summer Went Too Soon defines themselves as an audio-visual experience, incorporating a "VJ set" of sorts during their gigs. While such a concept may come off as outdated, keep in mind that it worked for other respectable artists in a similar mold to Summer Went Too Soon. Both Depeche Mode and Placebo are just a few of the artists who have tried their hand at video incorporation during live shows. However, the thing about those two artists is that such an addition is hardly a necessity for them to put on a good show. What Summer Went Too Soon has yet to prove is whether or not they can sincerely capture substance over style within their musical element.
Summer Went Too Soon released their debut album, the lewdly titled Artists Don't Fuck Like Civilians, in June. Richter and Schifferli share vocal duties on several tracks, whether it be in the form of a haunting duet or a singular harmonic delivery. Richter takes the lead on eight of the ten tracks; the other two, the infectious "Civilians" and the nearly spoken "Your Best is Not Enough", are Schifferli's sparse moments in the spotlight. Richter has a similar vocal style to Brian Molko with a snarl that broods, whines, and wails his way to an already widely employed stylistic establishment. While his dejected style is entirely suitable for the group's darkly expository sound of downcast synths, reflective keys, and passably applied drum loops, I find myself more enamored with the two songs where Schifferli takes the lead. Richter simply does not have the range or diversity to compete with the likes of other modern synth acts influenced by Depeche Mode, most notably the more impressive White Rose Movement. While it may be due to my overexposure to recent male-led synth acts in the similarly dull vein of She Wants Revenge, I find Schifferli's use of her feminine vocals to be a breath of fresh air. It is by no strange coincidence that Schifferli's "Civilians" is the best track on Artists Don't Fuck Like Civilians by a long mile. Additionally, her vocal accompaniments on the bouncy "Pictures Can Last Forever" or the droopy "Cupid's Last Meal" being the glue that holds it together.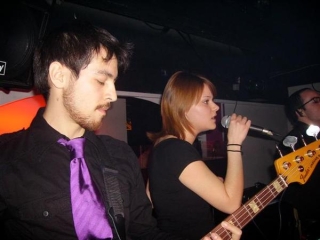 I will maintain a slight hope that Summer Went Too Soon will someday recognize that their genre of recent dark synth-pop is constantly crowded by a group of lead male vocalists who are quite difficult to distinguish from another. Whether these masses are attempting to impersonate Dave Gahan or Andy Bell, they are never any match for the influential veterans. Hopefully, if this realization is ever met, it will involve the increased involvement of Kim Schifferli in the majority of the tracks as the musical aspect of Summer Went Too Soon remains quite strong and their ability to produce melodically capable synth-pop is admirable, leaving room for potential growth. All three members possess the ability to play synths with additional contributions coming from Richter on piano, Schifferli on bass and Viscardi on guitar. Being a major fan of dark synth-pop pioneers like Depeche Mode and Orchestral Manoeuvres in the Dark, I am perfectly content with Summer Went Too Soon's stylistic purpose. While a real drummer would prove to be quite beneficial, the ten songs on their debut are formulaically consistent and those who admire the likes of "Civilians" and "Tonight I Killed Somebody" will most likely enjoy what the rest of Artists Don't Fuck Like Civilians has to offer.
While Summer Went Too Soon's debut is far from perfect, the shining moments are warranted enough to keep the band on my radar. Successful implementations like the weaving of glistening keys into "A Field" or the engaging double vocal mix applied on "Civilians" should provide as building points of triumph for the rookie band. If they capitalize on those desired effects and utilize Schifferli to a more sufficient degree, their sophomore album should boost their status to levels of respectability. If done right, no longer would "VJ sets" be used as an absolute necessity for quality.
——————————————————————————————-
Summer Went Too Soon – Civilians
[audio:https://obscuresound.com/mp3/summerw-civ.mp3]
——————————————————————————————-
Summer Went Too Soon – A Field
[audio:https://obscuresound.com/mp3/summerw-afi.mp3]
——————————————————————————————-
Summer Went Too Soon – Tonight I Killed Somebody

[audio:https://obscuresound.com/mp3/summerw-ton.mp3]
——————————————————————————————-