Posted
August 1, 2007 by Mike Mineo
in Features
Obscure Sound: Best of July 2007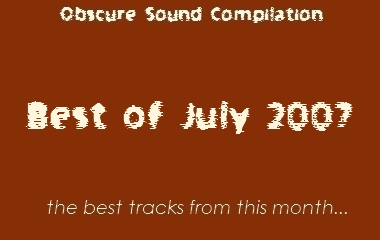 July was another month containing quality music. A bunch of these new artists will most certainly see a deservedly large amount of exposure shortly.
01. Mono in VCF – Spider Rotation (post)
02. Testa Rosa – Ollie & Delilah (post)
03. B.C. Camplight – Soy Tonto! (post)
04. The Beauty of O.K. – Some Larger Epic (post)
05. Hail Social – Annabelle (post)
06. Tiny Dancers – Hannah We Know (post)
07. Scouting For Girls – Mountains of Navaho (post)
08. Paul Weller & Graham Coxon – This Old Town (post)
09. An Angle – Clean and Gold (post)
10. Air Traffic – Shooting Star (post)
11. Lavender Diamond – Open Your Heart (post)
12. The Budos Band – Budos Rising (post)
13. VHS or Beta – Take It or Leave It (post)
14. The Lovemakers – Misery Loves Company (post)
15. Code Pie – Kinsey, Are We Even? (post)
Mike Mineo
I'm the founder/editor of Obscure Sound, which was formed in 2006. Previously, I wrote for PopMatters and Stylus Magazine. Send your music to
[email protected]
.