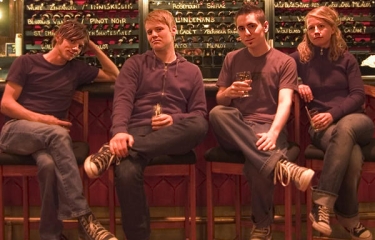 In most forms of contemporary rock music, it is highly perceptible that mood has the ability to dictate tempo. Rock artists conventionally treat the listener to separate entities of diversity within an individual album, mixing calmer ballads with elaborately involved songs of a more chaotic nature in their attempt for fledging captivation. Just imagine how dull an album would sound if each song had the same amount of intensity. Regardless of whether each track consisted of one acoustic guitar or five electric guitars, it would be a generally unpleasant experience without the right touches of diversity. Some artists fall flat on their faces while attempting to produce the slower, more brooding songs because of their shallow emotional ability. Others cannot pull off a expeditious track because their instrumental dexterity wears thin. Unless you are looking in the direction of a one-hit wonder, it is rare to find a successful artist without the ability to write a successful song in both atmospheric aspects. The Details, as their namesake implies, pay good attention to the basics of success. Their debut album, Draw a Distance. Draw a Border., is nearly equally split between rollickingly swift rock and subdued ballads. While it may be easy to enter the production process with such a coveted plan for stylistic variety in mind, The Details actually execute it nearly faultlessly.
Hailing from Winnipeg, The Details have already begun to take Canada by storm in playing at several prominent gigs, including the 2006 Western Canadian Music Awards, Canadian Music Week 2007, New Music West 2007, and North By Northeast 2007. While traveling the snowy roads of Canada, from Vancouver to Halifax, The Details have been preparing Draw a Distance. Draw a Border. with great precision. Their first full-length release, it follows up on their five-song Marching Sound EP, released last November. Draw a Distance. Draw a Border was recorded during the arduously cold months of winter in Winnipeg. From January to April, the four members of The Details worked vigorously with producer Jack Shapira and engineer Scott Stewart, the two having over 30 years of collective experience in music production. As the snow fell rapidly outside the doors of Unison Studios in Winnipeg, The Details were in the midst of crafting an album that would hopefully earn them the highly sought recognition of being one of the latest and greatest out of the mounting Canadian music scene.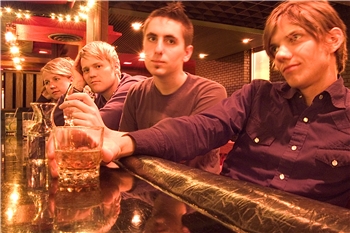 Listening to Draw a Distance. Draw a Border, it is extremely apparent that The Details have all the tools necessary to become radio darlings. While their heavier tracks border too much on an emo flavor for my own liking, there is no denying that the songs are well crafted and redeeming enough to appeal to a very large and applicable audience. Though the vocals and guitar riffs within the distorted prowess of "Reunion Souvenirs" remain too whiny, groaning, and repetitive for my personal taste, I can't help but admire the melodic flow of the song. Even more impressive, The Details are one of those bands who actually pay close attention to their lyrical content. Both witty and intelligently thought-provoking, lyricists Jon Plett and Sean Vidal are capable wordsmiths on every track throughout Draw a Distance. Draw a Border. On the cello-aided "Capture and Develop", lead vocalist Jon Plett manages to incorporate aspects of philosophy and modern romanticism. "Only the boldest admit what they can't defeat," he sings over a subdued rhythm section and a recurring guitar drone, "Every liar says what they really mean. It takes a conflict to agree and the darkness before we can ever truly see." After the mild introduction, the song expands into a fully intricate composition full of rowdy electric guitars, fervent vocal strains, and an expertly implemented cello supplied by Jonathan Bauch. While the shrill chorus is once again bordering too much on generic emo for the song to become a true force, it is more tolerable than tracks like "Burns Much Brighter" and "Demons / Heathens".
Apart from such stylistic hiccups, The Details' brightest colors shine on the more delicately performed tracks, particularly the insanely catchy leading single, "Underground". As The Details should be given some leeway considering that Draw a Distance. Draw a Border. is their first album, the eventual success of "Underground" should give the four-piece some clarification on which musical style they should confidently pursue. The harmonically irresistible swoon of "Underground" is so exceedingly brilliant compared to earlier tracks on the album; tracks in the vein of "Burns Much Brighter" that pursue volume and halfhearted angst over pure melodic force. When Plett calls out, "If you call, if you call, I will always answer you," in the hearteningly striking chorus, there is little doubt that this is where The Details' strength lies. Both "Underground" and the beautiful though overly titled "I Asked What We Should Do. You Said, "I Just Don't Want to Think"" are the most patiently intertwined tracks and, by no coincidence, also the best. If The Details can repeat such successes more frequently for their next release, they can expect to be ranked among the elite of rising Canadian artists.
——————————————————————————————-
——————————————————————————————-
The Details – Capture and Develop
[audio:https://obscuresound.com/mp3/details-cap.mp3]
——————————————————————————————-
The Details – Reunion Souvenirs

[audio:https://obscuresound.com/mp3/details-reu.mp3]
——————————————————————————————-