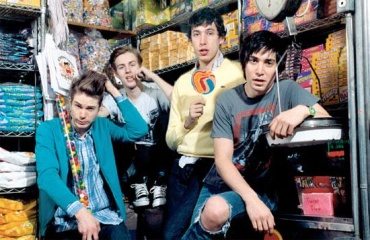 The Virgins have to be one of the most entertaining bands to search for on Google. The results offer up a large array of topics dealing with anything from Christianity to pornography. Hmm… it was quite interesting to see "The Blessed Virgin Mary" above "Hot Teen Virgins!" in the results. Hyped with deserved acclaim, New York's latest four-piece slides in somewhere between the two. Enjoyably enough, they compete with the irresistibility of "Hot Teen Virgins!" quite well, employing a slick musical delivery mainly consisting of catchy art-rock, rhythmic funk, and dedicatory soul. At this point in time they lay in a cloud of mystery, with little personal information available on the web about the band's history. A few of their only known characteristics are that the four members are from Brooklyn and go by the names of Donald, Nick, Wade, and Erik. Brought together a few years ago by a string of mutual friends and common musical interests, The Virgins have been slowly but steadily becoming known as one of the best live acts in New York. As of now, they only have one release: a five-song EP simply entitled '07 that was released earlier this spring. With the lead single, "Rich Girls", tearing up the NYC airwaves, it is only a matter of time before this band bursts out of the local scene and into the hearts of a national audience.
The ironic thing about The Virgins' name is that they play the type of music that would make girls weak at the knees; touched seemingly and profoundly by an energetically wholesome young band. Wherever the name derives from, I doubt it personally applies – especially with the nonstop exposure that The Virgins are getting lately. While their most evident characteristic is that of rootsy rock 'n' roll, the energetic foursome delivers a sound wrapped in funk-induced bass lines and invigorating vocal melodies. This pleasurable style of play has earned them opening gigs for the likes of Jet and Cold War Kids. However, I doubt that The Virgins . With whispers of them signing to a major label, they are quickly becoming an act of their own. Their live shows certainly supplement the ideology as well. Bassist Nick Zarin-Ackerman describes the band's live show as a concisely enjoyable affair. "We try to get in, play a few songs, say hello, and then get the hell out. Our feeling is: who wants to see a new band playing music they've never heard before for an hour and twenty minutes?" Certainly a modest attitude for a band with a brash sound. Regardless, Zarin-Ackerman's quote describes what The Virgins are trying to accomplish with hard work and dedication. Though they recognize that they may be complete unknowns to everyone outside of New York at this point, their confidence in their own ability rightfully leads their performance in the studio, on stage, and in person to be a group of four individuals with the proper talent to make it big wherever they take their act. Don't be surprised if the next major label to scoop them up makes these reachable dreams come true.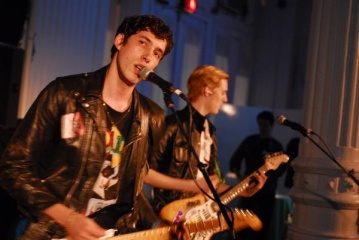 With The Virgins' live performances consisting of material from '07 and demos for their upcoming full-length, they also frequently play a cover of Squeeze's "Up the Junction". Being a fan of Squeeze and that specific song especially, my heart yearns for a clip of The Virgins giving the cover a go. I have no doubt that they pull it off with ease. With a reputation for putting on some of the best shows in NYC, they eventually earned the respect of Mark Ronson, who slotted them in on his radio show, Authentic Shit. The song that is enjoying the most buzz is the centerpiece for '07, the enigmatic "Rich Girls". With a funky bass line that is both sexy and utterly irresistible for any type of dirty dancing, bassist Zarin-Ackerman's role is simplistic and repetitive but consistently remains the backbone of the song. Over Donald's libidinously fervent vocals, it echoes the classic embodiment of quality R&B and soul. Though the lack of a powerful vocal melody is overcome by the sultry rhythm section, Donald's nearly spoken-word verses are complemented by a contingent howl or high-pitched snarl. Such qualities make "Rich Girls" a song that is both qualitatively redeeming and highly original. A masterful blend of 70s funk and modern indie-rock, it is reason enough for audiences to start paying more attention to The Virgins'.
Though The Virgins have only released five songs, each one demonstrates a different stylistic grasp. "We listen to a shit load of rock music," Zarin-Ackerman said, "and that combined with our abilities and limitations as musicians is the biggest influence on our sound." As he states quite clearly, their variety is certainly nothing to be in doubt about. The second song on '07, "Love is Colder Than Death", is archetypal NYC indie-rock played to the finest extent. Led once again by Zarin-Ackerman's overt bass line, "Love is Colder Than Death" is more in the vein of conventional rock. Though it is rhythmically led, it presents the hooking chorus through a series of abrupt guitar riffs. "Don't let your love be colder than death, don't let no teardrops fall from your eye." Donald pleads convincingly before a sudden key change, signaling the transition to the chorus. "Fernando Pando" is a satisfying build-up of a song, originally led by rhythm, with various layers of guitars serving as eventual accompaniments. As the drums gain rapidity, the guitars do the same responsively as the steady bass line appears not prominently for the first time on the EP. Considering the thrilling potential that '07 displayed earlier this year, I am anxiously anticipating The Virgins' debut.
——————————————————————————————-
——————————————————————————————-
The Virgins – Love is Colder Than Death

[audio:https://obscuresound.com/mp3/virgins-lov.mp3]
——————————————————————————————-
——————————————————————————————-
BUY (scroll down)