Posted
August 29, 2007 by Mike Mineo
in Features
Twinkles, Wands, and Calculations from Polynya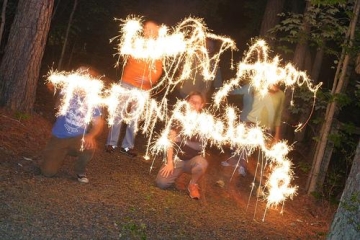 Some bands just love talking about themselves. I occasionally receive one-sheets that contradict both their namesake and purpose in providing an accessible introduction to a particular artist, instead supplying a sprawling ten-page account of a band that formed merely a few months ago. While I admire such a dedication and willingness to provide mainly helpful information to aid me in my writing, there remains an aspect of missing elusiveness that makes the band seem more, well, descriptively mundane. Though this certainly does not coincide with a "Media Marketing 101" course, sometimes a band's stylistic nature calls for a mysterious aroma. Without a press release or bio in hand, it seems as if Polynya are letting their music do all the talking. It's a wise decision too; a very fresh one that boldly demonstrates supreme confidence. I honestly know very little about them, just like the rest of the world at this point. Hell, I don't even know what the name of their band means. The loyal Wikipedia tell us that a polynya is defined as "any non-linear area of open water surrounded by sea ice", adapted from a Russian word used by 19th century polar explorers. If I ever run into that word during my upcoming (and irritatingly required) oceanography class, I'll be sure to thank the band. They would probably prefer compliments regarding their actual music though, which are pleasurably easy to give.
You can find Polynya's five members in the photo above, writing their names with the sparkling use of either wizardry, Photoshop, or both. In addition to their coveted ability of writing illuminated letters in thin air, Amelia, Andrea, Luke, Pat, and Thom are all skilled multi-instrumentalists. While their liner notes clarify several conventional instruments in the form of guitars, keyboards, and percussion, several "accompaniments" remain strikingly unique. Andrea takes control of the "wands", Luke handles the "twinkles", and Pat assumes care for "calculations and shoe". Yeah, that is seriously how it's listed on their self-titled debut album. While such a presentation seems more suitable for a mockery band like Harry and the Potters, Polynya's enjoyably sarcastic sense of humor is misleading. The songs on the debuting Polynya are of a different, more earnest breed. With a thick influence revolved around post-punk, '80s American underground, and alternative psychedelia, the freshly consistent Polynya have a core stylistic focus that competes with even the most experienced of musical veterans. As for the "twinkles" and "wands", I'm led to believe that the band may have used them as oddly symbolic words for keyboards and guitars; the two instruments that serve as the melodic core of Polynya. Those expecting a sci-fi experience will be sadly disappointed. But then again, who the hell wants that?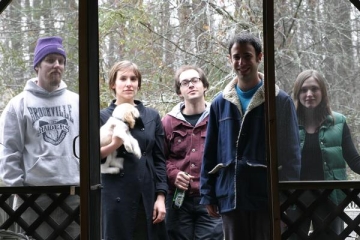 Polynya was finally released on July 20th after four long years of development. Produced by two of the band's members in Thom Canova and Luke Berchowitz, Polynya is a solid representation of a harmoniously imposing group effort as each of the five members play a vital role throughout the album's thirteen songs. While the group is too dexterously diverse to pinpoint specific instrumental roles, the vocal duties appear to be handed out persistently to the melodic female section of the band; consisting of Amelia and Andrea, their vocal deliveries are as similar as their names. Though both vocalists have their spots on Polynya where they sing solo, their brightest moments shine during the duets. Such a tactic is displayed exceptionally during the swirling chorus of the standout "Without a Trace". With a bustling guitar progression being the primary backbone of the song, a modified organ works well in the dreamy landscape that Amelia and Andrea craft with seaming ease. Touching on a tinge of psychedelia with a droning sensation of reverbed keys, "Without a Trace" remains commodious and soothing throughout. Though the repetitive structural nature leaves it straying about one minute too long, the sheer atmosphere of the song makes it more than worthwhile.
One of the most intriguing tracks on the album is the explosive "Sweatshop". With most members of the band participating vocally in an anthemic spur of sorts, Luke Berchowitz delivers a slew of heavy guitar riffs as the majority of Polynya erupts into an exclamatory vocal choir. "Get to work now, this is for kids!" the vocal legion yelps, this time churning out an aggressively volatile male-female duet. Generally consistent in intensity throughout the entire duration, it is doubtlessly the most excitable track on Polynya. Though it is nearly the tonal opposite of the reposeful "Without a Trace", "Sweatshop" brings an equal form of resolute satisfaction. The music video is just as hectically presented and furiously paced, featuring the band in an artistically monochromatic tone.
Heavier than "Without a Trace" but significantly more organized than "Sweatshop", "Tarantula" is one of the group's most resourceful efforts. Though the deeply layered guitar lines and collaborative group effort makes the comparison somewhat predictable, "Tarantula" reminds me somewhat of early Broken Social Scene. Driven by Thom Canova's stirring bass line, it sees its share of prolific guitar work weaving through yet another lively male-female duet. Rhythmically sturdy and diverse enough to strongly grip the listener, "Tarantula" proves to be an accurate summation of Polynya's indefatigable style. Though Polynya sees many post-punk and art-rock formulas used repetitively and often, the band's awareness in how to properly utilize successful songwriting techniques makes for one cohesive listen. Polynya is a worthy debut from a promising band who is extremely aware of their own stylistic intentions, even if it all sounds somewhat familiar.
——————————————————————————————-
[audio:https://obscuresound.com/info/polynya-wit.mp3]
——————————————————————————————-
[audio:https://obscuresound.com/info/polynya-swe.mp3]
——————————————————————————————-
[audio:https://obscuresound.com/info/polynya-tar.mp3]
——————————————————————————————-
Mike Mineo
I'm the founder/editor of Obscure Sound, which was formed in 2006. Previously, I wrote for PopMatters and Stylus Magazine. Send your music to
[email protected]
.