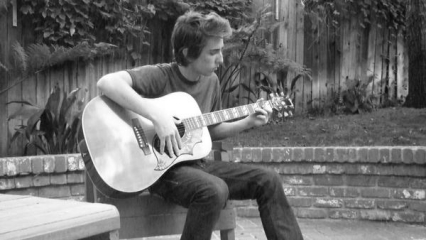 It is a beautiful thing to dwell in an industry where talent knows no age. When it comes to music, it is notably difficult to deny a true child prodigy, whether his expertise lies in classical, hip-hop, or rock music. Usually the only topic of differing opinions is where the talent is derived from, whether it was acquired through heredity, enduring practice sessions, or both. If you were to play any one of John Kappas' enriching, piano-led songs in the presence of a friend, they would most likely take the polished production, constantly engaging songwriting, and deeply ardent vocal performance as the work of some experienced musician in his early 30s. Afterwards, if you bothered to inform them that John Kappas was a 17-year-old kid from Los Angeles, they would probably laugh in denial. Though I have featured a few excellent younger artists like Play and Nicholas Megalis on the site before, Kappas' style remains to be more in the form of a lushly orchestrated, subdued pop than the previous acts. Though all encompass naturally bounded talent and domineering presence, Kappas' sound appears the most mature with a deep, soulful croon that coincides effectively with his proficient use of piano and strings.
The thriving city of Los Angeles exposed Kappas to music at an early age, with the budding songwriter taking up instruments as early as 7 years old, when he began to learn classical piano. He switched to a contemporary jazz method of training at the age of 11, learning cello and playing in the school orchestra in the process. After surrounding himself in an array of influences and taking up two full-time instruments, Kappas began writing his own songs at the age of 14 in 2004. As he declares in the introduction of "I Want You" by stating fastidiously, "Putting my thoughts into words into notes and rhythm – now I'm ready to fight and defend," Kappas' lyrical content is very much in the mindset of a developing social observer, accepting the occasional defeat as a means to gain experience. Kappas claims that much of his lyrical content is derived from the people and real-life situations that compose his own life, with "problems and situations faced in adolescence and growing into adulthood" being a revolving theme. Though those who aspire for psychologically provoking lyrics with metaphorical contexts and political musings may find the content to be somewhat elementary, Kappas' outspoken honesty and genuine output is what establishes him as an emotionally ardent tour-de-force.
When I first heard "Explain Myself", I was stunned. How one 17-year-old could create such an eloquently moving, sharply executed pop piece was astounding to me; I often tend to generally discover that many of the younger break-out artists specialize in punk revivalism or corporate hip-hop. Kappas fits the role of a gifted piano-based singer/songwriter perfectly, with his catchy melodic prowess and domineering vocal performances both being trademarks of his distinctive craft. Like many of his available songs, "Explain Myself" is a ballad focusing on the unjustifiable qualities of society. While somewhat downcast, Kappas eventually turns the song into an anthemic ode to sociological realizations. "Just a little bit of confidence, mixed with a little bit of arrogance, so tired of the light," he sings during the song's powerful chorus, aided by a flurry of swift strings and underlying piano. Kappas capitalizes on the natural tendency of many people to judge others based primarily on their social standing, with an overabundance of arrogance and confidence being the symptoms of muddled ignorance. Though the enjoyable chorus-led hook in "I Want You" and the organ-based buildup of "Explain Myself" are both also impressive, the irresistibility of "Explain Myself" establishes it as a successfully woven pop ballad, one that proves to show Kappas at his best. If you fancy these three tracks, you can download more from Kappas here.
——————————————————————————————
——————————————————————————————
John Kappas – It Might Take Awhile (To Feel the Change)
[audio:http://mineorecords.com/mp3/jkappas-itm.mp3]
——————————————————————————————
——————————————————————————————