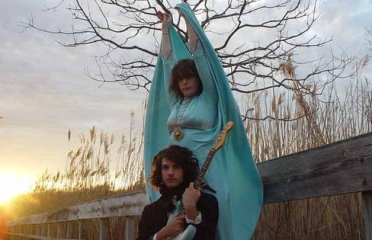 Like many of those who immediately latched onto Beach House's fantastic self-titled debut last year, I kept my admiration for the release no secret. It was an atmospherically beauteous album, flawlessly transcribing humane emotions as diverse as regret, embrace, and heartbreak into a sound that was as much accessible as it was ravishing. Beach House, a two-piece based out of Baltimore consisting of guitarist/keyboardist Alex Scally and vocalist/organist Victoria Legrand, were certainly the center of attention in 2005, as their well-received debut was an album that seemed to find its way onto everyone's year-end list (it took a respectable #37 on mine). Legrand's delicately interwoven vocals provided for a touching experience over the warmhearted guitar progressions that Scally supplied without hesitation. Though their activity in 2007 has been purely of a touring mentality (with Grizzly Bear and Arbouretum), the duo has silently been hard at work on their sophomore release. After months in the studio, Devotion will finally drop on February 26th via Carpark Records. Consisting of 10 originals and 1 cover (Daniel Johnston's "Some Things Last a Long Time"), the increased quality alone is clear indication that Beach House have picked off right where they left off.
Though it can only be subtly discovered, Beach House's own namesake provides for a cleverly suitable effect. Scally and Legrand craft a sound that ushers the listener away from the hectic rush of complex urbanity, with their style being ceaselessly relaxing without any stylistic mundaneness. Like the location depicted in their namesake, the lushly written songs provide for an escape from petty demands and harsh realities; think of the album as a $15, 44-minute vacation. After having Devotion practically on repeat for the past two days, there is no doubt that Devotion is more enjoyable than Beach House's impressive eponymous debut. Though the debut exhibited a sense of stylistic confidence that is rare to come across in regard to new artists, Devotion is even more expository of the duo's dynamically gorgeous sound. The clear standout for me so far is the exquisite "D.A.R.L.I.N.G.". Several Beach House songs have previously reminded me of lost love ballads from the '50s and '60s and this gem is no exception. Legrand's vocals and Scally's guitar progressions are seemingly able to put listeners into an entrancing state, this time being aided by a guitar soaked in reverb and a set of subdued keys softly releasing echoing chords . As per usual, Legrand's vocals are chilling in the most beautiful form, being somewhat airily husky but giving off a frail sense of imagery in regard to the alluring backing instrumentation. The percussive involvement is always minute, but the lack of involvement makes the delicate nature even more suitably presented in the process.
Another aspect that is revived from Beach House's debut is Legrand's ability to create a hook using primarily her vocal range alone. Like "D.AR.L.I.N.G." and the majority of Devotion, "Gila" is aided by a guitar supplemented by a mixture of keys and organs. Though the bare instrumentation is enough to solicit immediate , the moment when Legrand shifts her vocals into a deeper, more sympathetic range by stating, "Don't you waste your time, no-oh-oh," provides for an instant realization in regard to the sheer beauty that the songwriting of Beach House conveys. Like their debut, Beach House's Devotion is an elegantly beautiful release. "D.A.R.L.I.N.G." is the best track that the duo have ever released and the rest follows in near equal form. Though I am still much too busy compiling the best releases of this year (be prepared for that – next week) to rank 2008 releases, this may be my favorite so far.
——————————————————————————————
Beach House – D.A.R.L.I.N.G.*
[audio:http://mineorecords.com/mp3/]
——————————————————————————————
——————————————————————————————
*Track removed upon request of Carpark Records
Do you play in an indie rock band?   Are you looking to purchase guitar amplifier? If so, the web is the best place to buy a new musical instrument. They have a huge selection of dj equipment, drum sets, and electric guitars for sale.