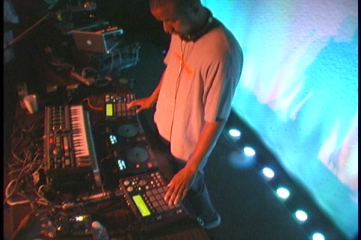 I thought that after Tuesday's post, I would quit talking about Radiohead for at least a few weeks. So, if you hold any animosity, blame Amplive's exceptional remixing skills for this one. I am not usually one for remixes but when a self-proclaimed hip-hop artist attempts to remix one of my favorite Radiohead tracks, I admit that at least a morsel of curiosity peaks out. Remixes of songs that are so near and dear to one's heart can often be, well, heartbreaking if erroneously done. No one wants a different artist to botch up something that was originally considered perfection by an obsessive listener who knows every lyric, instrumental line, and melodic twist that the song exposes. However, as the Bay Area-based Amplive has proven with a few past remixes, he is not one to disappoint. Though he is foremost classified as a hip-hop artist, his ambitiousness makes him somewhat ambiguous to the term. A whiz in the studio, he appears able to successfully blend a variety of genres into his work, with shades of electronica and alternative rock just being a few. If you thought Kanye was downright innovative in sampling Daft Punk in "Stronger", check out this budding MC/DJ's multifarious approach. Whether he is busy remixing the hard-rock of Linkin Park, co-writing accessible soul-pop with Goapele (specifically her hit "Closer"), or contributing drum tracks to the Sony PSP's all-in-one video game/sequencer/sampler Traxxpad, Amplive certainly keeps himself busy in a variety of ways.
Like many of us, Amplive appears infatuated with Radiohead's latest release, In Rainbows. He has already churned out two remixes from the album within two months and, if he keeps at this rate, he should have the entire album remixed by August. Fans may also recognize Amplive as half of hip-hop duo Zion I, as he handles the production while Zion spits the rhymes. Appropriately enough, the chorus of his "Nude" remix is directly from the duo's catchy new track, "Don't Lose Ya Head". I have to give him props on this one; I never thought anyone would be able to pull off transforming a beautifully subdued song like "Nude" into an infectious remix surrounded by hip-hop vocal mixes. Amplive uses several glitch-pop techniques to weave all these elements together, doing such in impressive form. If you are not too keen on the vocal additions (and there is little reason not to be) or prefer a more ambient sound, the instrumental version of his "Nude" remix is also included below. Additionally, one of Amplive's most commendable features in his remixes is his ability to implement varying, and often unconventional, drum loops over the song's original melody. This is demonstrated best in "Weird Fishes", a remix of the excellent "Arpeggi".
Unlike the drastically re-done version of "Nude", "Weird Fishes" stays more in key with a typical remix. Yorke's vocals remain repetitively prevalent while Amplive utilizes his familiar glitch and skipping techniques, often transitioning between the original's moments of guitar-based rapidity and serenely aquatic use of keys. Truth be told, it is the best remix of an In Rainbows song I have heard this year. If these two remixes do not relinquish your appetite, Amplive is in the studio working on four new remixes from In Rainbows. He plans to release it as a six-track compilation entitled Rainydayz Remixes, set to drop sometime next year.
——————————————————————————————
Amplive – Nude (Amplive vs. Radiohead remix)
[audio:http://mineorecords.com/mp3/amplive-nude.mp3]
——————————————————————————————
Amplive – Weird Fishes (Amplive vs. Radiohead remix)
[audio:http://mineorecords.com/mp3/amplive-wei.mp3]
——————————————————————————————
Amplive – Nude (Amplive vs. Radiohead instrumental)
[audio:http://mineorecords.com/mp3/amplive-nudei.mp3]
——————————————————————————————