Posted
December 7, 2007 by Max Fishkin
in Features
Staying in Good Health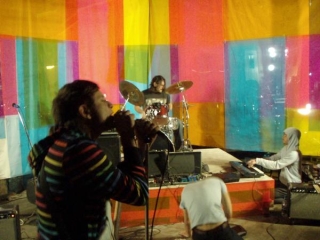 Before I get to an album that has recently caught my attention for the past few days, I would like to introduce myself. My name is Max Fishkin and I will be helping out Mike occasionally throughout the site by posting about a few noteworthy bands from time to time. Thanks for your time and consideration.
An act that has been drawing all sorts of acclaim lately has been Health, a 4-piece hailing from the bustling, regenerative city known as Los Angeles. They formed in 2005 with the simple yet commendable vision of bringing music to the listener with their ambitiously productive blend of indie-rock and noise. They originally wanted to call themselves "Medicine", but some obscure shoegaze band from the '90s already had nabbed the rights, so the four-piece chose Health instead. Their humble efforts are being rewarded time after time as they commendably play for free at big venues across the country. Currently they are on tour, so check their web site for a local show near you. They recently released their schedule for January and February, including a slew of dates with White Williams, Crystal Castles, Autolux, and Dan Deacon's Ultimate Reality.
I recently donated blood to a school-run blood drive. The paranoia and anxiety that are associated with such an event can be expected, if you look for it. The image of the needle piercing my skin ever so slowly is still burned into my mind. What seemed like hell was not as bad as it was. As time passed, time seemed to carry on the same. The mood was ever constant as a heartbeat. Health's new self-titled album (buy) proves to be a mirror of such rushing emotions. The beginning of the album carries on gracefully in a natural flow. The slow yet angst-filled building tension in the beginning of the album gives in to a natural rhythm throughout the rest of the journey. The opening track, "Heaven", sets the rest of the album up for pure adventure. The crescendo of the instrumental collective is seen as the tracks progress. Driving drums, noise-driven odds and ends with samples unfold in the epicenter of the album, the fantastic "Zoothorns".
The next track, "Tabloid Scores", is that faintly reminiscent with a hint of the Blood Brothers and The Locust. The processed factory alarms, wailing vocals and distorted, eerie guitars send the listener into a headache of noise. As relentless it seems, the music carries through into more melodic, monk-like vocals with jungle drums and the Phil Spector-like "Wall of Sound" production effect from overdriven guitars in "Lost Time". For some, the music can be therapeutic. For others, it can be an ongoing, ceaseless headache. For the listener with tendered ears, Health's new self-titled release will revitalize the drive inside, especially after giving 2 pints of blood. Health prodiding of a mixture of noise, indie, and synth-rock is simply more than enjoyable enough to be your guide through such a psychedelic, soul-provoking journey.
——————————————————————————————
[audio:http://mineorecords.com/mp3/health-hea.mp3]
——————————————————————————————
[audio:http://mineorecords.com/mp3/health-zoo.mp3]
——————————————————————————————
[audio:http://mineorecords.com/mp3/health-tab.mp3]
——————————————————————————————
Do you want to find the best music instrument lessons in your area?  Are you interested in Vocal Lessons?  The internet is your best source for all of your music needs!  If you want to find the best music instruments, learn how to read music or find tips on how to practice piano, sign online today!
Max Fishkin
http://www.myspace.com/mfictionmusic