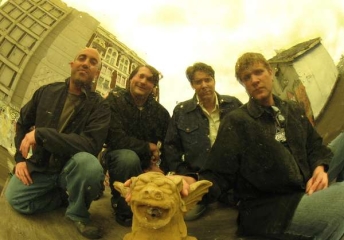 No one needs to be told that a compliment and an insult are antonyms of one another, yet it remains ironic that politicians are often the ones who create insults that eventually expand into unintentional compliments, occasionally being a coined phrase that those insulted individuals may actually take pride in. Due to a variety of reasons that are pointless to discuss in detail here, "Bush" has arguably become the most infamous last name in America over the past few years. Even so, any resident of Portland, Oregon in the early '90s could tell you that the current president's father, George Bush Sr., was not the most beloved individual either. When the elder H.W. decided to visit the most populous city in Oregon, he was greeted with a large array of protests and acts of resistance. Some even went as far as overly consuming red, white, and blue food coloring in an effort to regurgitate the colors near Bush's entourage. Yeah, that was obviously taking things too far, but many of us can easily attest to adverse political campaigns having peculiar effects on people. Though he denies even saying it, Bush apparently went on to call Portland "Little Beirut" in response, referencing the struggling Middle-Eastern city where politically motivated revolts are the norm. Instead of taking the nickname to heart, the locals instead chose to relish Bush's phrasing. After all, they had achieved their intentions of revealing to the most influential political figure in the country that they were clearly in opposition of his better interests.
For Portland natives Hamilton Sims and Edwin Paroissien, Bush's comments were too hard to pass up. In 2004, nearly 14 years after the "Little Beirut" , the duo held similar intentions of forming a band. After adding bassist Jon Trause and drummer Alex Inman, there was one aspect of the band left to decide: the name. And yes, that is how Little Beirut were formed. Both Sims and Paroissien had a past history before the four-piece was formed, playing together in a band by the name of Silkenseed in the mid '90s. The group's sophomore effort, Hurry Home, earned glowing reviews from the likes of Billboard, though Sims left the band a year later to accomplish his academic pursuits back east at grad school. Silkenseed found it difficult to continue without Sims and disbanded a few months later. Paroissien and Sims remained friends though, and they quickly formed Little Beirut when Sims returned to Portland in 2004. Permanent Kiss, a release containing 11 studio demos, was released in 2005 as the band began to play gigs and promote their name. Now, after 4 years in the making, Little Beirut will finally release their proper full-length debut, High Dive, in April. Compared to the promising, though often amateurishly executed, tracks on Permanent Kiss, High Dive is a highly memorable debut with strong songwriting, glimmering production, and thoughtful lyrical content that places Little Beirut in a state of high likelihood for national acclaim.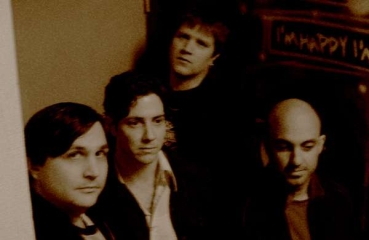 Though Paroissien and Sims have over a decades worth of experience working together, the production process of High Dive saw the four-piece get some help from a few respected locals. "We wanted to bring in outside opinions to help us with objectiveness and to make the recording more collaborative," Paroissien explained. "We wanted horns, strings, and keys. We were anxious to move beyond the standard two guitars, bass, and drums set-up we'd done before, and felt seeking help on this would allow us to realize exactly what we wanted to do." Adam Seltzer (former engineer for M. Ward) and Dylan Magierek (owner of Badman Recording Co.) served as the engineers, while local singer-songwriter Chris Robley co-produced the album with the band. I previously featured Robley a few months ago; his second album, The Drunken Dance of Modern Man In Love, is well worth the listen. According to Sims, Robley "would trim the fat and re-work the arrangements to fit in orchestration, and help us really develop everything for the benefit of the song." For finalization, the group brought High Dive to Jeff Stuart Saltzman for final mixing and engineering. To give an idea of his credentials, Saltzman had previously worked with the likes of Stephen Malkmus, Sleater-Kinney, and Death Cab For Cutie.
While their sound is rawer and more guitar-oriented compared to the likes of Death Cab For Cutie and Snow Patrol, Little Beirut encompasses enough potential to reach a similar status of popularity as such reputable acts. but, unlike aforementioned comparisons, the entire album is composed of solid material. High Dive is not an album where one or two catchy singles are supplemented by a variety of fillers in order to sell at the $15 mark. This is an album clearly crafted with precision, with its consistency being something of a rare entity in the realm of independent alternative-rock. The lyrical content is also as diverse as the instrumental display, with themes of love, politics, and the consequence of choice being evident. The stunning "Love During Wartime" manages to incorporate all three, being a constructive ode of sorts to the Secretary of State, Condoleezza Rice. "[It] is a jab at the war and the goings on of the Bush administration," Sims admits. "But it's also a jab at the fact that in order for Rice to become te most powerful woman in the history of U.S. politics, she had to be completely desexualized to make it okay. Hence why a love song to her seems so absurd."
Whether you side with the band's political beliefs or not is something that will depend on the individual, but there is no denying the sheer power and infectious nature of the song. "Oh my babe, life was easy before you came along," Sims sings over a series of guitars and brass. "Come on baby, quit your dreaming. Time is not your fault." When the song launches into a trumpet-led jam session during its final minutes, it should become highly apparent that one reason for the high level of enjoyment is that Little Beirut, even with their radio-friendly appeal, are not in it for the sheer glory. Their structural ambitiousness in a genre tampered by commercialism is cause for considerable praise alone. If I had to choose a track on the album that has the likeliest chance of reaching widespread recognition, I would place my bet on the exceptional "Belle de Jour". Though the fluid implementation of guitars and futuristic remins conventional in each verse, the chorus is an absolute stunner. Unlike the pleasingly critical "Love During Wartime", "Belle de Jour" is a more admirable ode to another famous woman: Academy Award-nominated French actress Catherine Deneuve. "I'm always running to my," Sims soaringly croons while backing vocals echo Deneuve's name in an angelic tone. "I'm front row center, she's mine." It remains rooted in a simplistic guitar progression, yet the group's melodic capacity creates a spectacle that should make the song an absolute hit.
The rest of the album follows in similar form, with High Dive being a startlingly consistent alternative-rock release that relies on both accessibility and pure melodic infectiousness to create an experience that is hard to rival in contemporary alternative-rock. At this point, success appears imminent for the Portland-based four-piece. Once the radios get a hold of tracks like "Belle de Jour" and "Love During Wartime", I don't see much stopping them. And yes, they all can thank H.W. for the loving name idea.
——————————————————————————————
——————————————————————————————
Little Beirut – Love During Wartime

[audio:http://mineorecords.com/mp3/lbeirut-lov.mp3]
——————————————————————————————
Little Beirut – Acid Wash Soul
[audio:http://mineorecords.com/mp3/lbeirut-aci.mp3]
——————————————————————————————