Posted
January 5, 2008 by Mike Mineo
in Features
Obscure Sound: Best of December 2007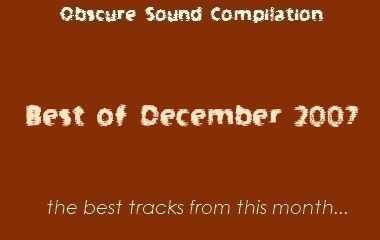 Though a substantial part of the month was dedicated to reflecting on the highlights of '07, the past few weeks still featured plenty of great acts that are certainly preparing us for another great year in music. From big names like Radiohead and Robert Wyatt to up-and-coming acts in the vein of The Depreciation Guild and The Cyanide Valentine, December offered us quite a bit in terms of diverse quality. This is the last compilation regarding the featured artists from 2007, so let us simply look forward to another great showing in 2008. So far, so good.
01. British Sea Power – Waving Flags (post)
02. Robert Wyatt – Stay Tuned (post)
03. Beach House – Gila (post)
04. Radiohead – Down is the New Up (post)
05. The Depreciation Guild – Butterfly Kisses (post)
06. Klaxons – Gravity's Rainbow (Soulwax Remix) (post)
07. Miss Li – Let Her Go (post)
08. The Cyanide Valentine – Nosferatu (post)
09. Health – Heaven (post)
10. intodown – Revolution (post)
11. Mike Ladd – Housewives at Play (post)
12. John Kappas – Explain Myself (post)
13. Evangelicals – The Last Christmas on Earth (post)
14. Datarock – Fa-Fa-Fa (post)
15. Dead Meadow – What Needs Must Be (post)

DOWNLOAD ENTIRE COMPILATION>>>
(65.4 MB, .RAR file)
Mike Mineo
I'm the founder/editor of Obscure Sound, which was formed in 2006. Previously, I wrote for PopMatters and Stylus Magazine. Send your music to
[email protected]
.