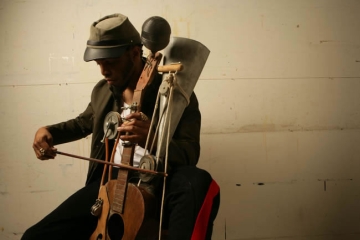 Our digital age allows for the mass production and distribution of all niches of music. Before technology arose into a stage of universal accessibility, releasing music to a wide array of audiences had a variety of obstacles. If you were looking to get your material heard outside of your local roots, the only cause for ubiquitous recognition most frequently came in the form of a hard-sought deal with a record label. Though it was considerably more subtle at the time, the independent music scene was largely defined by the industry itself. Record labels had the upper hand in selecting what artists the public would and should enjoy; publications were monopolized by a few select companies and forms of internet-based opinions (blogs, forums, etc.) were obsolete. Self-distribution was possible, of course, but success rarely stemmed out of conceiving your own music in a wholly independent form. That being said, I suppose Van Hunt can take comfort in knowing that he is living in a time of technological dominance. Though his vibrant blend of soul, R&B, and funk could have placed him appropriately with customary songwriters of the '70s, a recent event concerning his third and most recent album, Popular, should provide a concise realization that this modern era arguably suits him best, at least in the distributional aspects of music.
In early December, it was announced by Hunt's record label, EMI, that his third album, Popular, would be delayed due to a conflict of artistic interests. Throwing the original release date (January 15th) out the window, EMI decided that it would be best to scrap the release for the time being. It was set to be his first release on the historic Blue Note Records, now owned by EMI. Originally a label specializing in various style of jazz in the form of bebop, EMI's resurrection of the label in 1985 brought along old and new artists alike, with diverse artists from Van Morrison to Norah Jones making their mark. However, because press copies of the album were sent out, the internet has allowed fans to enjoy the album in its entirety (although we still wish for a solid release). Any listeners of Popular will easily see firsthand that the cause for a non-release has nothing to do with the quality of work. Though I remain generally clueless as to why the album was canned, I am guessing that Hunt's eclectic use of styles had the label feeling slightly overwhelmed. "Every day, somebody in the business wants me to change something about who I am so they can have an easier time dealing with me," Hunt said in a statement in December. "There are evidently lots of people who would like to see Van Hunt become a little more like everybody else. That's not going to happen."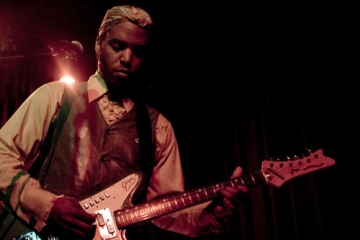 In addition to his unwavering confidence, there is no doubting Hunt's impressive range of skills; he won the Grammy Award for Best R&B Performance by a Duo or Group with Vocals in 2006 for appearing on the tribute version of the Sly & the Family Stone song, "Family Affair", with John Legend and Joss Stone. Though he has yet to reach the recognizability of either two, Hunt's natural talents are paving the way for imminent stardom. As expected, Hunt's childhood was filled with the virtues of music. His father was a factory worker and painter who had an ample amount of contacts in the music industry, introducing Van to a variety of styles at an early age. As a result, Hunt took up drums at the age of 7 and saxophone at the age of 8, subsequently adding bass, keyboards, and guitar to his instrumental arsenal over the following years. He started dabbling in production after dropping out of college in 1988, moving to Atlanta and working on hip-hop demos for up-and-coming Atlanta rappers. He made contacts with artists like Jermaine Dupri and TLC, slowly but steadily establishing himself as a name to look out for. He emerged in the late '90s as a more actively successful musician, collaborating with artists in the vein of Dionne Faris, Cree Summer, and Joi. His debut album, Van Hunt, was released in early 2004 on Capitol Records, earning critical acclaim and drawing a Grammy nomination for Best Urban/Alternative Performance. For a debut, even the bare nomination remains impressive. He followed it up in 2006 with his second album, On the Jungle Floor. Drawing a similar amount of praise to the debut, it earned Hunt the opportunity to tour alongside the likes of Kanye West, Alicia Keys, and Coldplay.
After listening to it for the past week or so, Popular is clearly not what an unreleased album typically sounds like. These are not b-sides or botched efforts; the production is as sharp as one will find in the genre of contemporary neo-soul and the songwriting usually shows Hunt at his best. Whether Popular sees the light of day or not, I think it is relatively clear that the album's opening track, "Turn My TV On", will see considerable radio play. Though heart-tugging ballads like the exceptionally done "There's Never a G'Time 2 Say G'Bye" and suavely sophisticated pop-oriented efforts like "Ur Personal War" provide plenty of satisfaction, "Turn My TV On" clearly has the potential to lift Hunt into an even more prominent spotlight, a place that is all too eventual for the budding artist. The initial verses are led by a chugging rhythm section and a variety of concisely implemented guitars, all supplemented by Hunt's crisp vocals. The subtle use of keys eventually emerges as the bridge toward a larger hook, with a variety of backing vocals progressing alongside the new key progression. The track is largely irresistible; even listeners who do not normally enjoy soul and R&B should give it a shot.
With a bare piano progression that is uplifted by a magnificently executed string arrangement, "There's Never a G'Time 2 Say G'Bye" is clearly the most beautiful track on Popular. In traditional ballad form, Hunt's impressive melodic prowess reminds me of legends like Stevie Wonder, Marvin Gaye, and the few other legends whose ability to produce both infectiously upbeat pop hits and ardently rousing ballads remains impressive to this day. Though "There's Never a G'Time 2 Say G'Bye" explores the conventional topic of relieving the pain of a break-up, Hunt's vocal sincerity and delicate arrangements provide for a touching experience. "All is well that ends well… or whatever they say these days," Hunt says somberly toward the song's conclusion, with the bustling of strings gradually building up with each sigh. The summarizing belief is most accurately stated in the song's title, with regret and loss often being insurmountable elements of social tragedy. With tales of classic romanticized woe like "There's Never a G'Time 2 Say G'Bye" sitting alongside more energized successes like "Turn My TV On", "Ur Personal Army", and "Bits & Pieces", Popular may very well end up being the most impressive unreleased album of the year. I doubt it will stay that way for long though; a plethora of labels are probably fighting over the rights to this one as I speak.
——————————————————————————————
——————————————————————————————
Van Hunt – There's Never a G'Time 2 Say G'Bye
[audio:http://mineorecords.com/mp3/vhunt-the.mp3]
——————————————————————————————
——————————————————————————————