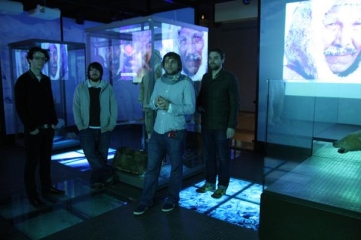 With acclaimed artists like Belle & Sebastian, Franz Ferdinand, and Mogwai becoming highly reputable names over the past few years, even the youngest of indie-rock fans are beginning to recognize the Scottish town of Glasgow as arguably the most productive city for new and talented musicians. While one would be able to make a compelling argument for other cities being more active in relevance to music-related quantities or other financial matters, the music scene in Glasgow has always been recognized as ceaselessly exciting due to the sheer amount of stylistic variety. There are no forms of stereotypical rock 'n' roll, hip hop, or country to be expected from the city's most successful artists, but rather a smörgåsbord of different artists who achieve success from stylistic methods that differ dramatically from one another. Whether one prefers the epic post-rock of Mogwai, contemporary indie-rock in the vein of Franz Ferdinand and The Fratellis, or varied legends of their craft like Aztec Camera, Teenage Fanclub, and Orange Juice, Glasgow is a city where musical tastes are not a variable factor in an equation for artistic enjoyment; one will find some form of localized satisfaction regardless of their preferences, as the city offers a plethora of artists suited for a wide array of tastes.
Though Glasgow serves up plenty of artists who take their style from no geographical archetypes, Frightened Rabbit happen to be a band that American and British fans will have a difficult time differentiating from the form of indie-rock that they have grown accustomed to. I mean that mainly as a compliment too, as the four-piece sees substantial success from a generally accessible methods of successful indie-rock songwriting that rely on overlapping vocal melodies, driving guitar progressions, and steadfast rhythm sections in similar forms to that of western indie-rock staples like Modest Mouse, The Shins, and even the Arcade Fire when their early releases propelled them into a state of cult-like fanaticism. Like fellow Glasgow-based contemporaries Belle & Sebastian, Frightened Rabbits' broad sense of ambition remains admirably prevalent, yet they allow enough room for such aforementioned classifications of indie-rock conventionalism too be classified more appropriately as independent futurists. Founding members Scott and Grant Hutchison probably meant for their craft to be delivered in such a familiarly comforting form as well, as the brothers have shown a noteworthy amount of potential since they formed the group in 2004. With Scott as a guitarist and Grant as a percussionist, the two originally began writing songs and preforming them for family members. Upon the urging of friends and family, they eventually decided to pursue the project full-time. Guitarist Billy Kennedy joined the group in 2006, with bassist Andy Monaghan making his debut with the band earlier this year.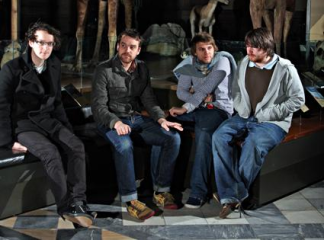 When Frightened Rabbits started work on their second album, The Midnight Organ Fight, the four members found themselves in a position that was quite unfamiliar to them. For the first time in their musical careers, they had others apart from their families and friends in Glasgow who recognized their talent. Because of their critically acclaimed debut, Sing the Greys, in 2006, Universal decided to pick up the album and re-release it in the U.S. and U.K. last year. Now, after playing at a variety of American shows and festivals like SXSW in a coinciding effort with their re-release, they have amassed an overseas audience that is very respectable for a band with merely one album. On an artistic standpoint, The Midnight Organ Fight also proves to be the first opportunity for the group to rework any of the minor flaws that dragged Sing the Greys down. Considering that it got in the hands of many people, they likely had plenty of critiques to work off of. Well, whichever method they chose to use, The Midnight Organ Fight is a significant step-up from their impressive debut. Produced by Peter Katis (he was behind the first two Interpol albums and the two most recent albums from The National), it represents an improvement upon both aspects of production and the songwriting.
The four members of Frightened Rabbit also consider The Midnight Organ Fight to be the most personal piece of art they have released. "This album [The Midnight Organ Fight] is a lot more intense than the first one. There's a lot more blunt imagery," Scott Hutchison said, alluding to the somber feelings of suicide, depression, and regret that lingers throughout the album. Still though, Scott considers optimism to be a proud component of his band's lyrical output. "I always feel that no matter how morose the subject matter, there's always a way that we – as a group – find of putting a positive slant on it, whether it be a depressing lyric put to a really pleasant melody or just a positive spin in the end. I hope people don't feel depressed when they listen to our music." With the abundance of hooks, fleeting melodies, and underlying instrumental additives, I doubt Scott has any reason to worry about listeners feeling down. Take the opening "The Modern Leper" for instance, an infectious tune whose success owes a significant amount to Hutchison's distinctive Scottish accent. In stark contrast to Glasgow-based bands like Belle & Sebastian or The Jesus and Mary Chain, their accent is enjoyably evident and adds a uniquely enjoyable flavor to the result. Despite the lyrics foretelling the impact that ignorance has on societal limitations, melodic elements like Hutchison's genuine yelp during the song's bursting chorus can't help but remind listeners that hope always has a chance of prevailing in the end. And on Frightened Rabbits' gratifying Midnight Organ Fight, the sense of hope has turned simply into an element of great expectancy; instead of treading in unfamiliar waters, Frightened Rabbits' newest effort commendably shows them as a band comfortable with their own stylistic delivery.
——————————————————————————————
Frightened Rabbit – The Modern Leper
[audio:http://mineorecords.com/mp3/frabbit-mod.mp3]
——————————————————————————————
Frightened Rabbit – Fast Blood
[audio:http://mineorecords.com/mp3/frabbit-fas.mp3]
——————————————————————————————
Frightened Rabbit – Head Rolls Off
[audio:http://mineorecords.com/mp3/frabbit-hea.mp3]
——————————————————————————————