Posted
March 3, 2008 by Mike Mineo
in Features
Murder by Death's Literary Connections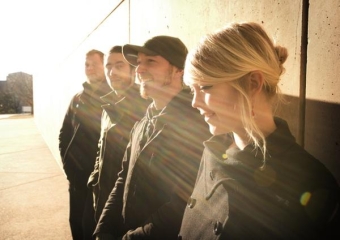 Robert Moore's 1976 film, "Murder by Death", was a memorable spoof on "whodunit" mystery fares. Featuring an all-star cast (Truman Capote, Alec Guinness, Peter Falk) that accompanied a subtly comedic script written by the legendary Neil Simon, it remains a cult classic in the genre of satirical spoofs. At heart though, it proved to be a clever analysis of human nature. The plot saw individuals being forced to work together with associates they distrusted and generally disliked, all in an effort to find the alleged murderer and save themselves. It sounds like the plot to any conventional murder novel, yet "Murder by Death" was a unique breed at the time by mixing humor with believably linear human reactions to create an entertaining swipe at contemporary society's greed and selfishness. Perhaps this sociological allusion is the reason why the Indiana-based four-piece Murder by Death decided to craft their name as a homage to their film. Their musical content is filled with brooding references to the state of humanity, examining the darker side of human nature with different characters and varying circumstances in each song. This is all done with eclectic stylistic form too; alternating genres of punk, alternative-country, are just a few of the mainstays. Even if treading in the dark waters of sociological evaluation is not for you, the group's unique implementation of musical styles is alone worth checking out.
To give an idea of Murder by Death's lauded thematic grasp, the group's previous album, In Bocca al Lupo, tackled themes that most songwriters would consider too controversially intricate to explore in a lyrical sense. Vocalist Adam Turla was allegedly reading a variety of novels at the time, the most evident being Dante Alighieri's "The Divine Comedy" and Edgar Allan Poe's "Fall of the House of Usher". Turla considered the themes of "sin, redemption, and guilt" to be invigorating when writing the album, noting that each novel was "about a different character who has either committed acts that have harmed other people." As he described in a track-by-track analysis on the site, In Bocca al Lupo's transformation into a concept album was brought on by its consistent focus on sin and punishment. Turla recommended to listeners that they treat the album like "short stories in one anthology", with the story-led brilliance in each unique track earning rave reviews and a plethora of attention by new fans and record labels alike. It was the album's success that earned the quartet their first major label deal, signing onto Vagrant Records last October. Their fourth full-length studio album, Red of Tooth and Claw, is prepared to be released on March 4th.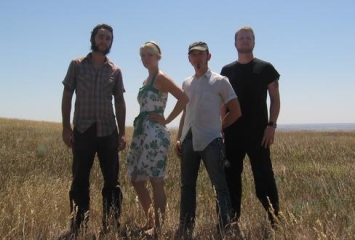 Considering that In Bocca al Lupo dealt with themes that overlapped with Dante's classic interpretation of hell and Poe's ghastly portrayals of death and rebirth, it would be difficult for Red of Tooth and Claw to be more ambitiously tied into literary classics. Well, considering that Murder by Death have been producing engaging songs with allusions to history and classic works of literature ever since their formation in 2000, attempting to predict the nature of their material will always come across as futile. This time around, Turla describes Red of Tooth and Claw as being in the mold of a "Homer's Odyssey of revenge, only without the honorable character at the center." Per usual, themes of egocentricity, fate, and human nature remain prevalent, but it is now presented over an instrumental force that remains both more consistent and accessible. In Bocca al Lupo marked a transitional period of stylistic development for the band in 2006, providing less emphasis on keyboards while increasing usage of guitars. However, a factor that has remained at the forefront ever since the band's inception has been Sarah Balliet's cello. It alone has attributed to being a trademark instrumental aspect of the four-piece, with its involvement being so uniquely implemented that fans would likely deem it as the most singularly identifiable aspect of the band.
Since the departure of keyboardist Vincent Edwards in 2004, the guitar-laden style has attracted a larger crowd, mainly owing to the newly energized form of navigable indie-rock the group takes on in seemingly effortless form. This is not to say that the group's stylistic diversity has suffered though; they remain generally eclectic throughout the album. This is perhaps best evidenced by the sweeping "Theme (for Ennio Morricone), a very commendable ode to the master of film scores. Using Morricone's scores of Sergio Leone's classic spaghetti westerns as an influential backbone, Murder by Death incorporates a variety of slick guitar progressions aided by a brooding cello and a steadfast rhythm section. When all instruments collide fluidly during the song's concluding moments, it simply reminds us all of how brilliantly innovative Morricone actually is. If you enjoy this track even in the slightest bit and have never checked out Morricone, you have a treasure awaiting you.
Apart from Red of Tooth and Claw showcasing what is Murder by Death's most accessible material to date, Grammy-winning producer Trina Shoemaker has given the group a more polished sound that provides in a resounding result. The album's leading single, "Comin' Home", provides instantaneous enjoyment in its portrayal of Homer's struggles to return to his point of embarkment in arguably the most concisely descriptive form. Like their past efforts, many songs on Red of Tooth and Claw utilize universally recognizable plot lines to provide an understanding of human nature. More audibly, Turla gives the listener a brief glimpse of what Johnny Cash would have sounded like if accompanied by the brisk motions of roaring electric guitars and reflective cellos, capitalizing on distinctively deep voice as a source for resounding hope and dumbfounded persistence. When the eventual entry of a kick drum signifies the simultaneous emergence of cellos and organs, the grandiose chorus recalls a form of excitement and genuine fury that Murder by Death have not exhibited before.
The lores presented throughout the album are also just as engaging as the preceding In Bocca al Lupo, with "Rumbrave" detailing the lonely travels of an immorally selfish swine. This time, Turla's voice resembles a less flamboyant version of Morrissey, especially during the chorus in which he proclaims, "When we meet, you will see; I will destroy everything of beauty!" As the rest of the song recalls with incidents at "shanty towns full of bitter men", it provides more evidence of Murder by Death's ceaselessly entertaining lyrical wit. When Red of Tooth and Claw drops tomorrow, keep it in mind. Though it remains more predictable on a structural standpoint, the songwriting and production shows the four-piece at their peak. Both on a lyrical and instrumental level, it is Murder by Death's best effort yet.
——————————————————————————————
[audio:http://mineorecords.com/mp3/mdeath-com.mp3]
——————————————————————————————
[audio:http://mineorecords.com/mp3/mdeath-rum.mp3]
——————————————————————————————
Murder by Death – Theme (for Ennio Morricone)

[audio:http://mineorecords.com/mp3/mdeath-the.mp3]
——————————————————————————————
Mike Mineo
I'm the founder/editor of Obscure Sound, which was formed in 2006. Previously, I wrote for PopMatters and Stylus Magazine. Send your music to
[email protected]
.