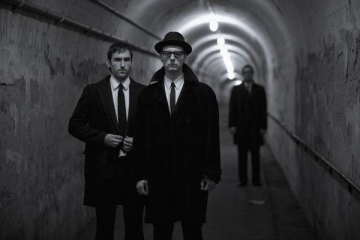 These days, it seems that anyone can call themselves an "artist". With the internet and other forms of digital technology allowing for mass distribution of various art forms for little to no cost of production, it is not a difficult task for one to capture at least a handful of fans if the quality of one's music, film, or illustration is commendable and it is promoted with modernistic sensibility. This creates very desirable circumstances for those who tend to classify themselves as eclectic artists, seemingly trying their hand at nearly every style of art imaginable. Sure, anyone can attempt to succeed gracefully, but actually doing so in all areas of music, film, and illustrative tasks is a rare feat that only a select few have the raw ability to accomplish. Though Sage Rader is far from being a recognizable name at this point, I imagine that those who look at his list of artistic accomplishments would not be surprised if he breaks out soon. Rader spent some time as an acclaimed poet (The Guardian called him the "Michael Moore of Poetry", whatever that was meant to say), an actor (he was in "Beyond the Ocean", a film nominated for the Sundance Grand Jury Prize), and an illustrator (he published an illustrated confessional titled "Sex Drugs and Sunday School"). While these accomplishments are merely the markings of a young artist looking to try his hand at a variety of crafts, it simply goes to show that Rader's great potential can be seen as something of a dying art in itself.
Following in the footsteps of Leonard Cohen or any number of poets or writer who successfully became great musicians in the process, Rader hopes that his most recent project finally finds him the success that he has openly yearned for. Calling it a recent project would be slightly erroneous though, as Rader has been refining his musical skill; since he was a young schoolboy in England. Violin was his first attempted instrument, later studying it at the Oberlin Conservatory of Music. He pushed aside his musical endeavors for a short time while pursuing other arts, but it came of little surprise when he found himself back where he started, with more skill and experience to boot. However, it was not until a meeting at an art show last year that Rader's musical ambitions began to blossom yet again. He met Shaun "Stakka" Morris, a Brighton-based DJ and producer, and the two found each other holding similar intentions to their heart. To gauge his musical intentions, Morris gave Rader a copy of a Ror-Shak album, derived from the project Morris had been working on with DJ DB. "He did an interesting little sketch with violin over one of the tracks," Morris said of Rader. "We stayed in contact, and he brought some tracks 'round my studio that he'd been working on." And thus, after sporadic stages of compiling and mixing, Ready Fire Aim was born.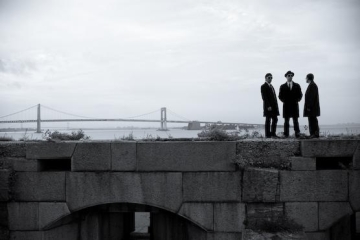 For several consecutive months after their first meeting, Rader and Morris continued to work together by swapping demos back and forth, eventually deciding on a sound that satisfied both their needs. Their first album, This Changes Nothing, eventually emerged and is scheduled for a May 27th release on Expansion Team Records. The result sounds like a hybrid of Depeche Mode, Nine Inch Nails, and synth-rock revivalists in the vein of White Rose Movement and She Wants Revenge, both of whom capitalize on such aforementioned influences in order to produce a more accessible and danceable sound. Both Rader and Morris appear to split their work evenly, with Rader providing leading vocals and a few instruments while Morris tackles the bulk of the production aspects. "I'm a big fan of processing, even to the point of extremes," Morris said. "I mean, when the mix was near completion, we were recording big chunks of the actual record back into samplers to mess around with it. It could be something simple at the end of a track, like a whole beat section sinking into a filter or going through a bit-cruncher — there's some crazy stuff that can be had out of that. If you keep that processing mentality going, you can get to an interesting place."
I will also go on to say this one thing: This Changes Nothing is not for everyone. Considering that the group takes its dues from a melodramatic style of synth-pop that dominated the '80s, I expect to find a handful of critics bashing Ready Fire Aim for having an outdated sound . While originality is truly only found in Morris' unique methods of production, it is simply the duo's ability to write catchy pop songs that makes This Changes Nothing a worthwhile listen. Both Rader and Morris appear set to release "Wannabe Your" as the debuting single and – while I find it too generic – the simplistic hook is enjoyable enough to garner a substantial amount of radio play. It would actually be easiest to compare the track to an early effort from Collective Soul. Still, I find myself more attracted to tracks like "As If It Were That Easy", a slow-tempo charmer that shows shades of Erasure as Rader reaches a falsetto that Andy Bell would grin in delight upon hearing. More brooding tracks in the vein of "Beautiful Thing" and "So Fine" remind me of early Depeche Mode; the simultaneous emphasis on both synth-pop and dance supplies a variety of commendable hooks, even if the lyrics happen to be overly cheesy at times. Showed best on "Beautiful Thing", Rader and Morris have the ability to make the seamless transition from minimalist synth-pop (a single synth and drum loop) to grandiose depictions of dance with keys, guitars, and varying degrees of percussion on full display over Rader's suitably ardent vocals. Sure, This Changes Nothing will not be hailed as a breathtaking achievement when it drops on May 27th, but a substantially sized niche will undoubtedly find solace in the duo's nostalgic trends.
——————————————————————————————
Ready Fire Aim – Beautiful Thing
[audio:http://mineorecords.com/mp3/rfaim-bea.mp3]
——————————————————————————————
Ready Fire Aim – As If It Were That Easy
[audio:http://mineorecords.com/mp3/rfaim-asi.mp3]
——————————————————————————————
——————————————————————————————