Posted
May 30, 2008 by Mike Mineo
in Features
Obscure Sound: Best of May 2008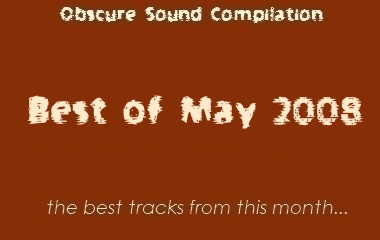 I hope that everyone's memorial day weekend went well. Like every year, it marked the beginning of summer for many people (mainly students like me) and gave them a bit of a refresher as to what summer actually FEELS like. Yeah, being on the East Coast, the radical transitioning between seasons occasionally makes me forget what it feels like to walk outside without deciding first whether or not to wear a coat or sweatshirt. Since summer weather tends to arrive somewhat late over here, I still have to endure classes in the scorching heat until the end of June, but the thought of summer's embrace is definitely enough to get me through the torturous couple of finals that await me. Unlike summer, music can be enjoyed regardless of seasonal tendencies and this month offered up a plethora of consistency. This particular compilation also demonstrates quite a bit of variation, sporting artists who dwell in anywhere from experimental rock to accessible electro-pop. If one (or hopefully several) interest you, feel free to click on the (post) beside the link. Listing the different styles in one post for this compilation would be too demanding on the eyes.
01. Pacific! – Sunset Blvd (post)
02. Wolf Parade – Language City (post)
03. White Denim – Sitting (post)
04. Cineplexx – Droga Paliativa (post)
05. Alias Pail – Sun and Rain (post)
06. Down Home Southernaires – Israelis on the Beach (post)
07. Alu – Casket Salesman (post)
08. Silje Nes – Dizzy Street (post)
09. Sparks – Lighten Up, Morrissey (post)
10. E.S.L. – Prove Me Wrong (post)
11. Frank Bango – Worm Was Wood (post)
12. Ndidi Onukwulu – SK Final (post)
13. The Little Ones – Ordinary Song (post)
14. Mates of State – My Only Offer (post)
15. The Lady Vanishes – Karen, Don't Stop Him (post)
Mike Mineo
I'm the founder/editor of Obscure Sound, which was formed in 2006. Previously, I wrote for PopMatters and Stylus Magazine. Send your music to
[email protected]
.