Posted
June 15, 2008 by Mike Mineo
in Site
CONTEST: Radiohead – The Best Of (DVD)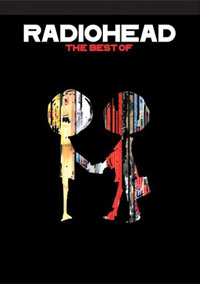 Considering that the band received a plethora of well-deserved attention last year, my Radiohead coverage was minimal when compared to some other publications. I figured that it would be pointless to constantly feature an immensely popular band when I had a variety of very enjoyable unknowns just waiting to be featured. I reviewed the second half of In Rainbows and named the entire album my favorite of 2007 though, hopefully providing enough fanfare to a band who deserves most of it.
With that in mind, since we are the mid-way point of 2008 and Radiohead continues to be in the midst of a tour, I figured that it would be somewhat appropriate to host a contest which reminds us of some of their earlier works. A new DVD, The Best of Radiohead, chronologically features the most notable music videos from the prolific band. Featuring directors by the likes of Michel Gondry ("Knives Out"), Jonathan Glazer ("Street Spirit (Fade Out)"), and Brett Turnbull ("Creep"), 20 music videos are collected in addition to a live version of "2+2=5" at the Belfort Festival.
There will be two winners who each receive one DVD each. Entering is simple: Reply to THIS post, answering the very simple question, "Out of the 20 music videos collected on the DVD, which one is your favorite and why?". The contest will close on 6/22 at 1:00PM EST.
Please supply your proper e-mail address. If you are selected as the winner, it will be the way I contact you. I will choose the winner based on the most fulfilling response and I will send out the DVD once I get the address. By "most fulfilling", do I mean the response that sides with my personal opinion the most favorably? Haha, perhaps.
Click below to view the track listing.
01. Creep (directed by Brett Turnbull)
02. Anyone Can Play Guitar (directed by Dwight Clarke)
03. Pop Is Dead (directed by Dwight Clarke)
04. Stop Whispering (directed by Jeff Plansker)
05. My Iron Lung (directed by Brett Turnbull)
06. High and Dry (UK version) (directed by David Mould)
07. High and Dry (US version) (directed by Paul Cunningham)
08. Fake Plastic Trees (directed by Jake Scott)
09. Just (directed by Jamie Thraves)
10. Street Spirit (Fade Out) (directed by Jonathan Glazer)
11. Paranoid Android (directed by Magnus Carlsson)
12. Karma Police (directed by Jonathan Glazer)
13. No Surprises (directed by Grant Gee)
14. Pyramid Song (directed by Shynola)
15. Knives Out (directed by Michel Gondry)
16. I Might Be Wrong (directed by Sophie Muller)
17. Push Pulk / Spinning Plates (directed by Johnny Hardstaff)
18. There There (directed by Chris Hopewell)
19. Go To Sleep (directed by Alex Rutterford)
20. Sit Down Stand Up (directed by Ed Holdsworth)
21. 2+2=5 (Live at Belfort Festival) (directed by Fabien Raymond)