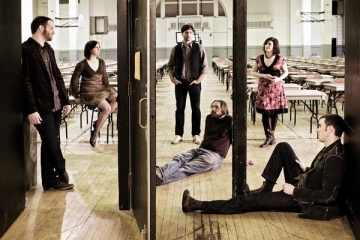 With a quivering tone of audible melancholy complementing other instrumental forces at work, string instruments are widely said to "weep" their way into recognition. Weeping strings… it just sounds so natural, doesn't it? Classical composers have provided a good dose of variety in channeling the variety of emotions the instrument can convey, but the most common perception of string instruments is still applied to circumstances that are somber and melancholic. That being said, when a contemporary indie-rock artist makes significantly prominent use of strings in their sound, they must be able to also recognize the influence it has in the resulting tone and thematic involvement of their work. They can successfully allow the implementation to make the result more grandiose and majestic, or they can falter and simply cause the instrumental addition to be an overly desperate and overwhelming attempt at emotional relevance. Consequently, when I stumble across an artist who uses strings as one of the domineering aspects successfully, I take note of them. Thus, Eksi Ekso has caught my eye in delivering one of the most striking albums of the year. While their varied use of strings coincides with all of the revered aspects previously mentioned, it is in their instrumental collaboration between all the instruments involved that truly separates them from most other rock groups.
Based out of Boston, Eksi Ekso serve as the remnants of previously acclaimed Boston post-rock collective On Fire. Nate Shumaker, one of the several founders of On Fire, stands strong as one of the main creative forces for Eksi Ekso, carrying over a sound that should satisfy both old fans of On Fire and listeners who may have previously considered On Fire's instrumental post-rock to be not accessible enough for their liking. What Eksi Ekso does is deliver a similarly epic form of post-rock that solidified On Fire as one of their more impressive groups to come out of Boston recently, but now with a broader focus on hooks that are easy to grasp without being even remotely conventional. Thanks in part to ominous strings and intensely engineered rhythm sections, the sound remains brooding and haunting within intricate structures that seem to naturally get better upon each progressive listen. The tracks on the group's debut album, I Am Your Bastard Wings, diversify themselves remarkably in structure, length, and style. Progressive and post-rock are the most consistent forces at work, but glimpses of shoegaze on tracks like "The Gallows" and serene electronic on "Albatross" cause the album to be an unforeseen journey. The vocals of Shumaker and multi-instrumentalist Tom Korkidis (also ex-On Fire) bellow throughout most of the album, emitting a deep and sonorous vocal display that complements the highly involved instrumental accompaniment to occasionally breathtaking results.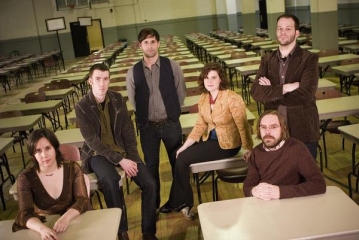 As I previously mentioned, the word "striking" is a good one to describe I Am Your Bastard Wings. In addition to some excellent songwriting, this can be attributed to the eclectic instrumental arsenal of the band. Apart from conventional post-rock staples like guitars and bass, the uses of instruments as varied as trumpets, flugelhorns, violins, violas, and oboes are prevalent. Eksi Ekso takes pride in having their 6 members derive from different musical approaches. They refuse to be classified into one category of rock music, as they openly regard anything from jazz to new-wave as being prominent influences; this explains this instrumental diversity quite well. Listening to one of the album's standout tracks, "Killing Texas", serves this ideology nicely. The vocals are initially whispered over a minimum of percussion and the trickle of keys, with a sharply executed violin appearing out of the midst to signify the track's entry into a more expected form of intricacy. A series of guitar progressions then clash with the strings as the rhythm section remains steadily consistent; the vocals are paused for a moment so the listener can take notice to the memorable instrumental involvement occurring. Picking out singles may not be an easy task for a band of Eksi Ekso's ambitious vein, but this may very well be a great choice.
Another highlight is "O' God, They've Frozen", an outstanding effort that invokes the past efforts of On Fire. Eksi Ekso's decision to involve vocals so heavily on the album was most certainly a risky one, but the album fares well for the most part and "O' God, They've Frozen" is one of the tracks indicative of the methodical success. It is not the vocal melodies which make their mark most, but the precise timing and emotional baggage in which they carry; they seem to hold as much instrumental leverage as most other instruments in play. When the spine-chilling entrance of brass occurs about two minutes into "O' God, They've Frozen", most will hopefully be able to audibly recognize this high level of achievement. "The Choir Will Always Sing" is mainly led by guitars and keys, though the role of rhythm and strings is just as productively vital. It lacks in overall ambition when compared to tracks like "O' God, They've Frozen", but that does not stop it from being one of the more memorable efforts on the album. When the group propels into a near-jam session in its concluding minutes, the sheer rush of clashing emotions conveyed is one of remarkable awe. Considering that the majority of the album is delivered in the same vein, I Am Your Bastard Wings serves as an extremely impressive post-rock release.
——————————————————————————————
——————————————————————————————
Eksi Ekso – O' God, They've Frozen

[audio:http://mineorecords.com/mp3/eksi-ogo.mp3]
——————————————————————————————
Eksi Ekso – The Choir Will Always Sing

[audio:http://mineorecords.com/mp3/eksi-cho.mp3]
——————————————————————————————