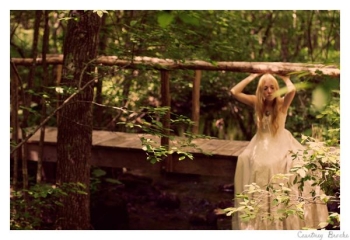 On some independent record labels, you can simply expect innovation from every artist in the catalog. Most major labels have the tendency to capitalize on profitable circumstances caused by music that may be accessible and radio-friendly but generally uninteresting, leaving the "little engine that could" mentality to smaller labels who focus solely and commendably on the music. Artists who embrace ambition and innovation as something inherent in their sound should take pride in sitting comfortably on a label in which neighboring artists encompass a similar ideology, as the fans they will consequently reach are individuals who comprehend the actual artistic intentions of such an approach. This is no knock on artists who have achieved a lifelong dream by singing with Song BMG or EMI, as a handful of them are deservedly raking in profit due to some great songwriting in their own right, but I have found that many people prematurely assume that there is not much worth looking for on indie labels due to a corporate-based separation that appears startlingly over-exaggerated. They also likely find the large number of smaller labels to be somewhat intimidating, making the search for an artist that fits one's own personal tastes that much more difficult. However, when you actually stumble upon a label who offers something fresh and enjoyable each time around, it proves well worth the time.
I have yet to find a label in which I enjoy literally every single singed artist, but when I find one that at least offers a handful of enjoyable artists, I make an effort to remember it. In the case of the Philadelphia-based label Language of Stone, there have been a few artists in their catalog who have caught my eye over the past several months. The experimental psych-rock of Silver Summit was one example of something wildly unique and refreshing, with the rhythmically led prog-rock from Heavy Hands bringing a similar form of enjoyment. However, the artist on Language of Stone that has impressed me most so far has been Ex Reverie, the project of husband-wife duo David and Gillian Chadwick; both were previously involved in an avant-folk group by the name of Golden Ball. Gillian has also spent time with Woodwose, a duo consisting of her alongside one of Language of Stone's founders, Jessica Weeks. Ex Reverie, though, is undoubtedly their most impressive venture yet. Fans familiar with their past projects should find comfort in the Chadwicks' continuance of experimental folk, with Ex Reverie seeing the duo more comfortable with aspects involving folk-rock and psychedelia. They are backed by an impressive array of players with connections to Language of Stone, incluidng guitarist Greg Weeks, flutist Jessica Weeks, and cellist Margie Wienk (of Fern Knight).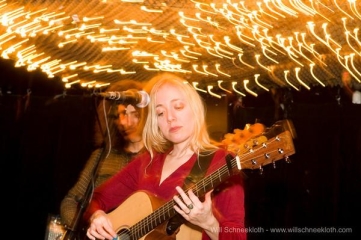 While the instrumentation – a grandiose display of intricate acoustical arrangements, captivating orchestral elements, and creative rhythmic propulsions – is originally impressive, the aspect that stands out most for me on Ex Reverie's striking debut album, The Door into Summer, is the duo's lyrical prowess. Gillian Chadwick has a voice that whispers, quivers, and yelps in accordance to the coinciding lyrical and instrumental tone at the time, with the prevalent usage of metaphorical imagery providing an array of impressive moments that thoroughly highlights the duo's poetic ability. Topics concerning relationships, fate, and transcendentalism are consistent throughout the release, but the melodic and structural variability carry enough emotional leverage in themselves to make the listening experience enjoyable for even those who choose not to focus on the impressive lyrical content (which is shameful on an album like The Door into Summer). With half of the tracks on The Door into Summer being over 5 minutes long, the duo took special care to provide a boastful amount of diversity. Actual repetition is nearly nonexistent and, as demonstrated in the excellent opener "Second Son", the songs usually build up using several layers of strings, guitars, and percussion to lead into a captivating finale. Over it all is Chadwick's voice, a feature that can shift from an angelic tone to one of brooding revenge in a heartbeat; if her music career fails (which it will most certainly not), she probably has a career in storytelling awaiting her.
My favorite track on the album, "The Crowning", contains all of the elements that makes Ex Reverie's style such an individualistically stimulating listening experience. The use of percussion is controlled by both the steady beat of a snare drum and the brooding gesture of strings, with the snare slowly emerging after Chadwick's voice makes its haunting entry. "Sometimes I am allowed sight of a secret door," she sings over the heightening string accompaniment. "Other times it's just a wall, a door 300 years gone." The clashing between imagination and a longing for the past appears subjectively and Chadwick's intensifying emotions throughout the track are highly reflective of the ideology. Like her vocals, the instrumental dexterity is augmented dramatically as David Chadwick and Greg Weeks introduce a series of fluid guitar lines. The strings and percussive beat evolve into one consuming rhythm section in itself, sounding remarkably memorable over the varying guitar progressions. This is a track that must be listened to from the beginning, as the listener's perception of the string-snare combination shifts enjoyably as the final two minutes of "The Crowning" provides a form of role reversal that delights. In somewhat of a contrast, "Cedar, Pt. 2" is a closing track that non-chronologically follows up on the 8+ minute epic of a similar name. Its soft, acoustic nature bids the listener farewell in delicate form, closing off an album with no major missteps to speak of. The Door into Summer is now available and I wholeheartedly recommend it to anyone who has a respect for artists who mutually involve lyrical and melodic content to create a uniquely notable sound.
——————————————————————————————
——————————————————————————————
——————————————————————————————
——————————————————————————————