Posted
June 19, 2008 by Mike Mineo
in Features
Oppenheimer Boosts the Quality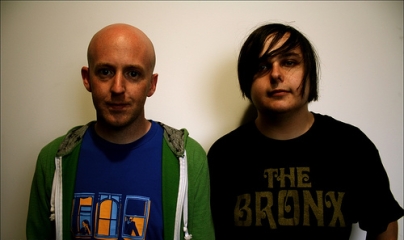 Whether you are someone who attends a concert once a year or once a week, it is easy to recognize the wide variety of benefits that such a music-oriented event can offer. The primary reason for attending, of course, is nearly always related to seeing a favorite artist perform in a more personalized capacity. But, even if some are reluctant to admit it, there is just something about the atmosphere of such an event that makes most of the show-goers seem more sociable and amiable than they do in the routine of daily life. Such approachable dispositions are usually caused by two things. For one, everyone there has something in common that they can talk about (a specific music niche), making awkward social situations generally irrelevant. Also, if someone has the time to attend a show for leisure, the amount of stress in their life at that given time is likely minimal. Great music, fun people, and no stress? Ah yes, it is the wonderful appeal of concerts. And if you are lucky, you may even meet someone who will change your life for the better. No, I am not referring to a new lover (though that is always very possible), but a partner in a more artistic vein whose apparent music interests overlap with your own. In fact, I imagine that discovering a new band mate is much easier at the proper shows, as any issues regarding opposing musical interests are obsolete.
Ever since Shaun Robinson and Rocky O'Reilly met at an Icelandic electronica show a few years ago, they have been constant musical companions. As the sole founding members of Oppenheimer, success has been mutual for the recently thriving duo. Their electronica-based meeting place unraveled both of their musical interests to one another, resulting in a sparked chemistry that involved a lust for kraut-rock, electronica, and synthesizers. Oh, and as the sound of their own project clarifies, the boys appear extremely fond of well-crafted pop music as well. Despite using a diverse array of guitars, synths, and rhythmic alterations, the result is always a cohesive and polished blend of electronic pop and rock. Over the past few months, they have been gaining extraordinary momentum. Apart from sharing the stage with the likes of Hot Chip, Regina Spektor, and They Might Be Giants, Oppenheimer's tracks have been featured in several nationally televised series (Gossip Girl, Ugly Betty). They were able to score such prominent gigs after the release of their self-titled debut album in 2006. Released by Bar-None Records, it brought the Irish duo their first signs of recognition but did little as to hint where the duo would take listeners next. On their follow-up album, released in early June, they perfect upon a familiar sound that should please listeners both old and new to Oppenheimer.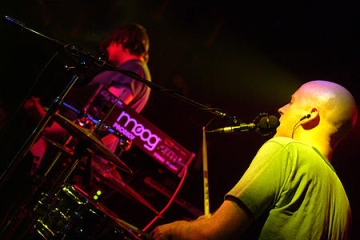 For their second album in Take The Whole Mid-Range and Boost It, Oppenheimer has utilized an ideology that a large variety of indie-pop bands seem to unfortunately forget when writing their sophomore albums. Artists are often so eager to follow up an acclaimed debut with a release that expands upon their stylistic focus that it can backfire rather tragically, ending up as an overbearing mess. You can call it an overabundance of confidence if you like, but confidence is hardly to blame for rushed production and faulty songwriting. In terms of style, Take The Whole Mid-Range and Boost It is not a drastic change of pace from Oppenheimer; the same fresh presentation of sparkling electronic pop is present once again. The glaring difference, however, is that the songwriting is definitively stronger. Whereas Oppenheimer occasionally suffered from being overly repetitive, the 12 tracks on Take The Whole Mid-Range and Boost It vary to a commendable extent despite consisting generally of the same instrumentally fused approach. The lyrical content is as equally diverse, with topics ranging from Cate Blanchett and her following of impersonators to the joyless illegality of fireworks in New Jersey (as a resident, I can say that the ruling is quite hilarious). The track, entitled "Fireworks Are Illegal in the State of New Jersey", acts like an impending firework display in itself, shifting from the serene gaze of light keys to a rapid explosion of synths and guitars. Indeed, if you are someone who constantly hungers for cliché love songs in their most conventional form, then Oppenheimer is not for you. This duo appears fearless in their lyrical and melodic approach.
I was immediately intrigued by "Cate Blanchett" on its name alone, as I figured that an ode to arguably the most eclectic actor in the biz today could be an entertaining one. As it turns out, the track is quite a spectacle, but not for the reasons I prematurely thought. It takes over a minute to gain true momentum, but once the hook is triggered by the entry of effervescent synths over the backing of brass, the level of enjoyment increases dramatically. The high-pitched, airy nature of Shaun Robinson's voice could actually be mistaken for a female's upon first listen, but the angelic tone sounds excellently implemented over the sparkling array of electric guitars, whispy synths, and soft keys. Oppenheimer has a tendency to almost reach into a vein of orchestral pop without using conventional orchestral instruments at all. And while this may sound very odd, the nature of it is due to the flexibility of synthesizers and also the highly involved intricacy of all the included instruments, all of which overlap cohesively with one another. The brisk "Look Up" is even more indicative of this, with a more fluid approach reminiscent of basic power-pop. The structure proves rather predictable but the infectiousness of the melody alone carries the track to great heights, setting up for what I believe to be a single whose future success is imminent. While the duo's ability to produce brightly effused electronic pop may become tiring to listen to in large doses, the concise factor of enjoyment found on tracks like "Look Up" and "Cate Blanchett" should not be missed out on.
——————————————————————————————
[audio:http://mineorecords.com/mp3/opp-loo.mp3]
——————————————————————————————
[audio:http://mineorecords.com/mp3/opp-cat.mp3]
——————————————————————————————
Oppenheimer – Fireworks Are Illegal in the State of New Jersey

[audio:http://mineorecords.com/mp3/opp-fir.mp3]
——————————————————————————————
Mike Mineo
I'm the founder/editor of Obscure Sound, which was formed in 2006. Previously, I wrote for PopMatters and Stylus Magazine. Send your music to
[email protected]
.