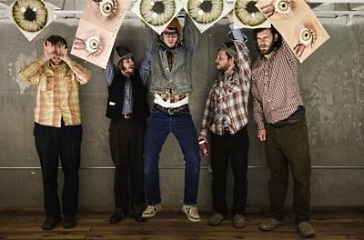 In essence, Dr. Dog have been making a living from the past. Plenty of contemporary bands utilize a style derived from the form of pop music that embraced the airwaves over 30 years ago, but Dr. Dog's individuality arises in more than just an appealing reflection of past artists that molded them. Instead of simply just replicating a brisk form of '60s pop, they seamlessly manipulate it to ease the technological transition as sheer nostalgia steadily transforms into something that is unpredictable and enjoyable. Much of it can be attributed to the group's apparent willingness to implement a bit of modernistic flair to their sound, usually in the form of varied vocal deliveries, eclectic methods of production, and songs that differ from one another in a variety of melodic and structural aspects. That being said, comparing songs within Dr. Dog's entire catalog is a painless task, but within one singular album the diversity between each song solidifies the sentiment that Dr. Dog are not just another group with dreams of sounding like The Beatles or The Band. After the lo-fi appeal of early albums like Toothbrush, Dr. Dog broke through in 2005 with Easy Beat, a critically acclaimed effort that saw the group's emphasis on '60s pop clash fluidly with a more expansive instrumental. Since then, their masterful blend of elements both past and present has carried them from a state of anonymity to a more nationalized form of recognition.
For their fifth album, Fate, Dr. Dog intentionally granted high expectations months before the release. Calling it the album that "they were destined to make", it should make the album's title a rather obvious one. However, considering that last year's We All Belong was easily one of the best indie-rock releases of the year, improving upon a release that is widely considered their best may be a daunting task. For a band that has improved with each successive release though, success appeared nearly imminent. And while Fate does not substantially topple We All Belong in terms of overall consistency, it offers a few of the most rewarding moments that can be found on Dr. Dog's growing discography. Considering that hints indicating Fate as their most expansive release to date were heavily prevalent, it is nearly ironic that the opening moments of "The Breeze" sound like the throwback lo-fi version of Dr. Dog, back in 2004 before My Morning Jacket scooped them up and brought them out on tour to expose them to an audience who would grow extremely fond of the Philly-based five-piece. As the track progresses though, "The Breeze" proves to be a great representation of Dr. Dog's songwriting. The soft strumming of an acoustic guitar gradually shifts to a broader instrumental accompaniment that features a cohesive display of guitars, tropical keys, and cooing backing vocals, with the gradually augmented percussion establishing the build-up to an extremely commendable extent. Immediately from the first listen, the stark transition from the acoustical introduction to the expansive arsenal that follows is wholesomely captivating.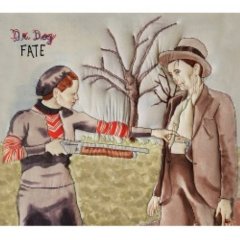 Rather than attempting to bolster a previously acclaimed style, the rest of Fate sounds very much like – well – recent Dr. Dog. Unlike the big jump from Toothbrush to Easy Beat, there is no stylistic transition present on Fate. To Dr. Dog's benefit, it results in being arguably the strongest album of their career. Much debate will eventually arise among fans that are split deciding which one of their three recent albums is Dr. Dog's most effective. When listening to a succession of tracks in the middle of their most recent effort, it is hard not to make a case for Fate. "Army of Ancients" kicks off this irresistible run, sporting a combination of brass and strings that makes a striking impression when set against the backdrop of vigorous keys and Scott McMicken's powerful vocals. He resembles an ardent fusion of Harry Nilsson and Richard Manuel as he lets out a highly emotive croon at the conclusion of each chorus; the whimper seems to get better each time around and establishes itself as a convincingly stable hook. "The Rabbit, the Bat, and the Reindeer" is more reminiscent of traditional Dr. Dog with its key-led progression and simplistically memorable chorus, but it fits exceedingly well between the ambitious pop of "Army of Ancients" and the outstanding "The Ark". The chorus is primarily guided by several chordal shifts and vocals that, like "Army of Ancients", serve as a good example of McMicken's range. The structural approach is primitive in theory but McMicken's quivering vocals carry the style with resounding success.
"The Ark" serves as a great achievement for a group even of Dr. Dog's throwback mentality, as the diversity alone presented within its duration should silence any critics who describe their sound as being bland or overly imitative. Barely over three minutes long, both the track's lyrical scope and melodic tendencies prove highly memorable. "God, he called for rain, so I built an ark but no rain came; I was ashamed," Toby Leaman sings. "Man, he called for war so I built a gun and I joined the core, but I wasn't sure." The topics range from war and remorse to love and faith, all presented in lyrical forms that contradict the conventional actions involved in all circumstances. The various progressions and rhythmic accompaniments are more subdued when compared to other efforts on the album but it bodes well with the content at hand. The chorus nearly resembles the grandiose flair of Pulp's "This is Hardcore", with Dr. Dog's nostalgic tendencies emerging as the dividing factor. And, of course, Leaman tops it off with a yelp-like croon that ushers in a slick guitar solo before the fantastic chorus enters once again. With the halted guitar-led stomps of "The Beach" and the intricately infectious "My Friend" closing off the album in equally impressive form, it is difficult to find a track on Fate that is not wholesomely enjoyable to some extent. So, in the end, is Fate a massive improvement upon We All Belong? No, but it is just as consistent and massively enjoyably as its predecessor. And since We All Belong was one of the best releases of last year, Fate also slides in nicely as one of the most accomplished indie-rock albums of 2008. 8.5/10.0
——————————————————————————————
——————————————————————————————
Dr. Dog – The Rabbit, the Bat, and the Reindeer

[audio:http://mineorecords.com/mp3/drdog-rab.mp3]
——————————————————————————————
——————————————————————————————