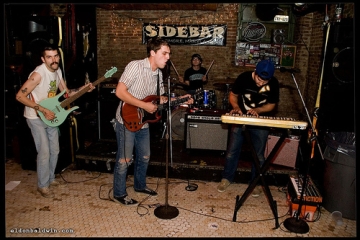 Critics can attempt to analyze it and fans can reluctantly convince themselves of the most agreeable scenario, but the chemistry within a band is usually a topic in which the correct circumstances are confined to the knowledge of the respective group's members. Apart from perhaps a few collaborators and best friends, the knowledge is practically impossible to intentionally acquire. For many groups, the high and varying levels of sensitivity can make it a form of journalistic suicide if even attempted in an interview. With that in mind, I never generalize as to how well a band actually works together, even if the result is magnificent in all aspects. We all can see how energetic and communicative a band may be if we attend their shows, but one must also keep in mind that bands often tend to exaggerate in order to provide a more fulfilling and engaging atmosphere for the fans who bought the tickets. Even if it causes a lack of authenticity, it is hard to blame them for doing so because both the performers and showgoers usually end up going home happy. After all, whether or not the members actually like each other personally can hold little importance as to whether a show or release is of an expected form of quality.
Considering that I agree wholeheartedly with such chemistry-related sentiments, I suppose it would be extremely contradictory for me to judge the chemistry in Thomas Function based on their music and online photos alone. It could all just be a classic attempt to sell records, right? Well, considering that all pictures I have found of the members together depicts them having insane amounts of fun while at parties, playing shows, and in the studio, superficial corporate achievement seems to be the last things on their mind. In fact, It leads you to believe that these guys might even be having fun while making music together. And apart from the putting the "fun" in "function", their music plays off just as naturally. Providing heavy doses of southern-rock and folk within a consistent showing of punk, the fact that Thomas Function are able to simultaneously provide odes to energized punk greats in the vein of Television and The Buzzcocks while delivering an array of styles related to folk and contemporary rock contributes prevalently to a style that is wholesomely unique and energetically engaging. Comprised simply of 4 similarly ambitious friends based out of Huntsville, Alabama, who stemmed from two local groups (Panic Buttons/Alabama Jihad), Thomas Function appear to have a reached a point in which massive exposure is imminent.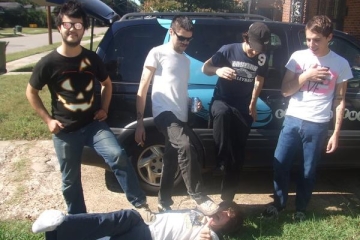 There are many newly reputable indie-rock groups who have built up hype by releasing a slew of successive singles before a debut album; Thomas Function prove no stranger to the method. The track that brought the four-piece arguably their biggest buzz in 2007 was "Relentless Machine", a 7″ single that now once again has appeared on their excellent debut album, Celebration. While all of their earlier singles bought them a dedicated following, it is not until now that Thomas Function are finally getting the attention they deserve. It would make sense too, as Celebration was just released in early March. Despite offering 13 tracks that are contained within a similar delivery, the boastful amount of hooks and instrumental variations provide for a form of excitement that most debuts only dream of. "2012 Blues" was a standout immediately for me from the first listen, as its acoustical folk origins are in stark contrast to vigorous punk-oriented gems like "Snake in the Grass" and "Conspiracy of Praise", a style that reigns over most of the album. As the title may suggest, "2012 Blues" is steered toward the apocalyptic musings of the Mayans, nearly knocking on those who let such indecisive matters weigh heavily on their present lifestyle. The structure and progression is simplistic enough, but the transition from verse to chorus crafts an unexpectedly ingenious hook that introduces percussion over a newly incorporated acoustical progression. "That's why we're runnin' with our eyes closed, waitin' for the end of the world," Josh Macero sings during the chorus with a distinctive snarl, a component of his vocal delivery that is considerably reminiscent of Tom Verlaine.
Since the release of Celebration has already brought hundreds of comparisons to artists such Television, The Violent Femmes, and The Buzzcocks, it makes sense that the album is comprised of material that sounds somewhat familiar despite being backed by exceptionally original songwriting. In a track like "Can't Say No", where a Pixies-like bass line is adjusted accordingly over an organ-led guitar progression that brings visions of classic Television and Velvet Underground to the forefront, it almost makes for a colossal fusion of great indie-rock and punk bands who have made a significant mark in the past 30 years. The infectious "Can't Say No" may be too hectic to make such past comparisons entirely spot-on, but the melodically charged energy that Macero's vocals convey makes the mixture of modernistic enthusiasm with past forms of punk and garage-rock a very satisfying blend. As for fans of The Buzzcocks or even Wire, one listen of "Snake in the Grass" should be convincing enough. Alongside "Conspiracy of Praise" and "A Long Walk", it employs a concisely familiar form of catchy punk without being overly aggressive or manipulative in the process. With the rhythm section constantly impressing me with its tight coordination, the excellent guitar work making the comparisons to Television even possible, and Macero's vocals being a constant source of hooks and youthful vibrancy, Celebration packs a very powerful punch that should have fans and critics alike seriously considering it for the title of this year's most satisfying debut.
——————————————————————————————
Thomas Function – Can't Say No

[audio:http://mineorecords.com/mp3/tfunc-can.mp3]
——————————————————————————————
——————————————————————————————
Thomas Function – Snake in the Grass

[audio:http://mineorecords.com/mp3/tfunc-sna.mp3]
——————————————————————————————