Posted
August 27, 2008 by Mike Mineo
in Features
Department of Eagles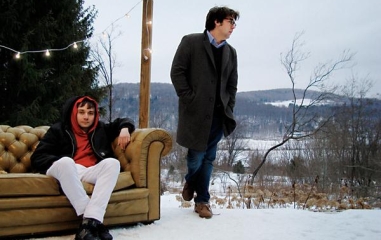 A good majority of people have, at one point in their lives, been forced to live with someone who does not exactly coincide with their standards of life. Roommate horror stories can be as amusing as they are appalling, but everyone recognizes that it is a part of life that most unspoiled individuals have to go through in order to live without a larger financial burden. As someone who has just gotten accustomed to living with a roommate over the past few weeks, I know that I fortunately got lucky by having someone who is not a hassle at all. In fact, we have actually become friends in the process. As most of us know though, the chance that a random pairing of roommates who have the capability to collaborate successfully on an artistic project is minimal, mainly because it is difficult to find such a compatible individual even if you were searching on your own. When Fred Nicolaus and Daniel Rossen were assigned by NYU as roommates in their freshman year of college in 2000, they likely went through the usual semi-awkward introductions. The first few weeks may have passed by without much chemistry, but eventually when they found a common bonding point in music, they knew that luck was on their side.
The freshman duo began writing songs on a regular basis after months of rooming together, utilizing an array of samples with programs that they were not hesitant to call "pirated". Illegal or not though, they productively honed their skills and eventually found a meeting point in their intended style. Spacey folk has remained the main force at work, though their implementation of electronica is heavily prevalent in a form that is neither overwhelming nor stylistically desperate. Throwing them into that awkwardly titled "folktronica" category may be deemed appropriate by some, but avant-garde folk with a culturally resounding influence remains the most descriptively accurate for me personally. Think about something in the ambitiously folky vein of Grizzly Bear; it actually proves to be more than a mere comparison with some supporting background information that I will explain later. Recordings that were originally designed for the ears of friends only was uplifted into something more recognizable when the California-based Isota Records swooped Rossen and Nicolaus up, now with the alias of The Whitey on the Moon UK on their side. Mo' 'Tussin – the EP, their debut release, was put out in 2002 by Isota, featuring an impressive cast of ardent lo-fi efforts that allowed for a peek into the duo's stylistic potential. However, it seems that when their alias changed, their sound shifted into a more expansive display that was for the better.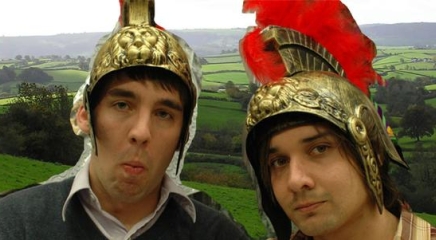 After putting out three more EPs and two LPs under the name of The Whitey on the Moon UK, the duo changed their name to Department of Eagles. It was primarily done to avoid a dispute with a band based out of San Fran by the name of The Whitey on the Moon, though Department of Eagles appears to me as a more concisely memorable choice regardless. Their first two full-lengths, The Whitey on the Moon UK LP and The Cold Nose, saw some moderate success with a stylistic array of electronic pop and sample-based instrumentals, but critics often felt that the releases were too disjointed and cluttered to truly capture a consistent audience. Shortly after the release of The Whitey on the Moon UK LP in 2003, Rossen joined the up-and-coming Grizzly Bear as an additional songwriter and guitarist. He proved vital to the success of the breakthrough Yellow House, an album whose critical acclaim remains nearly unmatched in the world of contemporary indie-folk. During this time, Nicolaus was worked a normal job but kept in constant contact with Rossen, supplying constant ideas as they continued to work on material for Department of Eagles. In December, the two began to focus on their second album under the name of Department of Eagles. Enlisting Grizzly Bear's drummer, Chris Bear, and bassist Nat Baldwin to complete the rhythm section, they named the result In Ear Park when tracking and mixing concluded in May.
While I was personally impressed with some material that Rossen and Nicolaus have collaborated on prior to In Ear Park, this album is a major stepping stone in both of their developments as songwriters. While I do imagine that much of it has to do with Rossen's newly founded experience as one of the main songwriters for one of indie-folk's strongest acts in Grizzly Bear, longtime fans of Department of Eagles could easily tell you that chemistry between Rossen and Nicolaus created something that was eventual, regardless of any previous breakthrough projects. The album itself was written partly as an ode to childhood, with Rossen making it a tribute of sorts to his recently deceased father. The actual "Ear Park" is a park in Los Angeles in which Rossen and his father used to visit, a touching point of significance when the song is being played. A lo-fi charmer, the duo shuffles through a series of intricately composed guitar arpeggios as Rossen relays his tender voice through a midst of backing strings and twinkling keys. The melody and instrumental capacity is astoundingly beautiful, especially when the subject is in consideration. The following track, "No One Does It Like You", captures the essence of '60s pop in extravagant form. Backing vocals are exceptional here, simultaneously adding to both the rhythm section and enthralling melody in the deep and heightened tones, respectively. "Teenagers" is another key-led spectacle that later bursts into a consuming array of subtle horns and strings, highly indicative of the duo's impeccable value on songwriting and production. When In Ear Park is released on October 7th, I strongly recommend the purchase. It is an album whose critical acclaim is imminent for good reason.
——————————————————————————————
Department of Eagles – No One Does It Like You

[audio:http://mineorecords.com/mp3/deag-noo.mp3]
——————————————————————————————
Department of Eagles – In Ear Park

[audio:http://mineorecords.com/mp3/deag-ine.mp3]
——————————————————————————————
Department of Eagles – Teenagers

[audio:http://mineorecords.com/mp3/deag-tee.mp3]
——————————————————————————————
Mike Mineo
I'm the founder/editor of Obscure Sound, which was formed in 2006. Previously, I wrote for PopMatters and Stylus Magazine. Send your music to
[email protected]
.