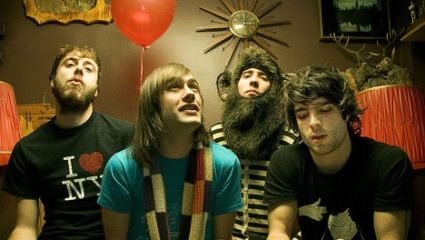 As many of you know, bands that I choose to feature often have a release that will or has been released in the span of a few months before or after the feature date. The goal of this site has always been to expose the newest worthwhile acts that have yet to be substantially covered, and this is still the case. However, I occasionally get the urge to mention a release that is over a year old, even if the reasoning is based purely on my own intentions to focus in on an artist who has received an undeservedly amount of exposure in regard to a release that truly deserves heaps of it. I managed to do this somewhat subtly with Jesse Sykes and the Sweet Hereafter's 2007 release, Like, Love, Lust & the Open Halls of the Soul when featuring her new EP, The Gentleness of Nothing a few weeks ago, but it was likely prevalent to most readers that my efforts in exposing their previous album were as strong as those in exposing her new EP. It was simply convenient that they had a new release out as well, supplying me with an excuse of sorts to feature tidbits from the preceding one. I contemplated whether or not to feature Malajube for a bit, only because their most recent release was put out in 2006. For a group who possesses their level of sheer melodic ability though, I feel that would be doing a disservice in not featuring them.
As I was admittedly a bit late to the party, I first found Malajube about two months ago while perusing couple of French-speaking artists upon the request of a friend who desired quality music of that linguistically European specification. I was drawn in immediately after hearing the gleeful infectiousness of their single, "La Palat", and followed it up by grabbing their second album, Trompe-l'Oeil. I have been listening sporadically to the 2006 release whenever I desired an exotically accessible form of indie-rock, but it was not until I featured the Montreal-based Winter Gloves earlier this week that I remembered my initial intent to feature Malajube. This five-piece is also based out of Montreal, once again reminding me how truly industrious the city's music scene really is. Unlike Winter Gloves, Malajube's songs are sung in Montreal's official language, French. This has not detracted from their fanbase though, as they are commonly mentioned as one of Montreal's most promising contemporary acts by local fans and national publications alike. Despite this level of acclaim and a few spots in prominent commercials (Rogers Wireless and Zellers in Canada, Radioshack in the USA), many still feel that this talented five-piece is not getting the attention they deserve. I happen to be one of them.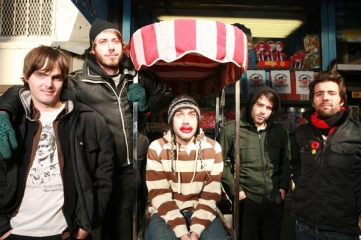 Though I may make it sound like Malajube's level of exposure is low, they are in fact quite reputable when compared to the plethora of other artists on this site just beginning to break out. In addition to their aforementioned commercial deals, their biggest spotlight for Malajube came when Trompe-l'Oeil was nominated for the Polaris Music Prize in 2006. Nominees among the ten that year included Wolf Parade, The New Pornographers, and Broken Social Scene, with Final Fantasy's He Poos Clouds taking home the prize. To accomplish such a feat while speaking a language that remains foreign to the United States and some audiences in their native Canada is quite remarkable. It simply goes to show how engaging their songwriting ability is; their ability to craft hooks remains arguably second to none among contemporary Francophone indie-rock acts. Their origins trace back to a high school in Sorel during early 2003, where three of the members came together. Two others joined shortly thereafter and the group was set into motion, releasing their debut Le Compte complet in 2004. After the release of Trompe-l'Oeil, "Montreal -40°C" appeared in the Rogers Wireless commercial and "Ton Plat Favori" was used in a Zellers commercial. One of my favorites, "Pâte filo", made its American appearance shortly after on a RadioShack commercial. It was one of the few songs that I never get tired of listening to despite its appearance on TV every hour or so.
Due to the commercial exposure and complete irresistibility, a track that has brought Malajube a wide degree of recognition is "Pâte Filo", a gem that capitalizes on their commonly prevalent usage of twinkling keys and roaring electric guitars with slide effects and vibrating tremolos. The verses prove simplistically enjoyable enough with their thunderous guitars and reflectively enhancing keys, but the chorus hits a fantastic mark when lead vocalist Julien Mineau shifts into a joyous, lyric-less yelp that contrasts the overlapping keys in beautiful form. Even listeners who do not understand a lick of French have to admire this song's ingenious level of craftsmanship. "Montréal – 40°C" proves just as memorable in displaying the group's astute level of harmonic vocal ability, with even the introductory moments being an enthralling display. Free imitative form begins the track as several other varying voices come are involved prior to a gleefully effervescent burst of Mineau's "Ba-ba-ba-ba-ba-baba-ba". The most striking moment of the track occurs toward the conclusion when the melody sees a complete and utterly brilliant ship in composure, transitioning from a guitar-led stampede into a segment of elegance that is now led by keys, resulting in a very Parisian type of sound.
"Le Crabe" and "La Monogamie" are more representative of the group's rougher edges, with the latter exposing a wide variety of distortion over a chorus that becomes undeniably addictive once the intentionally muddled form of production clears its way through the listener's head. "Ton Plat Favori" is also notable for its rollicking demeanor, taking on a force of its own that is unique on the album due to its female-male harmonies and excitable use of keys. Overall though, Trompe-l'Oeil is an album full of exciting surprises and enthralling moments; its high level of quality is the reason I chose to feature a release over two years old.
——————————————————————————————
——————————————————————————————
——————————————————————————————
——————————————————————————————